Heaney and his heater fan A's on hot night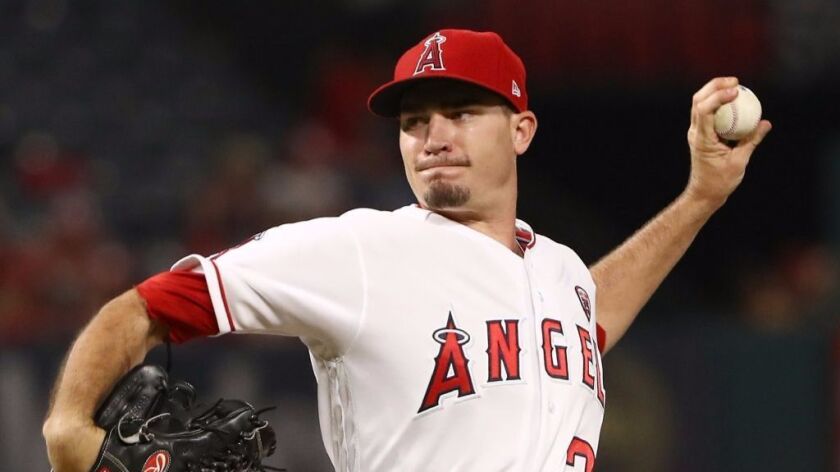 For the first time in a long time, Andrew Heaney stood atop a major league mound and felt in control. When he wanted to bury his breaking ball in the dirt Monday at Angel Stadium, he did so more often than not. When he sought to hum a sinking fastball along the edge of the strike zone, he did so.
So, for his 92nd pitch, Heaney stepped back, stepped up, reached further within his frame and fired a fastball to Oakland's Ryon Healy faster than ever before. With two out in the sixth inning — both on strikeouts — the typically restrained left-hander reached 96.9 mph, four miles faster than his career average, one mile faster than ever.
"I tried to throw that thing a thousand," Heaney said. "And I almost fell over trying to throw it."
While the velocity reading caught manager Mike Scioscia's eye, the pitch was a foot high. Heaney forged on. He spun a breaking ball that Healy fouled off, then another fastball, up but enticingly so. Healy swung and missed to become the Heaney's 10th and final strikeout of a banner night.
In his third start since he returned from elbow ligament replacement surgery sooner than the Angels dreamed, Heaney dominated the Athletics and propelled his team to a 3-1 victory, pulling the Angels within a game of the second AL wild-card spot.
"He just tore through them," Scioscia said.
It was not a spotless effort. As with his hurtling fastball to Healy, Heaney was prone to occasional wildness throughout the evening. But unlike his first two starts, he commanded his curveball when the count demanded it and freely alternated between his offerings. Though he walked three, his 10 strikeouts were a career high and matched an Angels season high.
"Tonight felt more comfortable," Heaney said. "It wasn't something where I felt like I was painted into a corner. I had options, I had different pitches. I felt like I was working with six or seven different things I could do, and some of the swings they took let me know they were also thinking the same way."
Heaney struck out the side to begin and end his night. He faced trouble twice, in the second and fifth innings, because of walks. Yet he pitched out of it each time. The only damage he sustained was a third-inning solo shot surrendered to No. 9 hitter Dustin Garneau.
Seven home runs had plagued Heaney in his first two starts. On Monday he avoided the problem by avoiding counts where hitters knew he had to throw fastballs.
"There's some relief of pressure, for sure," Heaney said.
Cameron Maybin doubled to begin the Angels' half of the first against rookie right-hander Daniel Gossett, then scored on Kole Calhoun's two-out single. With two outs in the fourth, Kaleb Cowart struck an opposite-field double to the wall, scoring Martin Maldonado, who had singled. Cowart has fallen into a tailspin in recent weeks, his star turn upon reaching the big leagues last month long since forgotten.
On Monday he re-emerged, producing the big hit and a sizable play in the field, diving to keep a fast-paced grounder in the infield. Instead of runners on the corners without an out in the seventh, the Athletics had a man on second and one out against rookie right-hander Keynan Middleton.
In the bottom of that inning, the Angels added a run on a Maldonado single, Ben Revere double and an error from the incompetent Oakland defense. Reliever Yusmeiro Petit permitted two hard-hit balls and a walk in the eighth, but one of the drives went as a lucky lineout, and he induced a double play when necessary.
Blake Parker struck out the side in the ninth for the save. As the rest of the Angels' upstart relievers have faltered in one week or another this season, more than four months of almost undisturbed success have finally netted Parker this opportunity.
In three days, the 32-year-old right-hander and all-time triple-A Iowa Cubs saves leader has doubled his career save total in the major leagues — from two to four.
Trout sits out
Superstar center fielder Mike Trout did not play Monday, his neck stiff from an attempt to track down a Brian McCann drive to the center-field wall in Sunday's loss to Houston. Though he crashed into the padded wall, Trout could not catch the bases-clearing triple, which supplied the Astros' winning runs.
Scioscia said Trout could be back as soon as Tuesday and should not require a disabled-list stint. Owing to heat approaching 100 degrees in Anaheim on Monday, the Angels did not take on-field batting practice. Players arrived later than normal, and Trout did not appear in the clubhouse while it was open to reporters.
Since Trout returned from a torn thumb ligament after the All-Star break, he had played all of the Angels' 39 games, and for the whole game in each of them except for one half-inning on Aug. 2. In May he missed six games because of hamstring soreness, to that point the longest absence of his career because of injury.
Trout does not have a hit in a week, his 0-for-17 spell the second-longest hitless streak of his career. He is still hitting .318 with a .452 on-base percentage and .646 slugging mark. The latter two statistics are career highs.
Follow Pedro Moura on Twitter @pedromoura
---
Get the latest on L.A.'s teams in the daily Sports Report newsletter.
You may occasionally receive promotional content from the Los Angeles Times.