Angels fall to Athletics 3-1 and accuse them of stealing signs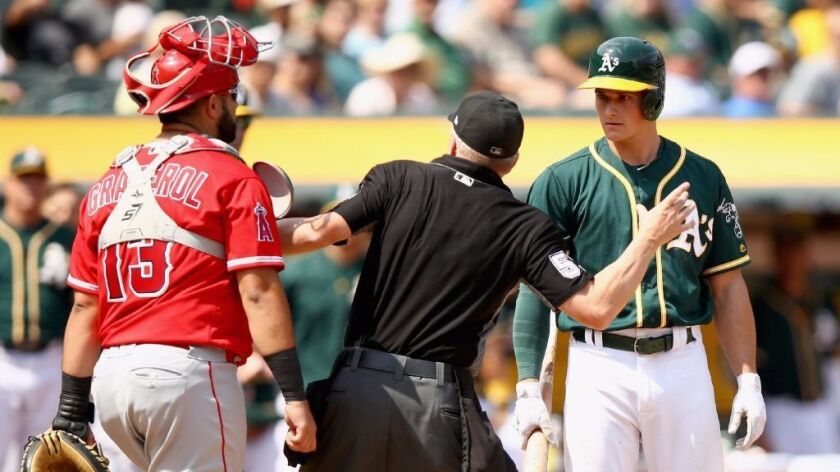 Reporting from Oakland —
The conflict seems to have started because of a speck of dirt.
When he steps to bat, Oakland Athletics outfielder Mark Canha likes to pick one piece of dirt at his feet on which to focus. It serves as his cue to get his eyes ready for the baseball about to hurtle his way, to set his strike zone and approach.
Early in their 3-1 loss on Wednesday afternoon at an empty Oakland Coliseum, the Angels interpreted Canha's routine as an attempt to glean their pitch-calling signs. This was not some high-tech system involving members of several levels of the organization, as the Boston Red Sox have reportedly employed this season.
This, the Angels thought, was far simpler, as simple as sign-stealing can get: sneaking back a look after a catcher has set up his glove, perhaps using the afternoon's shadows as a guide.
"I mean, I could see it from the mound," said Tyler Skaggs, the Angels' starting pitcher. "It's really frustrating."
It began two batters into the game, when Angels catcher Juan Graterol stared at Oakland's Chad Pinder, whom he thought was looking back to learn location. The next inning, Graterol accused Canha of breaking the game's unwritten rules.
"I'm sorry to say it's nothing that dramatic," Canha said. "It's just me trying to compete up there."
Graterol then glared at every Oakland hitter over the next two innings, until rookie third baseman Matt Chapman approached the plate with words in the bottom of the fourth.
"You know, that's not a very comfortable feeling, having a catcher stare at you when you're digging in the box," Chapman said. "It's a little disrespectful, to be honest. So, when I got in the box, I just let him know that we were not stealing their signs and there was no need for him to be staring at us, and let's just get the game going forward."
In response, Graterol said the A's were stealing signs. Chapman said again that they were not. At that, plate umpire Mike Everitt intervened. Within a minute, as the bullpens inched closer to the field of play and both teams stood at the tips of their dugouts, Everitt ejected Chapman.
Only afterward did the two parties realize they might have misinterpreted each other's actions.
"A couple of guys, I don't know if it's their pre-pitch routine, but they have a habit of glancing back," Angels manager Mike Scioscia said. "On a day game or a night game when you can see shadows and a catcher's head, it's easy to look back and pick up some locations."
Canha said he concluded that it was "just a Scioscia-Angels-Graterol tactic to make young players feel uncomfortable."
"They're just trying to get in my head," Canha said.
Though the teams on Wednesday completed the last of their 19 matchups this season, Skaggs was unwilling to discard the issue as quickly,
"We have video on what they do," Skaggs said. "We know what they're all about. If they need to look at signs to hit, it is what it is."
In his first inning, Skaggs struck out the side on 11 pitches, demonstrating better command than he has in his recent starts.
"If I could just channel that, bottle that energy and continue that throughout the game," he said, "these next four or five starts are going to be fun."
For the day, he succeeded, striking out nine men in six innings. The A's scored three runs against him, one because Justin Upton slipped and lost a fly ball in the sun.
After his last start, Skaggs said he understood he would be removed from the rotation if his struggles continued. He toiled in the four days since to fix his problems, quickening his delivery out of the stretch.
Asked if he thought Skaggs was feeling the pressure of September, Scioscia bristled. The manager said he and his staff have had several recent meetings with Skaggs and never once mentioned the possibility of rotation removal. And he disputed the premise there could be any additional strain on the 26-year-old left-hander, citing his success during a playoff push in July 2014.
The Angels could not manage a run against Oakland starter Sean Manaea. Facing left-hander Sam Moll in the eighth, Kole Calhoun lined a two-out, two-strike slider for a run-scoring triple into right. The Angels then stranded Calhoun, bringing their hitless total to nine at-bats with runners in scoring position.
They were without Albert Pujols, who returned to Southern California for an evaluation on his sore left knee. Mike Trout set a franchise record by walking in his 14th consecutive game.
The defeat dropped the Angels back out of playoff position. At 72-68, they trail Minnesota by half a game in the endless American League wild-card chase.
For them, these outcomes are meaningful. The Angels did not regret the actions they took Wednesday.
"It's the game," Graterol said. "I have to protect my teammates. This is what we're playing for."
Follow Pedro Moura on Twitter @pedromoura
---
Get the latest on L.A.'s teams in the daily Sports Report newsletter.
You may occasionally receive promotional content from the Los Angeles Times.