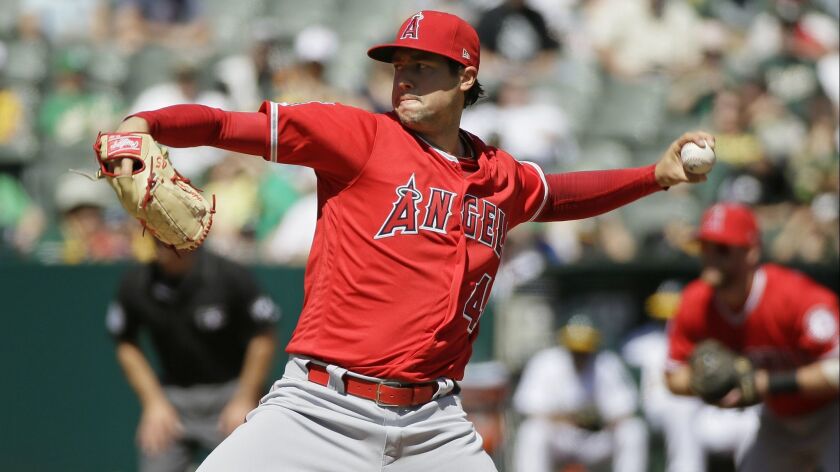 Reporting from Oakland —
Angels starter Tyler Skaggs sat on a Gatorade cooler in front of Oakland Coliseum's visitors dugout as he worked his fingers through his dark hair, stewing in frustration.
He had thrown 86 pitches to the Athletics on Sunday afternoon, the most he'd thrown in a regular-season game since last July, when a groin injury sent his best major league season into a tailspin. Yet Skaggs' performance in his first start of 2019 was wasted in a 2-1 loss.
Over a span of 1 1/2 hours on a clear day near the San Francisco Bay, Skaggs battled his own mechanics and got himself into a few spots of trouble. He got out of one jam without carnage, but another one left him fuming as he sat near the dugout, watching as the second of two runs he allowed over 4 2/3 innings was charged to his final line.
"I thought I could have made some better pitches," Skaggs said.
Like Felix Pena about 18 hours earlier in Saturday's 4-2 loss here, Skaggs retired the first eight batters he faced. He spotted his mid-70s curveball well; he registered a strikeout of Khris Davis with it and received six strike calls on the pitch. He used his changeup effectively, too, like when he slung it to Mark Canha on a 3-and-1 count in the second inning. Canha swung over it, then popped out on Skaggs' next pitch.
But by the time the lineup turned over, Skaggs had begun to lose steam. The Athletics took advantage.
Sign up for our daily sports newsletter »
Davis ripped a fastball thrown inside for a leadoff home run to left-center field in the fourth inning, giving the Athletics a 1-0 lead.
In the fifth, after erasing a leadoff hit from Ramon Laureano by inducing a double-play groundball, Skaggs hung an inside curveball to Marcus Semien. Semien yanked it down the baseline for a double to left field.
"Honestly, for not feeling like I had my greatest stuff, I still went out there and competed and gave our team a chance to win," Skaggs said.
Manager Brad Ausmus promptly removed Skaggs from the game and signaled for rookie Ty Buttrey. Skaggs cursed himself as he came off the mound, then watched from his perch on the cooler as Matt Chapman singled up the middle and Semien scored the only other run the Athletics needed for their win.
"I thought he was good early — really good early," Ausmus said. "I thought he might've tired a little bit. It is a different situation when you're pitching in a big league ballpark. The adrenaline's there. Your first few outings you're going to have that adrenaline rush. It can fade off quickly. I don't know if that was actually the case. He was just about 85 pitches so he wasn't going to go much longer, just from a pitch count perspective."
Skaggs wanted to stay in the game and correct his mistakes. He spent the offseason preparing his body for this grueling season — one in which he is expected to stay healthy and help anchor the Angels' rotation — by incorporating a yoga routine into his regimen. He remains determined to make as many starts as his body can let him, picking up the slack in a rotation that is currently missing fellow left-hander Andrew Heaney, who will undergo further evaluation on his inflamed throwing elbow Monday in Los Angeles.
But Skaggs missed some time during spring training after he fatigued his forearm while working on a new pitch during a bullpen session. He was only able to make three Cactus League starts, and he had to hang back in Arizona a few extra days so that he could get one more start in a minor league game.
The Angels did not believe Skaggs had extended his spring outings far enough to throw 100 pitches in Sunday's game.
Their decision to remove him didn't change the game's outcome, anyway. The bullpen threw another 3 1/3 innings Sunday without being charged a run and extended its season-opening scoreless streak to 12 1/3 innings.
Instead, the Angels' cold streak at the plate doomed them for the third time in four games this season. They logged only three hits and stranded three runners, including Mike Trout, who drew a walk from shutdown closer Blake Treinen and then stole second base with two outs in the ninth inning.
In the sixth, Kole Calhoun hit a two-out solo home run off Athletics starter Frankie Montas, who struck out six in six-plus innings. It was the Angels' first homer of the season. It was also the only bit of energy that served them — a leadoff double from Justin Bour in the seventh did nothing to extend the threat. The Angels lost the series 3-1 after scoring only nine runs and batting only .176 in four games.
Later, as the Angels ate their postgame meals and rehashed with each other their busted NCAA tournament brackets, Skaggs stood at his locker with a slight smirk on his face. Skaggs was one of the only players on his team who had chosen Michigan State to defeat Duke and clinch a Final Four berth.
In a deadpan tone, he said, "That's the best thing that's happened to me all day."
---