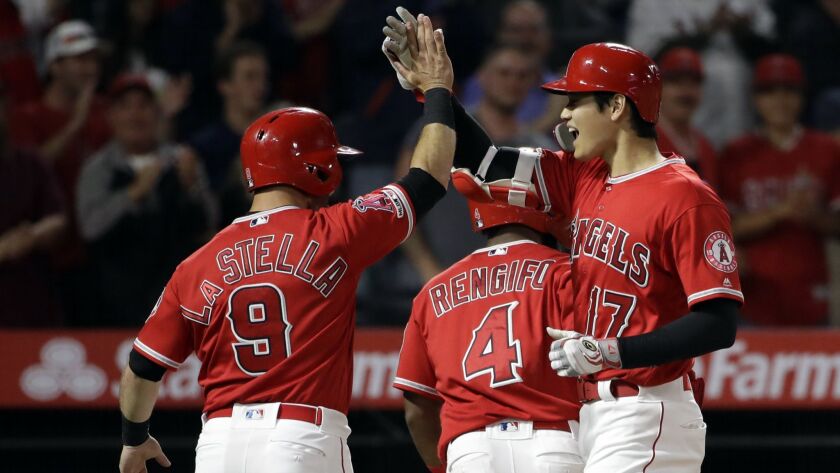 Brad Ausmus saw the signs a week ago in routine batting practice sessions in the Bay Area, hours before the Angels played the Oakland Athletics on their home turf. Shohei Ohtani stood underneath the batting cage, taking hacks that looked better and hitting balls that traveled farther than Ausmus had seen at any other point in May.
The Angels manager made note, tucking away the knowledge for when it was inevitably asked of him to discuss the recent progress at the plate made by last year's American League rookie of the year.
"There was a noticeable difference in his batting practice," Ausmus said. "It was in Oakland I first said to myself, 'He's really coming around now.'"
Ausmus' words, spoken hours before the Angels' walk-off 10-9 win over the Oakland Athletics at Angel Stadium, proved prescient. Ohtani hit a go-ahead, three-run home run in the fourth inning. It was his second homer in two games.
It didn't seal the Angels' outcome. Rookie Ty Buttrey blew an 8-7 advantage in the eighth and the Athletics took a 9-8 lead on Hansel Robles' wild pitch despite catcher Jonathan Lucroy's diving effort to tag the runner out at the plate. The Angels tied the score 9-9 when Ohtani drew a bases-loaded walk in the bottom of the eighth, a victorious plate appearance that gave him a career-high four RBIs. The Angels won the game on Dustin Garneau's two-out, ground-rule double in the ninth that scored Brian Goodwin.
But during the 4-hour, 13-minute game, the longest nine-inning contest in Angel Stadium history, Ohtani demonstrated he might indeed be returning to form.
"It's like a normal spring training [is] just getting over for him," Mike Trout said. "It's tough to ... get that adrenaline going."
Ohtani made his much anticipated 2019 debut on May 7. He started slowly at the plate, driving in nine runs and scoring four times, including twice on home runs, but batting only .227 with 19 strikeouts in 17 games. The contact he made with his bat, while hard, often resulted in ground balls that did little damage.
Despite Ohtani reaching base in all but two of those first 17 games, Ausmus and Ohtani were battered with requests for comments on the designated hitter's timing in the batter's box. Had his extended layoff from the Angels lineup, caused by his recovery from Tommy John surgery, led to regression?
It would seem all Ohtani needed for his power to shine was a chance to settle in. In his last eight games, he has gone nine for 30 with three homers and 11 RBIs.
Finally, the questions have turned. Is Ohtani seeing progress?
"In Oakland I was feeling better each day," Ohtani said. "But I feel like it was more recent, maybe starting [Tuesday] or the day before, where I really started to get locked in and started feeling better.
"It goes up, it goes down each day. But overall, I feel like I'm trending up."
Sign up for our daily sports newsletter »
---