Angels capitalize on Dodgers' shaky bullpen and slide to victory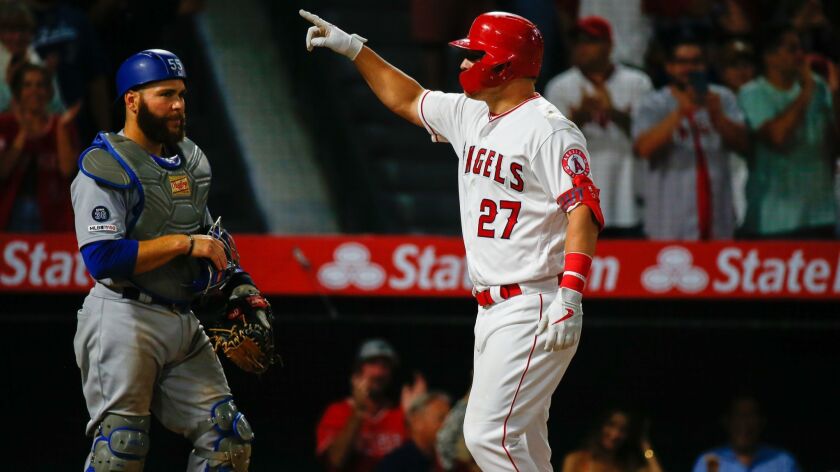 The space between a cleated foot and home plate at Angel Stadium determined the outcome of Monday night's Freeway Series opener. The Angels beat the Dodgers 5-3 when Shohei Ohtani slid feet-first safely into home in the eighth inning, representing the go-ahead run and the continued demise of Dodgers reliever Joe Kelly.
The Angels' Wilfredo Tovar weakly grounded a ball to third baseman Max Muncy with one out and the bases loaded. Muncy made a high throw to catcher Russell Martin as Ohtani charged in from third. Ohtani's hand swept over the back of the plate just before Martin's foot landed, with home plate umpire Phil Cuzzi calling him safe.
Dodgers manager Dave Roberts challenged the play as many in the announced crowd of 45,477 rose to their feet to watch replays on the video boards and root in the Dodgers' favor. They were disappointed. The call was upheld.
"Showy can run, that's the best secret about him," Angels manager Brad Ausmus said.
Moments later, an unbridled Kelly threw a wild pitch that allowed Brian Goodwin, who had been intentionally walked as a pinch-hitter, to score and give the Angels a two-run lead.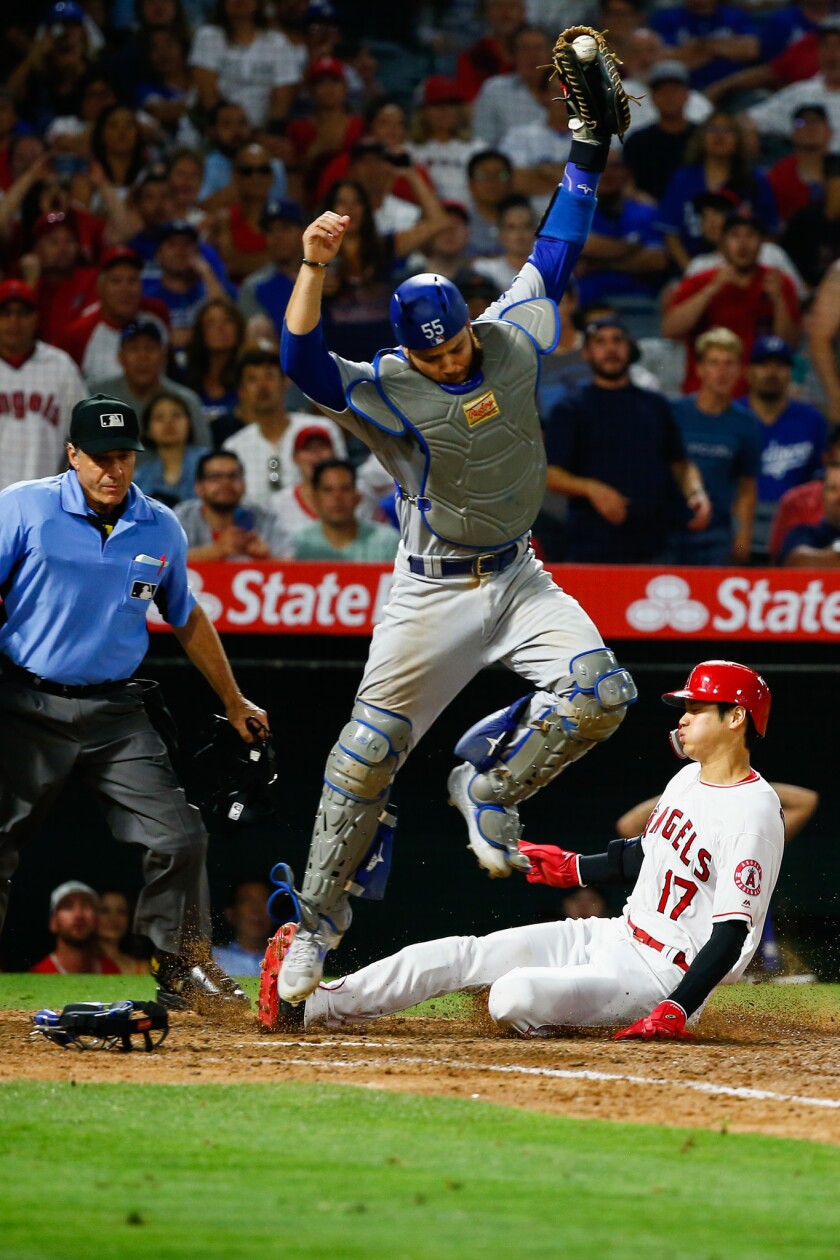 The bullpen is the Dodgers' most significant flaw and Kelly has been its weakest link. Signed to a three-year, $25-million contract during the offseason, Kelly is off to a dismal start that forced the Dodgers to relegate him to low-leverage work.
"Just execute, I guess," Kelly said when asked how he can reverse his fortunes. "It's not that far off. It probably looks worse than it really is. I think it's just execution. Kind of a weird inning. Obviously the command wasn't there. I guess it's kind of harder to take if you don't give yourself a chance than having guys hit a double off you or something. So try to get that first-pitch strike. When I do, that is usually when I'm at my best."
Kelly had not pitched in a game that was as close as three runs since he was charged with three runs in one-third of an inning in a three-run game against the San Diego Padres on May 4. His next eight appearances all came with the Dodgers leading or trailing by at least four runs.
Then Monday rolled around. Kelly was summoned in the eighth inning of a tied game. He walked his first batter, pinch-hitter Ohtani, and threw 31 pitches as the Angels rallied without logging a hit.
"It can't get any more bizarre," Kelly said. "I guess it's average for right now."
Kelly's struggles spoiled the efforts of Dodgers starter Hyun Jin-Ryu. He gave up only one run on seven hits in six innings, striking out six as he continued his dominant season.
The meltdown also overshadowed the heroics of Angels star Mike Trout. The perennial All-Star and the owner of the baseball's most lucrative contract smashed a tying, two-run homer off Dodgers reliever Dylan Floro in the seventh to knot the game 3-3.
Roberts had moments earlier removed Ross Stripling, against whom Trout entered five for five with two home runs in his career, for Floro, who lobbed Trout four sliders in a six-pitch at-bat. Trout crushed the last one.
"I was trying to get a pitch I could hit and put the barrel to it, and it went out," said Trout, whom Ryu struck out swinging twice in three at-bats. "Obviously it was a big spot in the game."
The Dodgers entered the night batting .263 with an .808 on-base-plus-slugging percentage, both marks that ranked third in MLB. They had scored 349 runs, baseball's sixth-most prolific effort on offense.
Angels starter Griffin Canning, the Santa Margarita High and UCLA product the Angels selected with their second pick of the 2017 draft, didn't let the numbers rattle him.
Canning kept his poise against the most dominant lineup he's faced since making his debut here April 30. He induced 19 swings-and-misses, including eight on his slider. He deployed the rest of his arsenal well enough to hold the Dodgers to three runs and five hits over six innings.
"It's cool to face them and the atmosphere was really cool," Canning said. "But I don't want to make any start bigger than it needs to be. So just kind of keeping it simple."
As his pitch count climbed to 83, his fastball velocity didn't suffer: He struck out Martin on a 95.6-mph heater, his second-hardest of the night, to end the sixth inning after getting himself into a jam with runners on the corners and no outs.
"He continues to be unintimidated by big league lineups including a very good Dodger lineup," Ausmus said of the Angels rookie, who has a 3.65 ERA through eight starts. "Dug himself out of a little bit of a hole there in the sixth. If he doesn't dig out there, I don't know what happens in the game. I'm not so sure we win it."
Canning didn't factor into the decision. Neither did Ryu, the second starting pitcher in baseball history to allow two or fewer runs over 13 consecutive starts to begin a season. Only right-hander Al Benton of the Detroit Tigers had a longer streak, making 15 such starts in 1945.
Sign up for our daily sports newsletter »
Kole Calhoun snapped Ryu's latest scoreless-innings streak, which dated to May 25, at 192/3 innings when the left-handed hitter swatted a changeup left over the middle of the plate to center field for a solo home run.
The Angels mustered no further damage against Ryu, whose 1.36 ERA through 86 innings is the lowest among all qualified starters.
It didn't matter. Kelly's erratic pitching was enough to help the Angels prevail.
"I still felt confident that Joe right there can go out there and execute pitches," Roberts said. "But it just didn't work out.
"We're going to need him. That's just plain and simple. So we got to figure out a way to — mechanical, emotional, mental, just kind of tap into something and get him on track."
Staff writer Jorge Castillo contributed to this report.
---
Get the latest on L.A.'s teams in the daily Sports Report newsletter.
You may occasionally receive promotional content from the Los Angeles Times.