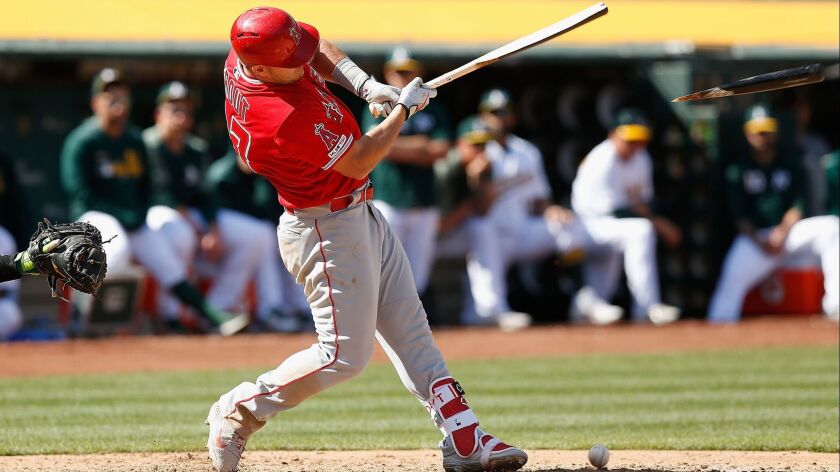 Reporting from OAKLAND —
The Angels' success this year is predicated upon two things: avoiding the injured list and scoring runs.
After losing three of four games to the Athletics in Oakland, they haven't made strides toward accomplishing either of those goals.
The Angels knew heading into this campaign that reigning American League rookie of the year Shohei Ohtani would not be available to pitch all season or hit until May, so general manager Billy Eppler spent the offseason looking for cast-offs who might find ways to rebound with the Angels. First baseman Justin Bour, a left-handed slugger who can platoon with Albert Pujols, fit the bill. So did former prospect Peter Bourjos, who earned a reserve outfield spot.
But the Angels have been forced to reckon with a new reality. Left fielder Justin Upton, a stalwart in the lineup who launched 30 home runs last year, is expected to miss at least the first two months with a toe injury. Once jettisoned because of his ineffective bat, Bourjos is now an everyday outfielder.
The Angels don't have enough roster depth to cover for Upton's production. It was apparent in the season-opening four-game set against the Athletics. The Angels managed only nine runs. The total is tied for the sixth lowest in baseball.
"We're just not hitting on all cylinders right now as an offense," manager Brad Ausmus said after watching his team be held scoreless by Athletics starters for the first 23 2/3 innings of the season. "Certainly, we'd like to have guys like Upton in the lineup, but that's not the case. I just think we're not clicking."
Over four games, each played in less than three hours, they slugged a collective .256. Only three players — Kole Calhoun, Andrelton Simmons and Mike Trout — logged at least three hits in the opening weekend. Calhoun paced the group with five.
"It's a funny game," said Calhoun, who went two for four with a double and the Angels' first home run Sunday. "It really is."
The Angels spent almost all of spring training without Upton, who arrived at camp with patellar tendinitis of the right knee, in their lineup. Still, they had prepared for Upton to join them on this opening six-game trip against two division rivals. He should haven been in the middle of the order, protecting Trout in the second position or starting a rally elsewhere. Then Upton stubbed and sprained his left big toe when ran into the left-field wall at Angel Stadium on March 24.
The injury forced the Angels to dive into the waiver wire and claim outfielder Brian Goodwin from Kansas City. He made two starts in left field and was two for seven with three strikeouts in the series.
Part of the Angels' futility can be attributed to the Athletics' pitching. Sunday's starter, right-hander Frankie Montas, a onetime top prospect, wielded a tough 98-mph fastball and struck out six. Preceding him were veterans Mike Fiers, Marco Estrada and Brett Anderson, all of whom relied more on finesse than power to tie up the Angels. Each day, Athletics manager Bob Melvin also deployed his vaunted bullpen to keep the Angels off balance. Only reliever Joakim Soria broke, yielding four runs Friday in the Angels' only victory.
But part of the ineffectiveness can be traced to Upton's absence.
"That's a huge player for us," Calhoun said.
The Angels were not self-sabotaging. They hit the ball fairly hard — according to MLB.com's Statcast data, they hit baseballs with an average exit velocity of 89.3 mph, which ranked 11th. They just usually sent them where there was a fielder. For instance, Simmons crushed a ball 315 feet from home plate in the ninth inning Sunday, but it was caught in left for the final out.
Even after Calhoun homered off Montas, the Angels couldn't get lucky. The team that hit 214 home runs last year, the seventh most in baseball, went four games in Oakland with only one ball over the outfield fence.
"It's been all famine," Ausmus said before Sunday's loss.
The Angels won't panic yet. They've got plenty of time to run into some fortune.
But they must find a way soon to get over the loss of Upton.
"It's four games in," Calhoun said. "You don't want to go out and drop three of four to start the season. But if you're asking if guys are panicking, I mean, it'd be nice for some guys to look up and have a couple of hits up there. It's early. But when you look up and you don't see what you want to see, guys press a little bit, and we just gotta relax and have fun. We'll be all right."
---