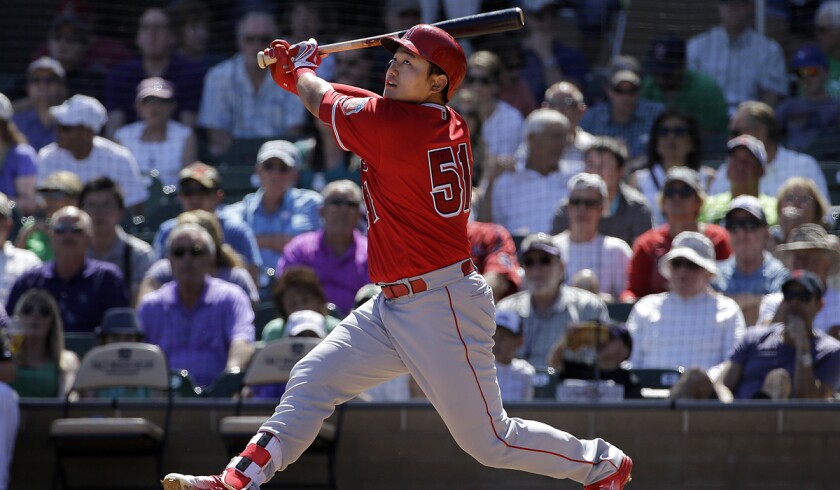 Reporting From TEMPE, Ariz. —
A slight man stood on a mound next to a pitcher 10 inches taller and told him he was tipping his pitches. Tyler Skaggs, the man tried to explain as best he could, was turning his glove over each time he prepared to throw a curveball.
"Why didn't you [expletive] hit it, then?" Skaggs asked.
The shorter man, Jae Park, shrugged and looked to his right, where Ji-Man Choi, the Angels first baseman he is interpreting for this spring, stood and smiled. Choi knew enough English to grasp what Skaggs said, but not enough to offer a rejoinder.
Skaggs only laughed. Having just completed a simulated game, he was at the center of the impromptu meeting on a back field at the Angels' spring training complex last week. Having just caught it, Geovany Soto stood to his left. Jefry Marte and Choi, the players to whom Skaggs pitched, circled around. Pitching coach Charlie Nagy observed from the mound's base.
They were all discussing how Skaggs looked in his first time facing hitters in 19 months.
The sixth and unlikeliest member of the contingent was Park, who knew little about baseball until one month ago, when the Angels hired him on the recommendation of a friend. That friend had been selected for the job and then was forced to decline because of troubles with South Korea's mandatory military conscription, according to Choi's agent, Sang Lee.
He returned to his home country, and the Angels turned to Park one week into spring training.
"He doesn't have much experience, but he seems like he's an OK guy," Lee said. "Choi and I met him at the ballpark. We went through his resume and his background and his enthusiasm."
Park had recently moved to nearby Chandler, Ariz., to attend graduate school but put those plans on hold to hang around a spring-training clubhouse. He may spend all season by Choi's side, or he may be done in about a week. If the Angels do not add Choi to their 25-man roster for opening day, he must be offered back to Baltimore under the terms of the Rule 5 draft.
It is a curious case. Every man in the Angels' clubhouse has spent much of his life in baseball, except for Park. He was familiar with Mike Trout but few other Angels, and few of the sport's many terminologies. But it is Park's job to translate Manager Mike Scioscia's instructions and teammates' conversations to Choi.
In January, Major League Baseball told all teams they must have a designated Spanish interpreter in place by opening day. Historically, clubs have hired an interpreter for each Asian player.
The Angels declined to make him available for an interview, citing an organizational policy.
Cut day coming
The Angels will play six more Cactus League games and then break camp to head home. Their regular season commences in 11 days.
If their healthy players remain that way, there appear to be only three decisions remaining for the 25-man roster. The simplest among them is between right-handers Nick Tropeano and Matt Shoemaker for the fifth-starter role. One will win it, the other will head to triple A.
Discerning who is in line for the last reserve spot and the last bullpen spot is harder. Choi and outfielder Todd Cunningham seem to be the primary contenders for the reserve role, because the Angels will risk losing them if they do not make the team. Left-hander Greg Mahle and right-handers Al Alburquerque, Javy Guerra and Deolis Guerra (no relation) all have a chance at becoming the final reliever selected.
Short hop
Thursday marks a big day for the state of the Angels' rotation: Skaggs, Shoemaker and right-hander Garrett Richards all are scheduled to pitch. It will be Skaggs' first appearance in a game since he suffered a torn ulnar collateral ligament on July 31, 2014, and underwent Tommy John surgery.
Twitter: @pedromoura
---