Angels acquire pitcher Jim Johnson from Atlanta, improve their position in Shohei Ohtani chase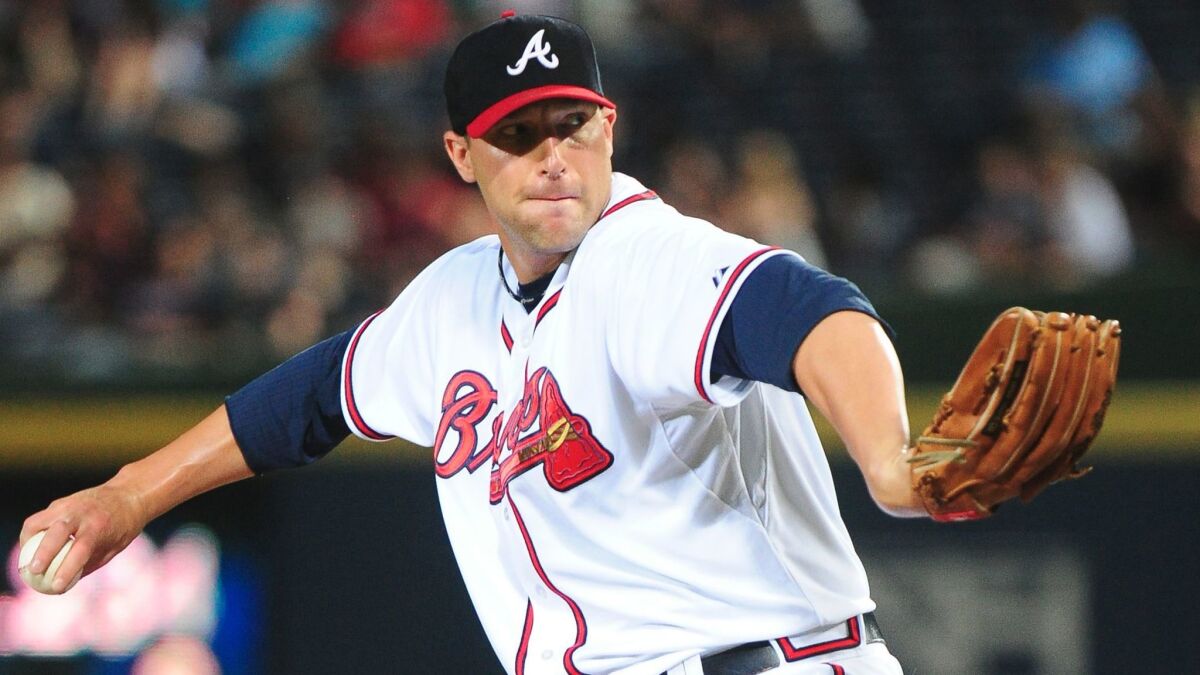 The Angels on Thursday acquired veteran reliever Jim Johnson from Atlanta and better positioned themselves in the chase for a bigger offseason prize.
They also received $1.21 million in international bonus pool money, which they can dangle in the coming days to Japanese hitter/pitcher Shohei Ohtani.
"This money was acquired with a eye toward acquiring him," Angels general manager Billy Eppler said. "We knew at some point this wintertime we were going to do something with our bullpen. We were able to do that but also satisfy our desire toward pursuing Shohei Ohtani."
Dozens of teams will pursue the player, and it is clear that money is not his prime consideration. But the Angels' available bonus pool was among the smallest in the sport, and at about $1.31 million, it's now among the highest.
"If making this move increases our percentage odds," Eppler said, "then it's worth it."
If Ohtani opts for another destination, the Angels can use the money to sign other, younger international prospects, including those stricken from the Braves after Major League Baseball found they violated league rules in their signings.
The focus now is Ohtani, who could be posted as soon as Friday. He will then have 21 days to pick a team. That team will pay his Japanese club, the Nippon-Ham Fighters, the requisite $20-million posting fee and empty out their international pool coffers as a signing bonus.
Eppler believes the American League's designated hitter supplies the Angels an advantage because of added flexibility. Ohtani could hit without playing the field on days he's not pitching.
But it's not an obvious fit, as Albert Pujols hogged that position for the team in 2017, playing a career-low 50 innings at first base. Eppler said the Angels are now "open-minded" to Pujols playing the field more next season. Pujols will be 38 in January, but he has been working out for more than a month. In previous years, surgeries have forced him off his feet until spring training.
Asked why he believed the Angels were a fit for Ohtani, Eppler also cited the range of available neighborhoods throughout the Los Angeles metropolitan area, naming downtown Los Angeles' Arts District and Orange County's Laguna Niguel and Mission Viejo, among others. He praised the quality of life accessible in the region, which he said would help anyone transition to living in the United States.
Eppler also cited the acquisitions of Andrelton Simmons and Justin Upton in recent years as evidence that the club is committed to adding to its Mike Trout-fronted core
The Angels sent unheralded minor league left-hander Justin Kelly to Atlanta in exchange for the pool money and Johnson, who closed for much of 2017 with the Braves.
The 34-year-old right-hander owned a substandard 5.56 earned-run average, but struck 61 batters in 56 innings. He will make $4.5 million in 2018, making him as of now the highest-paid pitcher on the Angels' payroll.
"Clearly, he does things that we value," Eppler said. "He can miss bats and he keeps the ball on the ground. Those are predictive of having some success, especially in the American League."
The Dodgers acquired Johnson from the Braves in 2015. He memorably flopped in Los Angeles, logging a 10.13 ERA in 23 appearances.
Also Thursday, the Angels lost reliever Yusmeiro Petit to division rival Oakland. Petit came to this season's spring training on a minor league contract, then became the Angels' most valuable pitcher, as voted by his teammates. The Athletics guaranteed him $10 million over the next two years.
Earlier this week, the Angels agreed to minor league contracts with catcher Curt Casali and infielder Colin Walsh. Both have previously played in the major leagues.
Follow Pedro Moura on Twitter @pedromoura
Get the latest on L.A.'s teams in the daily Sports Report newsletter.
You may occasionally receive promotional content from the Los Angeles Times.