Angels mailbag: How long will Albert Pujols bat third?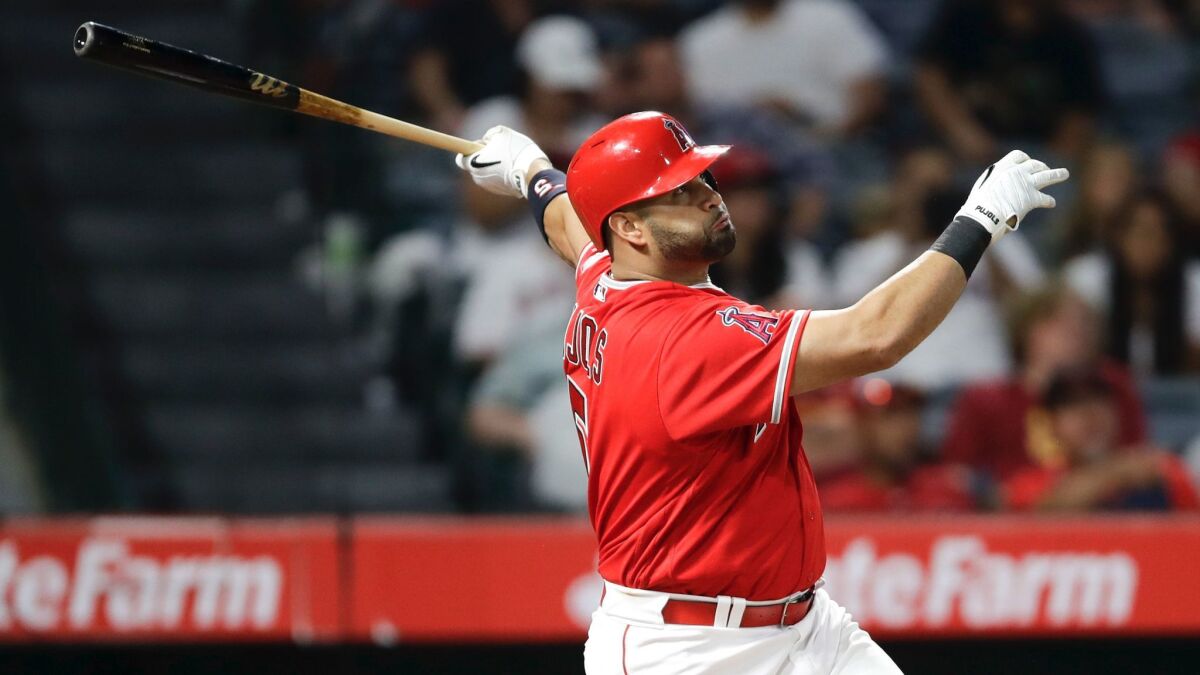 Hello, Angels fans. The Monday mailbag returns to chronicle the club's wild-card qualification efforts in the final five weeks of 2017. After a rough week traversing the Texas teams, the Angels are 66-65, 1 1/2 games behind Minnesota for a spot in the Oct. 3 American League wild-card game.
The Angels are in an odd 25-game stretch of division opponents. It continues through Wednesday at home, against Oakland, before a three-city road trip through Texas, Oakland and Seattle. Let's get to the questions.
Not many, if any. Batting order position just doesn't matter that much, despite the clamoring of fans all across this country. And to the extent that it does, the third spot is not as valuable as it's believed to be.
Eleven years ago, three statisticians wrote a book about playing percentages in baseball. They called it "The Book," and in it, they tackled all sorts of questions about structuring lineups, starting-pitching penalties facing a lineup a third time, etc. In terms of the importance of avoiding outs, they ranked the batting order positions this way, from most to least: 1, 4, 2, 5, 3, 6, 7, 8, 9.
So Andrelton Simmons' fifth spot, according to those experts, is actually a better place to store a hitter who reaches base more often. Because of how often it comes up with two out and no one on, Albert Pujols' third spot is a good place to keep a hitter with a homer-centric profile. At this stage in his storied career, Pujols clearly fits that bill.
Would the Angels be better with a designated hitter who made an out 65% of the time he batted instead of Pujols' 72.3%? Yes. Would they be better if they moved their designated hitter down two or three spots? Maybe a little bit, but not really.
So, yeah, there are a few factors. One is Mike Scioscia's confidence in Albert Pujols and deference to him. Against all expectations, Pujols became one of the best ballplayers to ever live on this Earth, and for that feat he will forever hold the respect of his peers.
If the Angels had another established power hitter on their roster, I don't doubt that by now he would have usurped Pujols' spot. But they don't. Their top options are a guy who entered 2017 with a career .363 slugging percentage (Simmons), a guy who is currently slugging .394 (Kole Calhoun), a guy who has shuffled between triple-A and the majors all season (C.J. Cron), and maybe the best fit, Luis Valbuena, who struggled for most of this season and is still carrying a below-average line.
Also, despite his inability to get on base, Pujols continues to drive in runs at an acceptable rate. This season, he has brought in 79 of the 361 base runners who stood aboard while he batted. That 21.8% success rate is better than the league rate of 19.6%, and it's better than Simmons', Calhoun's, and Cron's rate of driving in baserunners. It is not better than Valbuena's. I think it would make sense to hit Valbuena third.
If Mike Trout continues to average 4.7 plate appearances per game, and he plays every game the Angels play, he would qualify for the batting title on or about Sept. 12. If he keeps on his prodigious pace, by that time Trout will have already surpassed Jose Altuve and Aaron Judge in the race for the most Wins Above Replacement.
It could create an interesting Most Valuable Player conversation. Shoutout to The Times for asking its writers not to vote and avoiding the mess.
Yunel Escobar is going to begin a rehab assignment Tuesday. He should be back within a week. His importance on the major league roster is lessened as long as Valbuena is healthy and hitting well.
Nothing has changed regarding Nick Tropeano. He is on the path back from Tommy John surgery, throwing up-down bullpen sessions and in Arizona to continue his rehab this week. He should be facing hitters in a few weeks.
No.
At some point in September, the Angels are likely to promote pitchers Eduardo Paredes, Mike Morin and Daniel Wright, catcher Carlos Perez, infielder Nolan Fontana, and an outfielder, likely Eric Young Jr. or Shane Robinson. All but the outfielders are already on the 40-man roster.
Others who could get a chance include Brooks Pounders and the newly reacquired Fernando Salas. Escobar, Garrett Richards and Huston Street are also likely to be activated from the disabled list during the month, and I suppose there's a chance Alex Meyer and JC Ramirez could, too.
At this point, it's likely. Richards is going to throw three innings Wednesday for triple-A Salt Lake. He's not going to be handling seven innings or anything, but he should factor into the club's September pitching plans.
It has been 10 innings. You should never read much into the results of 10 innings of regular-season baseball. Andrew Heaney is still only 13 months removed from Tommy John surgery, and the Angels began this season with zero hope he'd pitch for them. He beat the projections. Now, he has to find the feel for his curveball, which has escaped him through his first two starts.
I do not think a 42-year-old Vladimir Guerrero would approach replacement level. You know who could, though: 18-year-old Vladimir Guerrero Jr. He is currently tearing up the Florida State League for the Class-A Blue Jays. Based on his success there, Steamer projects he'd post a .239/.304/.355 line in the major leagues today. That's good for a .659 on-base-plus-slugging percentage. Pujols has a .656 OPS.
Pujols is under contract through 2021. I do not think he will conclude the 2021 season hitting third in the Angels' lineup.
Check back each Monday for new mailbags. Until then, feel free to submit questions at the below addresses.
pedro.moura@latimes.com
Twitter: @pedromoura
Get the latest on L.A.'s teams in the daily Sports Report newsletter.
You may occasionally receive promotional content from the Los Angeles Times.