Angels put an end to the Tim Lincecum experiment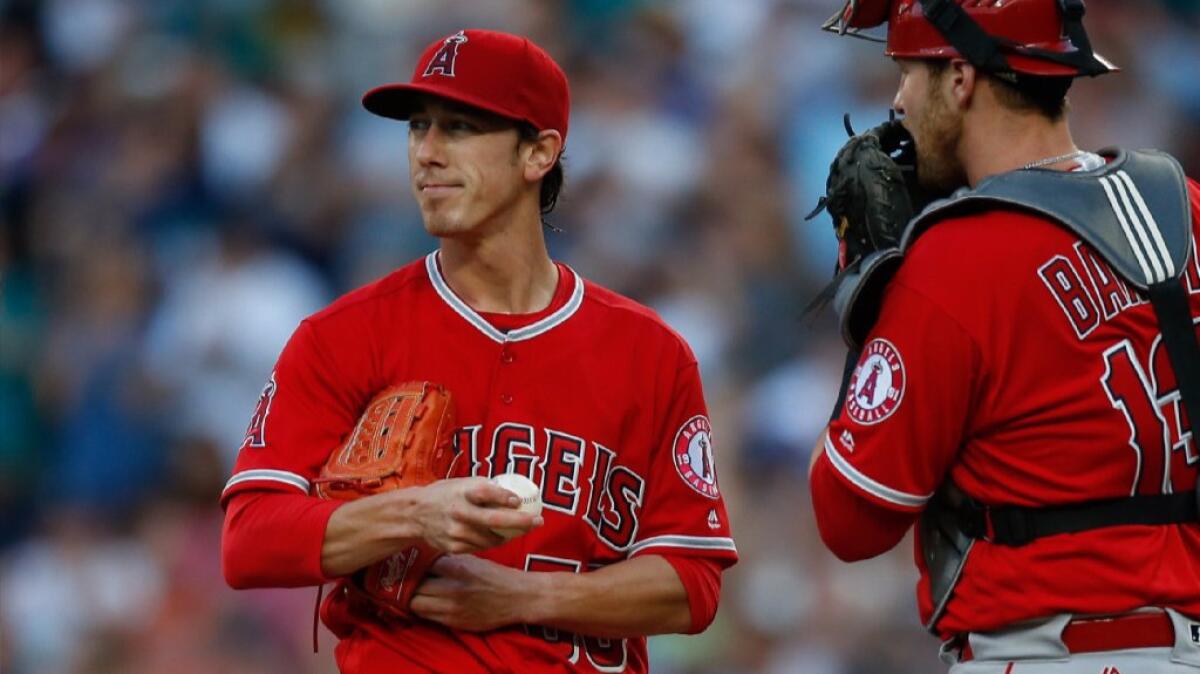 Reporting from Seattle —
Faced with an experiment that delivered continually worse results, the Angels cut it short Saturday, designating Tim Lincecum for assignment. The 32-year-old right-hander's 9.16 earned-run average was in the first percentile among major league pitchers, his starts progressively providing less and less hope he could ever recapture what he once was.
On June 18 at the Oakland Coliseum, across the bay from where he became a star, Lincecum fired six innings of smooth, auspicious baseball in his Angels debut. He yielded only one run, and the Angels won. But, in the eight starts since, Lincecum never had another outing as good, and some were abjectly awful. Opponents hit .424 with a .491 on-base percentage and .728 slugging mark after that first day.
"It's very clear now that he hasn't progressed from his first couple starts," Angels Manager Mike Scioscia said Saturday. "He's kind of regressed a little bit."
When asked late Friday night if he'd make another start, after Lincecum's latest loss, this one in his hometown, Scioscia said the club had not yet "digested some things."
"So, if you ask me right now, I could say yes," Scioscia said. "But, obviously, we have to sit down, review his video, see where the positives were, and see where we are."
The next day, he expressed hope Lincecum would accept an assignment to triple-A Salt Lake and try to make it back to the majors when rosters expand in September. Nearing 10 years of service time, he has the right to turn the assignment down and become a free agent, assuming he clears waivers. Scioscia said Lincecum was "pragmatic" upon receiving the news.
"It's really a matter of getting his mechanics and release point more consistent, and that's really impossible to work at at the major league level," Scioscia said. "In trying to get him to be that finished product, of where we feel he can come up here and be a winning pitcher in the major leagues, it's going to take some work."
Talent evaluators who've watched Lincecum this season believe a full off-season of training will provide his only chance of becoming a serviceable pitcher. He signed with the Angels in May, as soon as he recovered from September hip labrum surgery, and he never regained his lost fastball velocity. His four-seam fastball averaged 87.7 mph this season, about the same as in 2015. The opposition batted .519 against it, and only once did a batter strike out against it.
From the prorated portion of $2.5 million for which he signed, Lincecum is still owed more than $800,000 in the season's final two months. With two more starts, he would have begun receiving incentive payments, which could have pushed the Angels above the $189-million luxury-tax threshold.
The day Lincecum's signing became official, General Manager Billy Eppler noted that, and emphasized the Angels did not much care that Lincecum's ERA in his four most recent seasons was 4.68.
"When you look more into the peripherals, you can capture a little bit of what he'll be able to bring for us," Eppler said then.
Lincecum's strikeout rate remained respectable throughout his decline in San Francisco. It was the walks that hurt him, and again with the Angels, where he walked 5.4 men per nine innings, by far the highest mark of his career.
To take Lincecum's spot on the 25-man roster, the Angels recalled right-hander Jose Valdez from Salt Lake. Acquired in June from Detroit, Valdez had struck out 28 men and allowed only two runs in 25 2/3 innings. He will pitch in relief, at least until the next time Lincecum's spot comes up in the Angels' rotation.
Because of their off day Monday, that will not be until a week from Saturday, in Cleveland, if the Angels so choose. The chief candidates to join the rotation appear to be triple-A pitching prospect Nate Smith and veteran journeyman Jhoulys Chacin, who made 10 mostly unsuccessful starts before being demoted to the bullpen last month.
Scioscia declined to reveal the team's plans.
Follow Pedro Moura on Twitter @pedromoura
Get the latest on L.A.'s teams in the daily Sports Report newsletter.
You may occasionally receive promotional content from the Los Angeles Times.