Angels head to offseason with a victory and plans to shore up the offense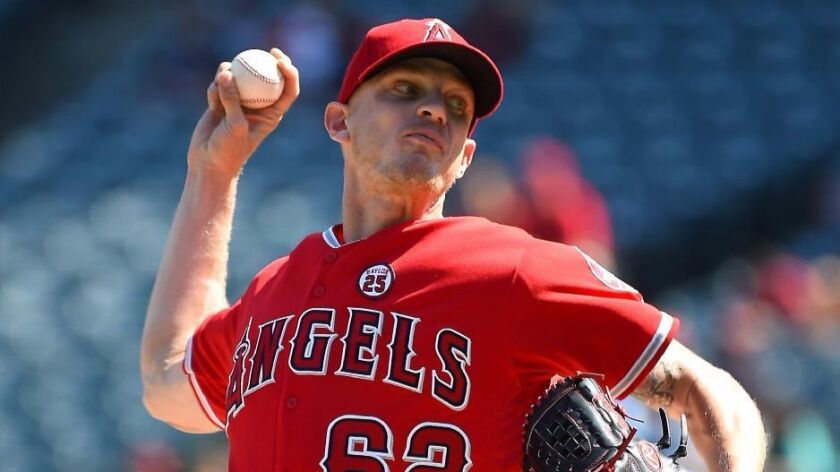 Hours before the Angels were eliminated from 2017 postseason contention last week, their manager made a simple, declarative statement about 2018.
"The obvious talking point this winter," Mike Scioscia said, "is going to be our offense."
Mike Trout is Mike Trout. No reason exists to expect his performance to deviate from his lofty norms next season. Rather, offensive improvements are most likely to come from a more robust version of Albert Pujols and a full season of Justin Upton. But neither hope can be simply had.
Major league scouts who evaluated a 37-year-old Pujols this season noted he seemed heavier. The apparent added weight manifested itself in decreased speed, as MLB's Statcast data showed he had the sport's slowest sprint speed: 1.4 feet per second slower than two years ago.
The same data trove demonstrated that, in September, opposing infields positioned themselves deeper to defend Pujols than for anyone else in baseball. Those facts are connected, and together they repress his batting average.
Before the Angels' season-ending 6-2 victory over Seattle on Sunday at Angel Stadium, Pujols admitted he might not have been in optimal condition to begin this season after undergoing December foot surgery.
"Remember," Pujols said, "I was supposed to miss the first three months of this season. And I worked my tail off. Maybe a little bit out of shape coming into spring training, but I worked myself up to being ready for opening day."
He said improving his physical condition was his "main goal" for the offseason.
"Hopefully, start hitting a little bit earlier, start doing more weights, start doing my program like I normally do every year except the last couple, being hurt," he said.
He'll rest for three to four weeks, he said, and then resume work. General manager Billy Eppler said Pujols will be following different training, conditioning, and nutrition regimens. Asked to what end, Eppler declined to comment.
Scioscia said Pujols had "big plans" for the offseason.
"Although he was quote-unquote healthy through spring training and the start of the season, I don't know if he was at the level that I think we'll see him at with a full offseason of conditioning," the manager said. "He's gonna come back with a vengeance."
Asked if that could manifest itself in improved play, Scioscia said Pujols was not receiving appropriate credit for his play this year.
"He did a lot," Scioscia said. "He's a force in our lineup."
Pujols finished with a .241 batting average, .286 on-base percentage, and .386 slugging percentage. Those statistics ranked in the 12th, fifth, and 10th percentiles among MLB's 144 qualified hitters.
The Angels owe Pujols $114 million over the next four seasons. Upton has the option to receive $88.5 million over the same time, if he declines to exercise his opt-out clause by three days after the World Series ends.
Eppler said he would talk to Upton's agent this month to "express exactly how we feel about him." Trout similarly stressed the impact of Upton's presence since his Aug. 31 acquisition from Detroit.
"Obviously, the month that he's had that he's been here has been unbelievable," Trout said. "When you add a guy like that to a lineup, it just makes it so much deeper and better. We've gotta get him back."
Upton completed 2017 with a .273 average, .361 on-base percentage and .540 slugging mark, all above the league standard.
Discussing Upton's choice, Pujols referenced his own trip through free agency in 2011, when he learned the benefits detachment can have when making a decision.
"I'm not going to call him, I can tell you that," Pujols said. "I'll respect that. He won't hear a call from me."
Scioscia, too, said he did not feel the need to try to persuade Upton to return.
"All we can do is set an environment where players feel very, very comfortable," Scioscia said. "He knows how much we want him."
All month, Upton maintained he had not thought about the impending decision. As he danced along to A$AP Ferg's "Rubber Band Man" in the clubhouse Sunday, he did not seem like a man aching to depart.
"I definitely like the guys in this clubhouse," Upton said. "I like the feel of this clubhouse. I enjoyed my month here."
Like many of those teammates, he makes his offseason home in the Phoenix metropolis. He plans to gather with some and troll others, including first baseman C.J. Cron, who won Suns season tickets from Trout for homering twice two days before Upton's arrival.
"I'll find out what games he's going to," Upton said. "I'll go sit right in front of him, and I'll stand the entire game."
Follow Pedro Moura on Twitter @pedromoura
---
Get the latest on L.A.'s teams in the daily Sports Report newsletter.
You may occasionally receive promotional content from the Los Angeles Times.