Angels get a glimpse into their future as Trout and Ohtani hit back-to-back homers in bittersweet loss to Mariners
When they look back at Saturday evening's 6-5 loss to the Mariners, the Angels might lament a rookie reliever's mistake pitch to an established veteran. As this disappointing season peters out, they might wonder if they trusted him too early with a tight assignment.
But they will also sort positives out of a defeat that caused their season record to fall to 73-76.
Like this one: Mike Trout ambushed Mariners starter Erasmo Ramirez's first-pitch 89-mph offering in the first inning for a two-run homer.
Five pitches later, rookie Shohei Ohtani launched a home run of his own. It was the first time this season the pair hit back-to-back homers. In the process, Ohtani became the eighth Angels rookie to hit at least 20 home runs, joining Trout on the list, and the first player to log 10 pitching appearances and hit 20 home runs in a season since Babe Ruth in 1919.
When the rookie completed his 20th home run trot of the season and returned to the Angels dugout, Trout removed Ohtani's helmet from his head as though lifting a crown — with reverence and a smile.
"We've seen it all year with those guys," said Angels starting pitcher Andrew Heaney. "I don't think it's a surprise to anybody. I think that that's the potential that they have, that they bring to our lineup to change a game. I think everybody would love to see more of that."
These are the moments the Angels can take comfort in. These are the moments in which they can cease wondering what might have been if their starting rotation had not crumbled and start dreaming about the future.
Ohtani, Trout and Justin Upton, who homered off Ramirez to lead off the fourth inning and hit a ninth-inning solo shot, have combined for 83 home runs this season. For at least one more year, they will occupy the same lineup.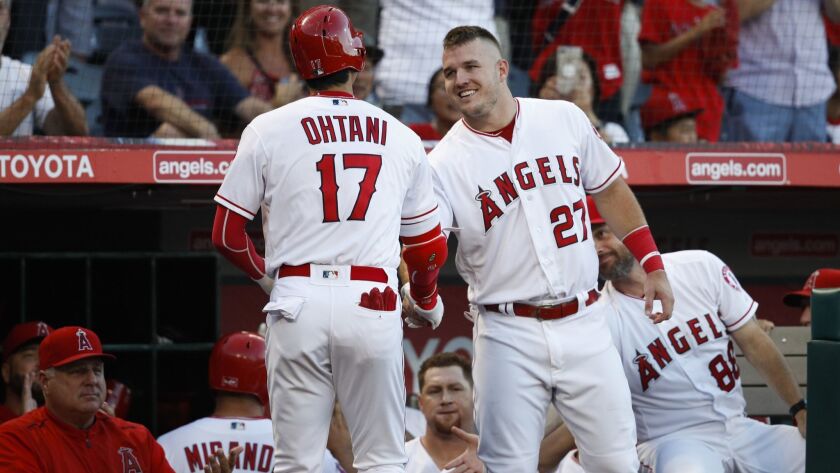 Albert Pujols will also take his turns in their midst. Power could emerge elsewhere in the lineup.
That's no small thing. And Saturday's early display helped the Angels keep Heaney in line for what would have been his 10th victory until Williams Jerez left a belt-high slider out over the plate for Robinson Cano, who knocked the pitch into the center-field wall for a go-ahead, three-run double in the eighth inning. Jerez, who allowed 10 runs (eight earned) in his previous five outings, had entered with two outs and the bases loaded in a 4-3 ballgame. Two runs were charged to Jose Alvarez and the third to Jim Johnson.
The malfunction erased Heaney's five-inning, two-run performance. He had only thrown 78 pitches when manager Mike Scioscia turned the ball over to Justin Anderson for the sixth. Heaney had battled through his final two frames. Although an inning-ending double play helped him neutralize a bases-loaded threat in the fourth, he could not keep runs off the board in the fifth as Kristopher Negron and Mitch Haniger clubbed solo homers to halve what had been the Angels' four-run lead.
"Andrew was grinding tonight," Scioscia said. "I think he was working against himself a little bit. Just didn't feel like he was in sync. Made some good pitches to get out of some jams but all in all he just wasn't as crisp tonight as we've seen."
Skaggs nears return
Beyond Jaime Barria's scheduled start Sunday, the Angels have not announced a starter. They should have some clarity by the end of this series with the Mariners, as left-hander Tyler Skaggs is scheduled to throw a final bullpen session at Angel Stadium on Sunday in hopes of finally returning healthy from the disabled list.
If cleared, Skaggs will have the chance to improve on his career-high of 1162/3 innings pitched. But it won't be enough to appease the 27-year-old, who had a 2.81 ERA in his first 14 starts before a weight room incident in June disrupted his All-Star Game bid.
Sitting in his home clubhouse for the first time this homestand on Saturday, Skaggs expressed regret for rushing back to the Angels' rotation. He'd wanted so badly to patch up the holes in the pitching staff he didn't let the adductor muscle in his right leg heal. He took nine days between starts in late June, pitched one more game on regular rest and then succumbed to the disabled list at the beginning of July.
The right adductor strain kept him out of the rotation for less than two weeks — and the decision to return proved costly. Although he'd improved, the strain had not subsided, causing him to overcompensate with his back leg.
His left adductor eventually wore down, too, forcing Skaggs back to the disabled list in August.
"It was one of those things where I really was just trying to push through," Skaggs said. "In the grand scheme of things, maybe it was the wrong thing to do."
---
Get the latest on L.A.'s teams in the daily Sports Report newsletter.
You may occasionally receive promotional content from the Los Angeles Times.