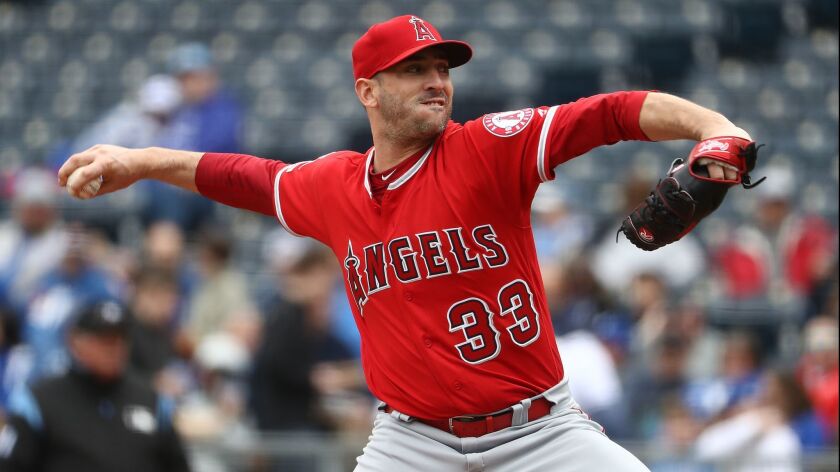 Reporting from kansas city, mo. —
After nearly 30 games, the Angels have finally seen two encouraging signs emerge in their starting rotation.
Left-hander Tyler Skaggs threw five scoreless innings against the Kansas City Royals in a win Friday, and rebounding starter Matt Harvey tossed seven strong innings Sunday.
Harvey allowed two hits and three walks while striking out five, surrendering one run in a 7-3 win at Kauffman Stadium.
In between, there was a clunker. The Angels employed an opener for one inning Saturday so young Jaime Barria could avoid the top of the Royals' batting order for at least an inning. The plan was not executed well, and it left Barria trudging off the mound after allowing seven earned runs in 1 2/3 innings of an eventual loss.
That's why Harvey's Sunday afternoon was so significant. Perhaps if he can string together more strong performances, the Angels needn't worry about maximizing the outing of a back-end starter. They can rely on the others — that group will continue to be refined after top prospect Griffin Canning makes his debut Tuesday at Angel Stadium — to carry the weight.
"We're moving in the right direction," said Harvey, who became the first Angels starter to last seven innings this season. "Just gotta keep going, keep working and we're gonna be all right."
Several times this month, Harvey has lamented his fastball command. He has regretted how fine he was trying to be with his pitch placement and how worried he was about his mechanics. None of those thoughts translated into success. Harvey just kept wrecking his pitch count with one bad inning and never putting his team in position to win.
Through his first four starts, Harvey allowed 20 earned runs and a .333 batting average.
Then came last week's outing against the New York Yankees. Harvey handled them with relative ease, forced to throw more than 15 pitches in an inning only once. There wasn't as much thinking as just trusting his stuff — which manager Brad Ausmus said has markedly improved since early in spring training.
"I think the big thing was you put together a decent start the last outing and then you try and go out and keep that going — and the thought of that crept in my head early this morning," Harvey said. "I kind of used that as energy to just stay focused and keep my attention close to that. I wasn't striking out the world and guys were making plays behind me."
It was the same on an overcast Sunday that featured 12-mph winds at game time. Harvey attacked Royals hitters and breezed through his innings. Harvey gave up hard contact — only two of the 14 balls in play were hit softer than 90 mph — but he never let the struggling Royals put together a big inning. The most trouble Harvey encountered was in the fourth, when Alex Gordon struck out but reached on a wild pitch to lead off the inning. Gordon eventually scored on a sacrifice fly.
Beyond that, Harvey was nearly flawless. He retired 12 of the final 14 batters he faced and never allowed another runner to reach second base.
"That was a stellar performance," said first baseman Justin Bour, who hit a three-run homer but chose to acknowledge Harvey before addressing himself. "You can tell he's been putting the work in and it really showed today."
The key to his success was his curveball, a pitch he committed to improving with the help of first-year pitching coach Doug White when he signed with the Angels in December. Until Sunday, Harvey had not thrown it more than 11 times in a game this season, despite the fact that historically his curveball has helped him draw swings and misses in an appreciable way. When he threw the pitch only 5.5% of the time last season, he saw whiffs on 33.9% of his curveballs. He posted similar whiff rates in 2013 and 2015, the years he dominated baseball with a combined 2.50 ERA for the New York Mets.
Both of those years saw Harvey rely on his curveball almost as much as his slider.
"Doug's been doing a great job with that, staying on me," Harvey said. "I can get slider-heavy sometimes, so for him to really stay on me about the changeup and the curveball and going through the drills that we do in between starts has been huge."
Harvey can of course be effective without his curveball. But the lowly Royals, who crushed Harvey in the 2015 World Series that Kansas City won, proved why he should not be so slider-dependent. They swung and missed at three curveballs and received strike calls on two others. In all, Harvey drew nine swings and misses and received 15 strike calls in the outing.
Remember, this isn't the All-Star Harvey who threw in the high 90s and tore apart opponents with his ferocity early in his career. He's three years removed from surgery to recover from thoracic outlet syndrome, a procedure that zapped him of the fastball velocity that helped him earn the "Dark Knight" moniker in New York. But Harvey can still pitch. The Angels (12-17) need to see that happen if they're to make any kind of headway in the race to the playoffs.
Twitter: @maria_torres3
---