It could come down to one thing for Angels: Rotation, rotation, rotation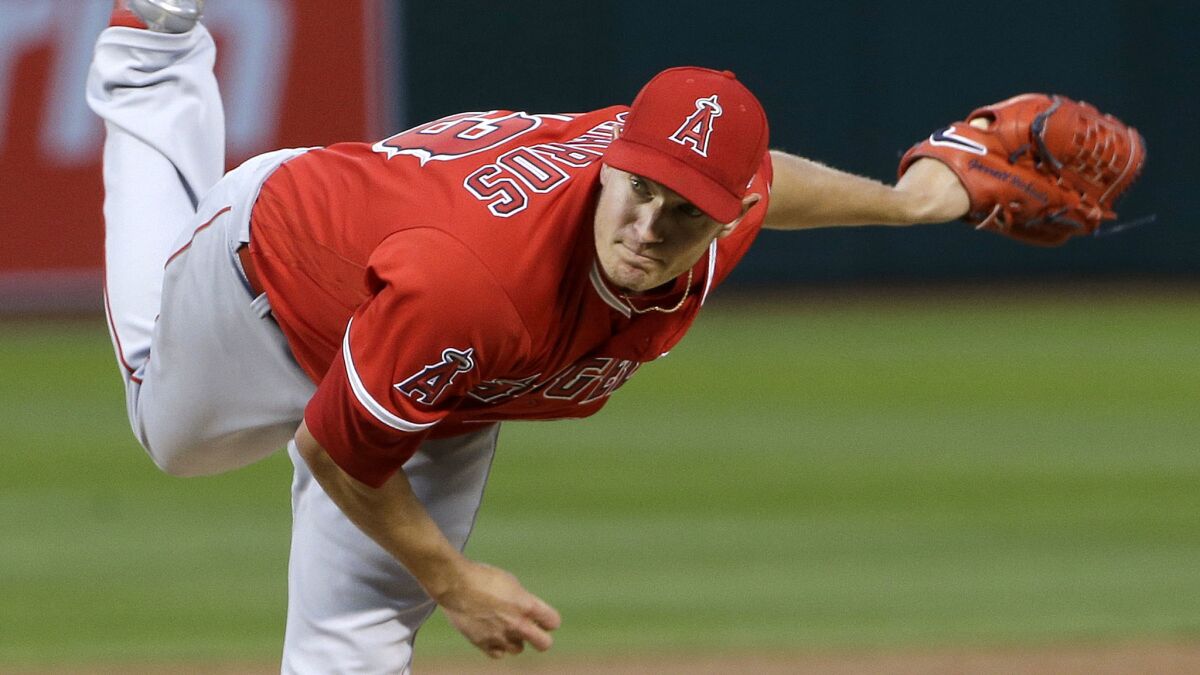 Reporting from TEMPE, Ariz. —
And so the great experiment begins, the Angels donning lab coats and goggles as they attempt to fit baseball's first potential two-way star since Babe Ruth into their rotation and lineup and hoping it all doesn't blow up in their face.
The chance of combustion, though, seems slim.
Even if Shohei Ohtani is not the slugger he was in Japan, the with his 100-mph fastball and vast array of off-speed pitches could be an ace that provides great value for the $22.3 million the Angels invested in him.
Either way, it will be interesting to see if Angels pitchers, who report to spring training with catchers on Tuesday and begin workouts Wednesday, adapt to a six-man rotation to accommodate Ohtani. And it should be fascinating to see how Ohtani transitions to the major leagues and handles the infrared spotlight on him.
"If you're more of a risk-taker in life, this is exciting," general manager Billy Eppler said. "To use a maritime analogy, if you're sailing away from shore, the farther you sail, there's caution, there's awareness. Your senses are on higher alert. But there's also some intrigue and excitement with that."
There's some uncertainty surrounding Ohtani, who was diagnosed in October with a small tear in the ulnar collateral ligament of his prized elbow, a condition the Angels are not overly concerned about. Many pitchers have been successful with similar tears.
There's also uncertainty surrounding a rotation that features five pitchers — Garrett Richards, Andrew Heaney, Matt Shoemaker, Tyler Skaggs and Nick Tropeano — who missed significant chunks of the past two seasons because of injuries.
Rotation setbacks could negate the upgrades the Angels made to further protect Mike Trout in their lineup — the signing of left fielder Justin Upton to a five-year, $106-million extension and acquisitions of third baseman Zack Cozart (three years, $38-million) and second baseman Ian Kinsler (trade with Detroit).
And setbacks could derail the team's hopes of challenging for a playoff spot in a rugged American League West headed by the defending World Series-champion Houston Astros. The Angels finished 80-82 last season, 21 games behind the Astros.
But the Angels at least will enter camp in good health.
"To my knowledge," Eppler said, "everybody is walking in without restrictions."
Ohtani's assimilation and the health of the rotation are just two of the story lines to watch this spring. Among the others:
Who's on first?
For the left-handed-hitting Ohtani to start at designated hitter two or three times a week, Albert Pujols, the 38-year-old slugger who was limited by foot injuries to a combined 34 games at first base in 2016 and 2017, must play the field two or three times a week.
The Angels are encouraged by the fact that Pujols, who has averaged 30 homers and 105 RBIs in his five full seasons in Anaheimbut had a career-low .672 on-base-plus-slugging percentage in 2017, completed a normal winter workout regimen after rehabilitating from surgery the previous four winters.
"He's looking a lot lighter," Eppler said. "I saw him moving around, taking ground balls, hitting as well. He looks really good."
Left-handed-hitting Luis Valbuena will share time with Pujols at first, which could make slugger C.J. Cron expendable.
'Pen pliability
A patchwork bullpen ranked fifth in the league with a 3.92 ERA last season, and the departures of Bud Norris (19 saves), Yusmeiro Petit (2.76 ERA) and David Hernandez (traded to Arizona) will force them to adjust on the fly again.
Blake Parker (2.54 ERA, 86 strikeouts in 67 1/3 innings) is the best returning reliever, and hard-throwing rookie Keynan Middleton showed promise, but bounce-back seasons from Cam Bedrosian, hampered by a groin injury in 2017, and newcomer Jim Johnson (5.56 ERA with Braves) will be needed.
Rule 5 pick Luke Bard could be a multi-inning candidate, and Ian Krol could push Jose Alvarez for the left-handed spot. The odd man out of the rotation — JC Ramirez or Tropeano — could move to the bullpen.
"I'm not sure if we're going to name a closer or have three, four or five high-leverage guys and let the game dictate how we use them," Eppler said. "Having the flexibility to do that last year paid dividends, and we're open to it again."
Infield shift
Cozart started 706 games in seven years at Cincinnati, 704 at shortstop and two at DH. He never played third base but should be able to handle the transition many standout shortstops have made.
"We feel confident that, based on how he plays shortstop and reacts to balls off the bat there, he'll be able to do it," Eppler said.
If the versatility Cozart showed during his recruitment in December is any indication, he should be fine. A day after Cozart agreed to terms to play second base, trade talks for Kinsler heated up.
While Cozart was traveling to Southern California for his physical, he got a call from Eppler, who asked if he was willing to play third if the Angels got Kinsler.
"He just said, 'Billy, is this gonna make us better?' " Eppler said. "I said, 'Yeah.' And he said, 'OK, then I'm in.' His character came as advertised."
How to best use Ohtani
The plan for how the Angels will use Ohtani remains fluid. "We've run a lot of different permutations," Eppler said. "We've crossed off a lot of them and have two real models we're looking at."
Do both involve six-man rotations?
"I'm not gonna go any farther than that," Eppler said, "but we definitely have looked at a six-man rotation."
Ohtani is 23, he's never pitched in the big leagues, and he missed most of last season in Japan because of an ankle injury. The Angels don't want to overwhelm him.
"There will be assessments of him on a very regular basis," Eppler said. "We'll make our best decision on how much fuel is in his tank on that particular day and how we might be able to utilize him."
End of the road?
This sentence hasn't been written in a decade: Mike Scioscia is entering the final year of his contract. The 10-year, $50-million deal Scioscia signed before 2009 expires at the end of the season, and there have been no rumblings of an extension for baseball's longest-tenured manager.
Scioscia is entering his 19th year with the Angels and third full season with Eppler. While the two appear to have a solid working relationship, a disappointing 2018 season could give Eppler reason to make a change.
"At the end of last season, I sat down with Mike, and the first thing he said was, 'Hey, do you guys want me back next season?'" Eppler said. "I said, 'Yeah, you're coming back if you want to.' He said, 'OK, yeah, let's do that.'
"Then he said, 'As for anything beyond that, let's table all that, we'll talk about it at the end of next season.' I said, 'OK.' That was it. He said, 'It will all work itself out; let's just focus on winning in 2018,' so that's our mindset."
---
Get the latest on L.A.'s teams in the daily Sports Report newsletter.
You may occasionally receive promotional content from the Los Angeles Times.