Mike Trout launches two homers in Angels' victory over Rangers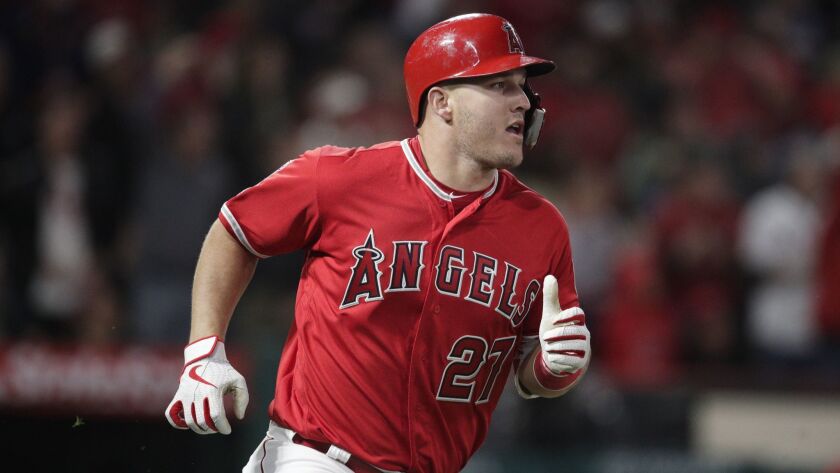 For days, the Angels sputtered at the plate. They struggled to reach base. Then, when they found a way on, they left men in scoring position, squandering their best opportunities to break open games.
On Friday night, in front of an announced crowd of 41,089 at Angel Stadium, the Angels didn't need much to go their way on the bases.
All they needed was Mike Trout.
Trout crushed two home runs, both solo shots, to catapult the Angels to their second victory of the season. They beat the Texas Rangers 3-1 and improved to 2-6, much of it on the strength of a player who was presented his sixth Silver Slugger award before the game.
Trout showed he was fallible in the third inning of the scoreless game. After Kole Calhoun hit a single that scored Brian Goodwin, who had doubled, Trout came to the plate with runners on first and second and a 1-0 lead. An anti-climatic result followed: Rangers starting pitcher Lance Lynn flipped Trout a fastball on the inside part of the plate and induced an inning-ending double play.
Trout quickly remedied his mistake when he returned to the batter's box in the sixth inning of a 1-1 game. Lynn tried to get Trout to chase after two pitches outside the zone, but Trout remained patient. Then Lynn threw a 2-and-0 fastball, and the pitch hurtled right down the middle. Trout barreled the baseball and sent it flying 389 feet to right-center field for a go-ahead home run.
Facing Rangers reliever Jesse Chavez in the eighth, Trout took the same approach. He waited out a few pitches thrown outside the zone, then recognized a belt-high cutter on the outer edge of the plate. He swung and connected, sending it soaring toward the front row of seats over the right-center field wall, near where his first home run landed.
For the second night in a row, people in the crowd chanted "M-V-P" as he touched home plate.
For the 15th time in his career, Trout went deep multiple times in one game, giving him a team-high three home runs for the season. The last time he did it was Sept. 8 against the Chicago White Sox.
"I can't go up there saying that they're not going to pitch to me, because then if they do throw in there you're not going to hit it," Trout said. "I've just got the mindset that they're always going to throw to me and [I] take my walks. But tonight, just got in a good position to hit and I didn't miss them."
Trout's performance complemented a shut-down effort from the pitching staff. Starter Felix Pena, who at times struggled to find the strike zone, gave up only one run over 4 2/3 innings. He threw good breaking balls, inducing misses that ultimately helped him rack up seven strikeouts.
The Angels' bullpen protected the tie and the lead. Rookie Justin Anderson allowed a walk but nothing else in 1 1/3 innings for the win. Hansel Robles worked out of a jam in the seventh inning, stranding a runner at third base and striking out two batters. Rookie Ty Buttrey was equally efficient in the eighth. Closer Cody Allen pitched a perfect ninth for his first save.
When the Angels win, a baseball is drilled onto the date on a large calendar on the wall of the home clubhouse at Angel Stadium.
Some time after the Angels were done celebrating, their second win was destined to land on the wall.
"He kind of threw us on his back tonight," Allen said of Trout.
"I'm just fortunate enough to be in this room with him on this team," he added. "This is a group that he's going to lead to some special places and, you know, I'm just trying to do my part."
Sign up for our daily sports newsletter »
---
Get the latest on L.A.'s teams in the daily Sports Report newsletter.
You may occasionally receive promotional content from the Los Angeles Times.