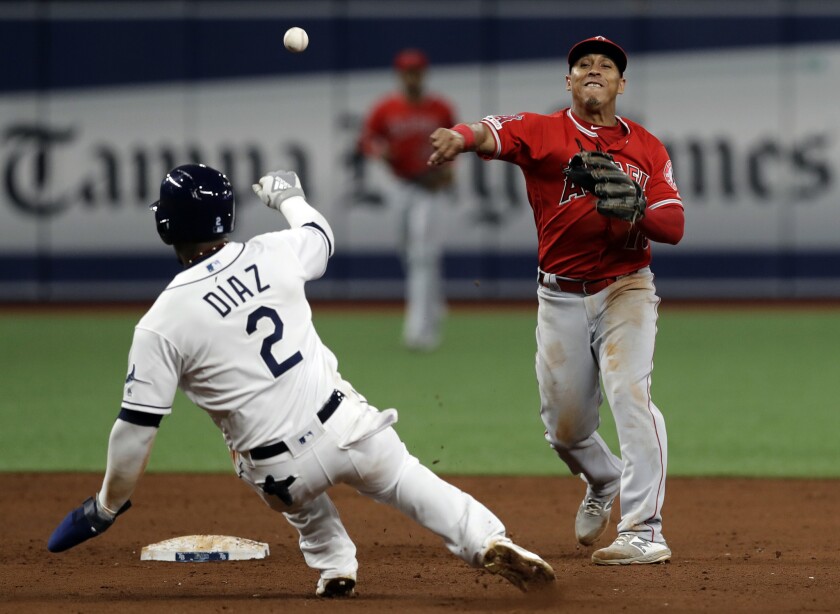 Reporting from ST. PETERSBURG, Fla. —
The Angels have had five opportunities to get to .500 since mid-April. They've squandered each one.
A 9-4 loss to the Tampa Bay Rays on Friday night at Tropicana Field kept the Angels from evening their record at 35-35. They fell to 34-36, a mark that left them languishing 13 games out of first place in the American League West and 3 1/2 games behind the second spot in the wild-card race.
A rare bullpen collapse was to blame. Rookie reliever Ty Buttrey hit the first batter he faced in the sixth, then gave up two straight RBI hits allowing the Rays to take a 5-4 lead. Veteran Cody Allen then gave up a double and subsequent two-run homer to Ji-Man Choi in what became a four-run seventh.
But it was reliever Luis Garcia's sixth-inning mess — a three-hit, three-run stretch in which he only retired two batters and allowed an inherited runner to score — that was most damaging to ending the Angels' three-game winning streak.
"I have to throw strikes, get ahead of hitters," said Garcia, who has a 4.74 ERA in 27 games. "Lately, I haven't been able to do that."
His ineffectiveness spoiled what had been a 4-0 Angels lead and starter Andrew Heaney's strong five-plus innings. Since making his season debut a few weeks ago, Heaney has lasted five innings in all four starts. He pitched well in his previous outings, save for a few pitches opponents have hit for home runs. The left-hander didn't face that problem Friday, allowing just two hits. He didn't allow the first hit until the Rays' Joey Wendle with two out in the fourth.
While he denied the Rays a chance to advance beyond second base, Heaney labored. He threw 94 pitches in five innings, walked three batters and collected only two strikeouts. Third baseman David Fletcher's error on what might have been an inning-ending, double-play ball in the third forced Heaney to work harder than he should have.
"Not the best stuff I've had, but it was one of those ones you are trying to grind through and do what you can to keep them in the game," Heaney said. "It's nice when you score runs early like we did. It's easier to pitch to contact especially when you don't have good stuff."
Sign up for our daily sports newsletter »
At the plate, the Angels offense stalled. They built a four-run lead, but did so by pieces. Albert Pujols, who stranded five runners, flew out for a sacrifice and Cesar Puello singled home the Angels' second run in the first inning. Shohei Ohtani drew a bases-loaded walk in the second. When Rays first baseman Yandy Diaz committed an error on what would have been an inning-ending double play ball in the fourth, a fourth run scored and Ohtani reached base for his third time in the game.
The Angels fizzled soon after.
Although the Angels ran Rays starter Blake Snell out of the game after 3 1/3 innings, last year's American League Cy Young winner didn't factor into the decision. The four walks, five hits and four runs he allowed were swept away by the Angels' malfunctioning group of relievers.
"Not just because it's Snell, but when you have a four-run lead at that point in the middle of the game, you feel pretty good about your chances, assuming you can tack on a run and hold down the Rays," Angels manager Brad Ausmus said. "But baseball games aren't scripted and sometimes a team comes back and that's what they did."
---