Angels put left fielder Daniel Nava on the disabled list because of tendinitis in his left knee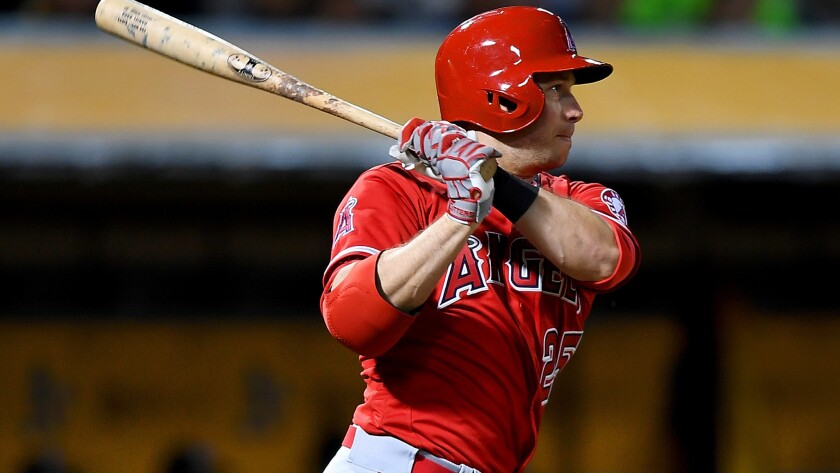 Reporting from Minneapolis —
Normally, Daniel Nava would have appeared as a pinch-hitter in the eighth inning Friday, with the score tied, Craig Gentry due to bat and a right-hander on the mound. But Nava, a left-handed hitter, stayed on the bench, providing a clue that he was not right.
He batted one inning later, feeling uncomfortable, and struck out. On Saturday morning, the Angels placed the 33-year-old left fielder on the 15-day disabled list with left patellar tendinitis.
"We need to take a step back," Manager Mike Scioscia said.
Nava first felt pain in the knee in 2013, felt it again last season and again toward the end of spring training this year. It flared up when he hit the outfield wall late in Tuesday's win in Oakland. He said it has "slowly gotten worse" through the years.
"That's why we're being cautious with it right now," Scioscia said.
Nava expects to return to the majors at the start of May, as soon as he is eligible.
To replace him until then, the Angels called up Rafael Ortega from triple-A Salt Lake. He found out during the Bees' game Friday night in Sacramento, took a 10:50 p.m. flight out, and arrived in Minneapolis roughly four hours before Saturday's 1 p.m. CDT game.
Ortega, 24, had not appeared in the majors since September 2012. He starred in the spring for the Angels after signing as a free agent in the off-season, and then hit well for the first week of the triple-A season. He was the only outfielder on the 40-man roster not on the major league team.
"I've been working for this," Ortega said.
He batted second Saturday, where Nava would have been against right-hander Ricky Nolasco. He reached base twice and stole a base.
Short hops
Scioscia said he conveyed "misinformation" Friday when he said left-hander Tyler Skaggs was scheduled to throw four innings for Salt Lake. He was planning to throw only three, which is what he did. He's scheduled to throw four innings Wednesday as the Angels slowly ramp up his workload. "There is a conservation issue," Scioscia said. "We want to make sure when he gets here he has enough to go out there and finish strong for as long as our season will be." . . . On his 411-foot, 113-mph drive that banged off the center-field wall in the fifth inning Saturday, Mike Trout missed first base and had to circle back to touch it, lest the Twins notice and get him out on the technicality. That turned an extra-base hit into a single.
Follow Pedro Moura on Twitter: @pedromoura
---
Get the latest on L.A.'s teams in the daily Sports Report newsletter.
You may occasionally receive promotional content from the Los Angeles Times.