Angels pitcher Andrew Heaney will receive a platelet-rich plasma injection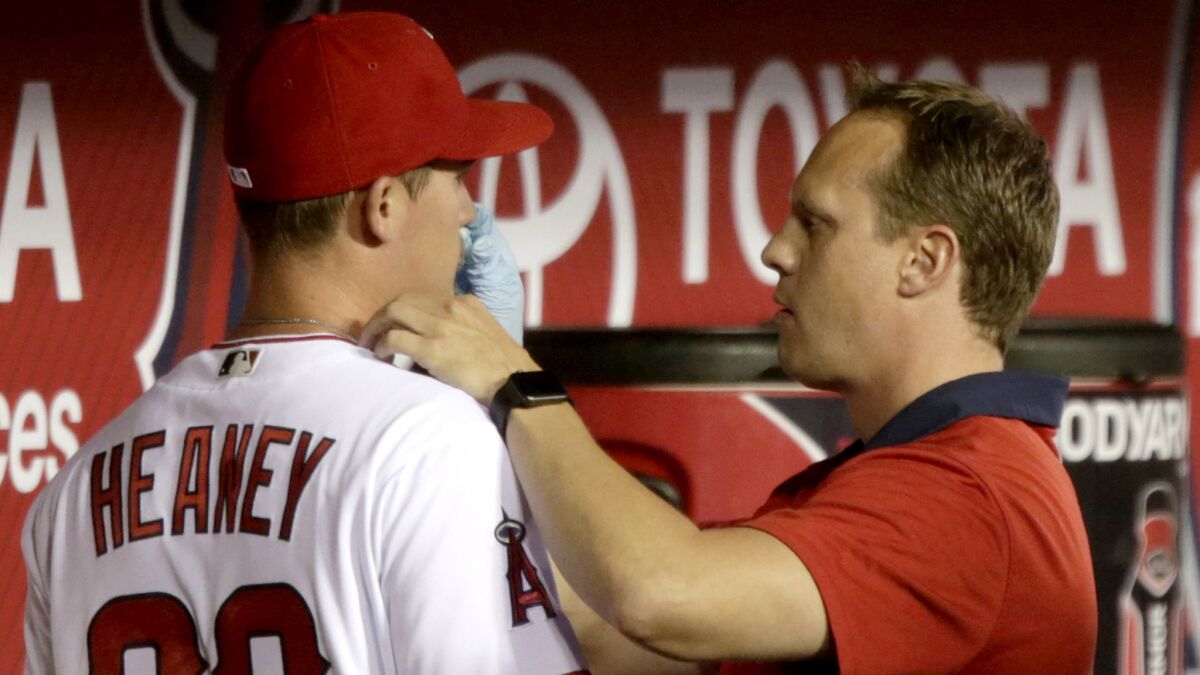 Reporting from Arlington, Texas —
Prized young Angels pitcher Andrew Heaney will receive a platelet-rich plasma injection into his left elbow, setting him back at least six weeks before he can return to pitch in a major league game.
Heaney, 24, felt tightness in his left forearm during his start in the Angels' second game of 2016, on April 5. He underwent an MRI exam the next morning and was placed on the disabled list that afternoon with what was called a flexor muscle strain.
Initially, recovery was rapid. Heaney resumed playing catch within 10 days. But, during his second throwing session, he felt continued discomfort, and stopped. The Angels soon had him undergo a second MRI exam and more tests they declined to disclose.
See more of our top stories on Facebook >>
Saturday, General Manager Billy Eppler said, the Angels and Heaney agreed to take the next step of PRP — a procedure in which a person's own blood is centrifuged until it develops a concentrated mix of plasma cells and then injected.
Heaney probably will not throw at all until June. If then healthy, he would need to ramp up his stamina through a minor league rehab assignment. A reasonable return date would be around July's start.
The day he went on the DL, his agent, Rob Martin, said via text message there was no talk of receiving a PRP injection.
"I think everyone is hoping that it's not that serious," Martin wrote then.
Eppler said the Angels briefly considered it then, but not as a serious possibility.
"We're now at the point where that possibility has become a reality," Eppler said.
Eppler said the array of tests the Angels arranged found "normal chronic changes" to Heaney's elbow, "consistent with a high-level throwing athlete."
"It sucks," Heaney said. "I like playing baseball. It's what I do. It's my job. It's what makes me who I am."
Get the latest in sports with our free newsletter >>
He was then asked whether he was hopeful he could soon resume throwing.
"I'm not hopeful of anything right now," Heaney said. "At this point, I don't want to get ahead of myself. I'm thinking of today and the next day, not a month, two months, a week, two weeks, whatever."
Short hops
Left fielder Craig Gentry did not start Saturday against a left-hander because he has back soreness, Angels Manager Mike Scioscia said. He is a disabled-list consideration. … Fellow left fielder Daniel Nava, on the DL because of left patellar tendinitis, could begin a minor league rehab assignment in a few days.
Follow Pedro Moura on Twitter: @pedromoura
MORE ANGELS NEWS
Johnny Giavotella doesn't mind taking a dive
Angels sends closer Huston Street to DL with strained oblique
Angels pick Cam Bedrosian over Al Alburquerque to fill bullpen vacancy created by Huston Street's injury
Get the latest on L.A.'s teams in the daily Sports Report newsletter.
You may occasionally receive promotional content from the Los Angeles Times.