Angels starter Garrett Richards hopes he can pitch this season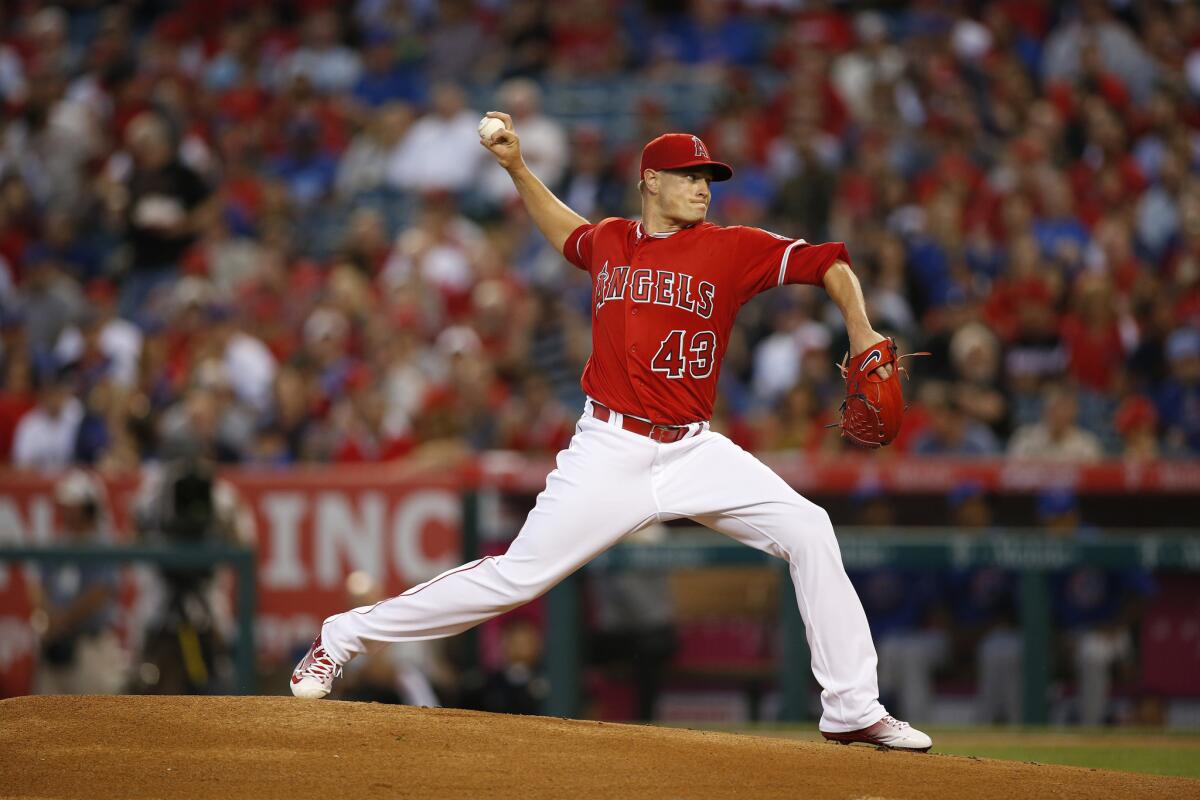 The ulnar collateral ligament in his right elbow is torn, but Garrett Richards does not feel any pain.
Given that, the 27-year-old right-hander could not rationalize undergoing Tommy John surgery — at least not yet. So, on Monday, Richards received a stem-cell shot, centrifuged from his own bone marrow, into his elbow. The hope is it will stimulate recovery enough that he can return to pitch this season.
"The fact that it wasn't killing me … you gotta listen to your body," Richards said. "The injury hadn't really declared itself. It's hard for me to just have surgery when I don't feel like something requires surgical repair. There's gotta be something better in there that we're not seeing."
As it was explained to him, Richards said, he was almost assuredly not going to pitch in 2017 even if he had elbow surgery now. The timing has afforded him two or three months of wiggle room.
Around July 1, Richards will be evaluated to determine how much the injection has helped to heal the ligament. If no healing has occurred, he'll probably have the surgery. If plenty has occurred, he probably will plan out a process to resume pitching. If it's somewhere in the middle, he'll have a tough decision to make.
Angels left-hander Andrew Heaney is on the same timetable, two weeks ahead, because he felt forearm tightness in his first 2016 start. He had the same procedure with the same doctor, Dr. Steve Yoon at the Kerlan-Jobe Orthopaedic Clinic in L.A, although the Angels first announced his treatment as a platelet-rich plasma injection.
The two pitchers, off-season throwing partners, discussed their options.
"I was a little worried that he was going to rush to one decision," Heaney said. "The only thing I really told him was, 'Take your time. Get all the opinions you can. Make sure you know what you're getting into. And, when you do it, make sure you're going in 100%.' I didn't want to sway his opinion on what he should do.
"It's a tough enough decision. You're already in a [bad] spot as it is."
Heaney said the timing of the injury had a "huge" impact on his decision. If it happened in September, he said, "you don't have time to waste." Richards said he had not considered how the timing factored into his decision. He said he knew only he wanted stem-cell therapy over PRP treatment.
"It's like buying a Honda Civic or a Cadillac," Richards said, comparing the two.
Soto to the DL
Catcher Geovany Soto is the latest Angel to succumb to injury. He will have surgery after an MRI exam confirmed a tear in his right meniscus that he first felt while on an elliptical machine Wednesday afternoon.
Soto was doing routine warmup work, he said, before the ligament grabbed at him.
"Surgery has been recommended, and that's the route he's going to go," General Manager Billy Eppler said.
Soto is expected to miss four to six weeks after his Thursday surgery. He had emerged as the Angels' primary catcher this month, usurping the role from the younger Carlos Perez because he was hitting better. In 17 starts, he had a .283 average, .338 on-base percentage and .483 slugging mark. Perez is hitting .176/.238/.230 in 22 starts and will now take on more playing time.
"I thought I did everything in my power to stay healthy," Soto said. "I'm in great shape. I'm working really hard. It's just one of those things where it's bad luck."
The Angels called up Jett Bandy in Soto's absence; the 26-year-old catcher arrived at Angel Stadium during Wednesday's game against the Dodgers. His next plate appearance in the major leagues will be his third.
Ten Angels are now on the major league disabled list, in addition to left-hander Tyler Skaggs, who's on the minor league DL but was expected to join the team by now.
"It's part of the game," Eppler said. "It's just it. You fight through it."
Follow Pedro Moura on Twitter: @pedromoura
Get the latest on L.A.'s teams in the daily Sports Report newsletter.
You may occasionally receive promotional content from the Los Angeles Times.