Angels reliever Cam Bedrosian is a cat admirer, and that's that
Cam Bedrosian loves cats and he doesn't care who knows it.
"People have been giving me crap about it, but I don't really mind," said Bedrosian, a right-handed reliever for the Angels. "I love cats and I've told people that many times. That's my stance on it, and it won't change."
A cat crawled into of one of Bedrosian's earliest memories. He and his father, the former big league closer Steve Bedrosian, went to a shelter near their home in rural Georgia and brought back a cat. They lived on a farm, and over time, they took in all kinds of animals, including strays. He estimates his family has owned at least 10 cats, up to five at a time.
Most of his teammates do not know his history with the animals. They know only that he loves them and, in the environment they occupy, that marks a significant departure from the norm, one that elicits teasing.
"I think people are just messing with me about it because most people are dog people," Bedrosian said.
"For me, it's not that weird. But to other people, I guess it is. Most people associate guys with liking dogs and girls with liking cats, but I love them. I like dogs too. Cats are just my favorite."
He has become more outwardly comfortable with that this year, his third in the majors, just as he has become more comfortable on the mound.
"I've been putting a lot of pressure on myself these last couple years," he said. "Now, I've just been trying to enjoy all the time I've got up here now, every single second of it. Take that to heart, and just have fun."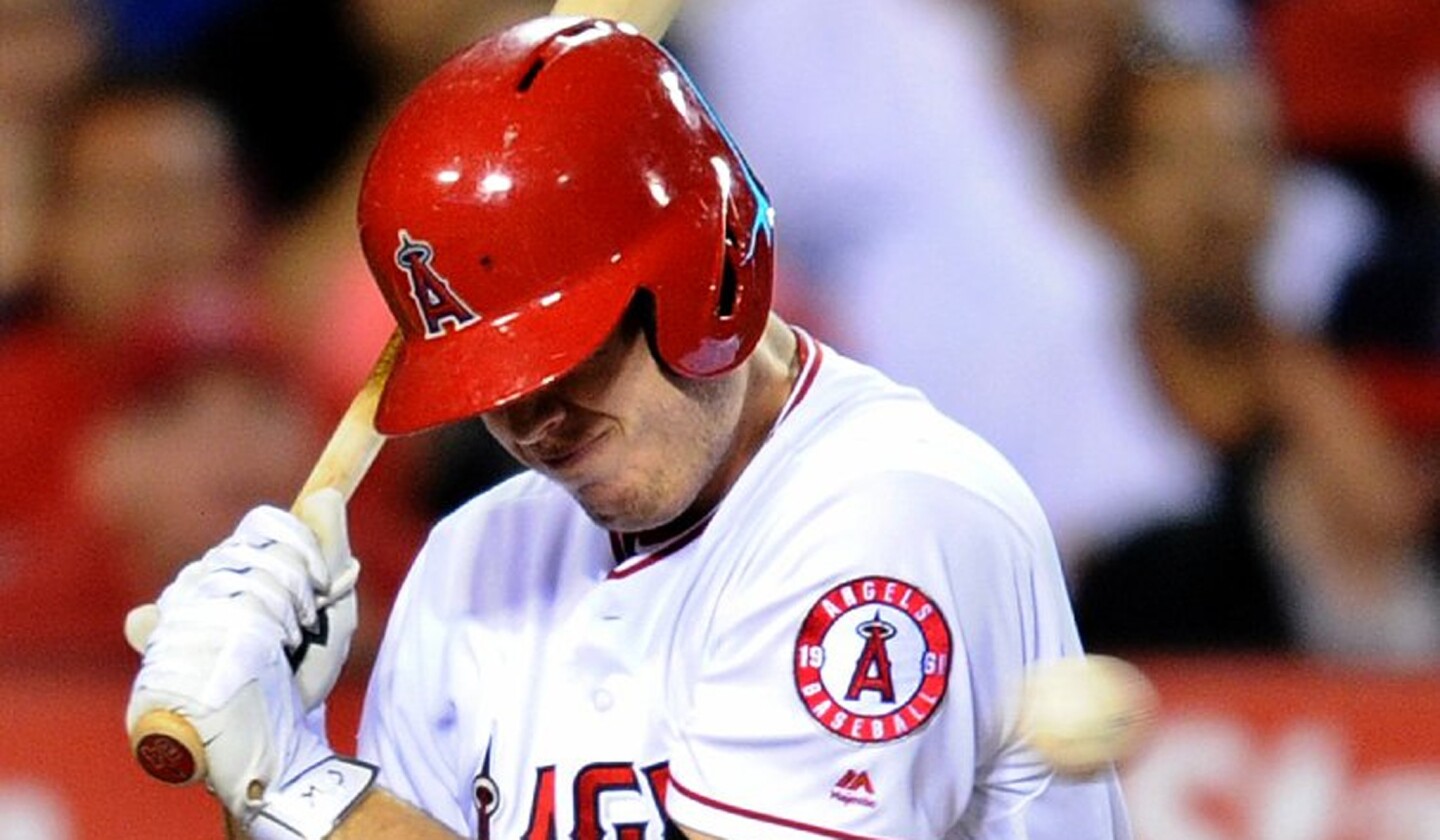 Angels batter C.J. Cron gets hit by a pitch with the bases loaded against the Dodgers in the fifth inning.
(Wally Skalij / Los Angeles Times)
Dodgers outfielder Yasiel Puig makes a running catch during a game against the Angels on May 19.
(Wally Skalij / Los Angeles Times)
Angels outfielder Kole Calhoun slides into home plate safely as Dodgers catcher Yasmani Grandal fields the throw in the first inning.
(Wally Skalij / Los Angeles Times)
Angels outfielder Mike Trout points to teammate Johnny Giavotella, who singeled in two runs against the Dodgers in the fifth inning.
(Wally Skalij / Los Angeles Times)
Bedrosian, 24, has carried that perspective to the best stint of his professional career. He has not allowed a run in nine innings since his recall from triple-A Salt Lake last month, striking out 13 opponents and walking only two without permitting an earned run.
In 522/3 big league innings over the two previous seasons, Bedrosian walked too many men and recorded a 5.81 earned-run average. Now the Angels are seeing the talent that made him a 2010 first-round pick.
"He has as good of stuff as any guy in any bullpen in our league," Manager Mike Scioscia said this week.
Bedrosian said he has changed an additional aspect of his approach. After he became aware of how much better hitters have performed against him following 1-0 counts compared to 0-1 counts, he has made the target in his mind's eye less specific on first pitches. He aims only for thirds of the plate, not for exact spots. He has started 68% of the batters he's faced with strikes this season, compared to less than 56% in 2015.
Bedrosian has two cats at home, Gracie and Bootsy, named after Aunt Bootsy from the 1998 film "Rush Hour." He does not own one at his Orange County apartment. He considered searching for the cat that ran onto the field at Angel Stadium one week ago and taking it home with him, only to realize he can't keep it fed during road trips.
"Cats, they just want to lay on the couch all day and relax," he said.
"That's what I like about them. You can just chill with a cat."
Short hop
Outfielder Craig Gentry will begin a rehab assignment with Class A Inland Empire on Friday. He has been sidelined by a lumbar strain since April 26. He could return to the Angels as soon as Monday.
pedro.moura@latimes.com
Twitter: @pedromoura
---
Get the latest on L.A.'s teams in the daily Sports Report newsletter.
You may occasionally receive promotional content from the Los Angeles Times.