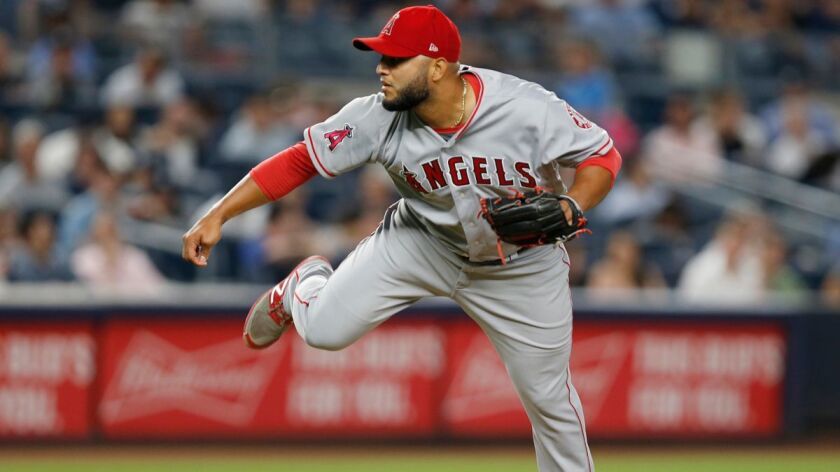 Reporting from Cleveland —
Faced with an inopportune situation at an important time, the Angels have decided on an all-hands approach to handle their vacant starting-rotation spot for Saturday's game at Toronto.
They might deploy their entire bullpen to pitch, beginning with long reliever Yusmeiro Petit.
Manager Mike Scioscia said Thursday that he hopes Petit can last longer than the 40-45 pitches that have been his norm this season. Still, he probably will require at least five innings of relief help.
"It'll end up, obviously, being a number of pitchers who pitch in that game," Scioscia said. "I think Y's got enough length to get at least into the game, hopefully to a certain point."
Petit, 32, agreed to a minor league contract with the Angels one week before pitchers and catchers reported to spring training. He has pitched more innings than all but one major league reliever, compiling a 2.70 earned-run average.
The Angels will recall another reliever to provide backup for Petit. They are currently carrying four middle infielders, two of whom have played sparingly this week.
They will next need a fifth starter one week from Saturday. The club could opt to call up a minor league starter or activate left-hander Tyler Skaggs from the disabled list. Or Petit could start again, with more built-up stamina.
"That's a possibility," Scioscia said. "But he's got a lot of innings under him. So when you start to build a guy up, there are some things that are going to be important. A lot has to do with how he comes out of it."
Heaney impressing
In his third Arizona League start, left-hander Andrew Heaney struck out seven in 4 2/3 walk-free innings Wednesday.
For his next start, Heaney probably will face an advanced level of competition. His major league return could come within weeks.
Heaney, 26, underwent elbow ligament replacement surgery July 1, 2016, and has suffered no setbacks along his prescribed path.
At spring training's start, Scioscia said he saw no way that Heaney would pitch for the Angels this season. Slowly, the club has opened to the idea that he could help them down the stretch.
"As his rehab has built momentum, there is definitely a lot of encouraging signs coming out of it," Scioscia said. "Same way, this is a process for Andrew, for the next, hopefully, 10 years of his career. I think we're all very excited as he gets into the length. You're seeing the executing of pitches, you're seeing him rebound.
"But, as of right now, there is no target date. He's still got some work ahead of him."
Short hops
Third baseman Yunel Escobar and catcher Martin Maldonado did not start Thursday's game, but both appeared in the seventh inning. … Right-handers Matt Shoemaker (posterior interosseous nerve syndrome) and Garrett Richards (biceps nerve irritation) continue to play catch at Angel Stadium. Shoemaker is throwing from a farther distance. … Reliever Huston Street (strained groin) is still not throwing.
Follow Pedro Moura on Twitter @pedromoura
---