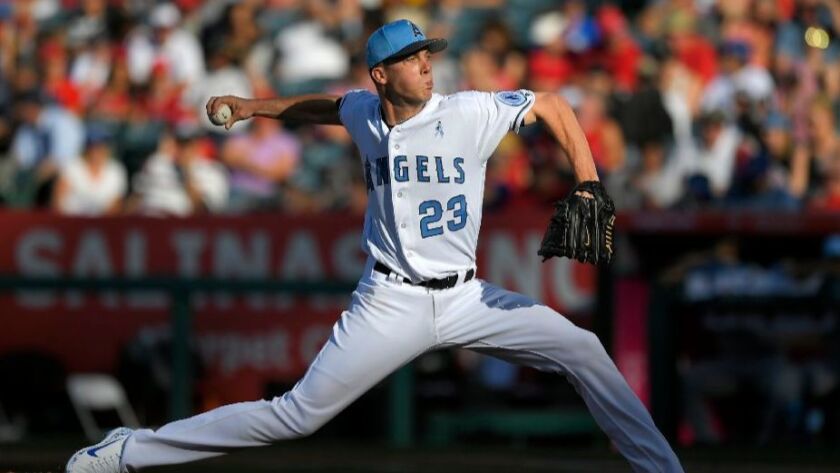 Sitting on a dugout bench during Friday's middle innings at Angel Stadium, Alex Meyer engaged Garrett Richards in an extended conversation about pitching. Richards has missed almost all of this season because of a strength-sapping irritated nerve in his biceps, but he has retained his plain perspective about how to retire major league hitters.
He instructed Meyer to concern himself less with where he was throwing his fastball and more about throwing it with conviction.
"Throw it 0-0," Richards told him in his typically terse fashion. "Throw it over the middle. Let them try and hit it."
Meyer did as advised and pitched the Angels to a 9-0 thrashing of Kansas City on Saturday night. When he first stepped to the mound, he missed wildly with his first three fastballs to the Royals' Whit Merrifield. He stopped atop the mound, thought of his teammate, unwound his 6-foot-9 frame, and tried merely to fire a fastball somewhere over the strike zone. He started to throw strikes.
"I'm not saying that's the whole key to everything tonight," Meyer said. "But that definitely played into it."
Meyer's season to date has offered a study in what a major league pitcher can achieve when he throws as hard as anyone and fires off curveballs as sharp as anyone, but lacks the ability to repeat his delivery on command and, thus, throw consistently to an exact area.
Early results have proved passable. His 4.05 earned-run average entering Saturday was better than anyone expected, despite one of the highest walk rates in baseball. On Saturday night at Angel Stadium, Meyer added an experimental group: What happens when he just throws the ball inside the strike zone as often as possible?
"This is one of the games that you hope for, where he bottled the stuff with command," Angels manager Mike Scioscia said. "He was in the zone with terrific stuff all afternoon."
After Meyer settled against Merrifield, only 29 of his next 91 pitches were called balls. His 66% overall strike ratio was his best, by far, in 15 major league starts.
"We knew he had a good fastball that tended to be a bit erratic," Royals manager Ned Yost said. "But he actually threw the ball really good."
Merrifield, a second-year player surging this season, said he would have liked to bat a few more times against Meyer, whose stuff he did not deem unique.
"His fastball was a fastball," Merrifield said. "His curveball was a curveball."
Using those two pitches through five innings, Meyer struck out eight without walking anyone. His defense failed him in the sixth. Third baseman Yunel Escobar bobbled Drew Butera's leadoff grounder. Shortstop Andrelton Simmons quickly started a double play on Merrifield's subsequent grounder, but second baseman Danny Espinosa did not secure the ball before he tried to throw to first base and dropped it. Both Royals runners were safe.
The same two infielders collaborated on a successful double play when Jorge Bonifacio next grounded to short. After Meyer walked Lorenzo Cain, right-hander Blake Parker began to warm in the Angels' bullpen. But Meyer struck out Eric Hosmer with his hurtling curveball and bounded off the mound knowing the best start of his career was over
After his five-walk outing Monday against the New York Yankees, Meyer described feeling like he was on the defensive more than the opposition, always averting harm.
"Today, I tried to do that a little different, put them on their heels," he said. "I feel like I did a pretty good job at that."
In relief, Parker handled the seventh, returning right-hander Cam Bedrosian the eighth, and long man Yusmeiro Petit the ninth for his first work in four days.
Cameron Maybin redirected Jakob Junis' first pitch of the game to center field for a leadoff home run. Making the fourth start of his major league career, Junis hit two Angels back to back in the second inning but otherwise evaded hard contact until the fourth, when Luis Valbuena, Simmons, Martin Maldonado, and Espinosa strung together singles, the last scoring two runs.
Albert Pujols brought in two more in the fifth with the 602nd home run of his career. Soon after, Yost called in Chris Young, the only major league pitcher taller than Meyer, who offers a blueprint for how lanky right-handers can sustain success. Over his career, Young has been able to find the strike zone just fine. As he has aged, though, opponents have found his softly tossed pitches even better.
The Angels (36-36) added four runs against him in the seventh, three scoring when Valbuena swatted a fastball into the right-field bleachers. Maybin doubled, stole third, and scampered home on a groundout for the fourth.
Richards, too, did not sustain success until his fourth big league season, when he was 26. Meyer is 27 now, on his third organization. Outside of their six-inch height contrast, they are similar pitchers, reliant on elite, often unwieldy fastballs and hard breaking balls.
"He was comparing me to him and the things that he struggled with coming up," Meyer said. "What he did when he came up was throw it over the middle, let them swing, take your chances at 95-96 and let them get themselves out."
Meyer acknowledged that there is more to successful pitching than that. Fastballs must land freely on either side of the plate. The threat of a breaking ball thrown for a called strike must exist. But Richards' basic idea is sound: Both pitchers' fastballs are fast enough that they need not be perfectly placed.
"He just simplified things," Meyer said.
Follow Pedro Moura on Twitter @pedromoura
---