Angels' Matt Shoemaker faces hitters for first time since suffering skull fracture at end of last season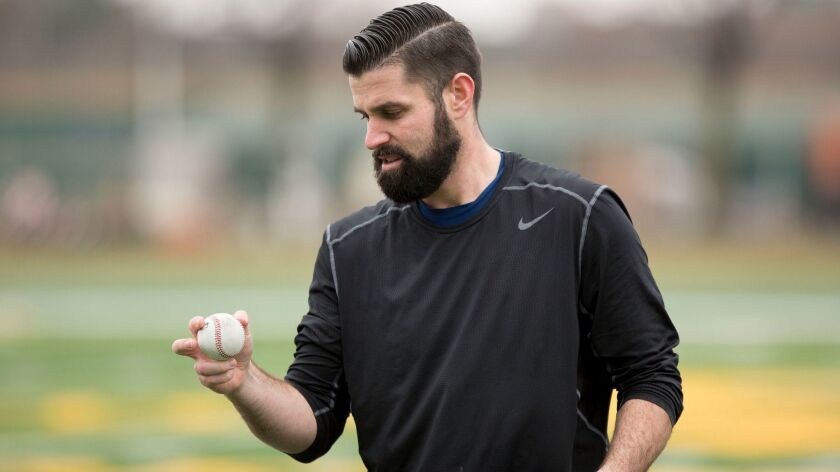 Reporting from Tempe, Ariz. —
Matt Shoemaker stared at Shane Robinson from the mound on a Tempe Diablo Stadium back field on Wednesday afternoon. There was no screen between the two men, and Shoemaker had no idea if Robinson would be swinging at his pitches or not.
Shoemaker inhaled, contorted his body, and delivered a fastball to catcher Carlos Perez. Robinson watched it go, then swung at the fourth pitch, another fastball, and ripped it into the hole between short and third base. .
Shoemaker did not flinch. He inhaled again and fired another pitch.
"That was probably just off the dirt," the Angels right-hander later said. "That was enough."
It was enough to get over the lingering nerves from the skull fracture he suffered in September when he was hit by a line drive by Seattle's Kyle Seager. Shoemaker threw 21 more uneventful pitches before retiring for the afternoon, as the five hitters who faced him offered handshakes and smiles.
"Glad you're back," said Robinson, a reserve outfielder on last year's team.
When he was done, Shoemaker made the five-minute walk back to the Angels' clubhouse by himself. He iced his arm and then greeted reporters.
"It was awesome," he said. "It was exciting."
At home last month in Michigan, Shoemaker acknowledged that his first time facing a hitter could present some unpleasant feelings. He knew it'd be nearly five months since the last time he stared in against someone, one of the longest stretches of his life. And the last pitch he threw resulted in the most horrific injury of his life, one that nearly killed him and forced emergency surgery to stop continued bleeding.
Still, he said, he had hope it would be routine. The Angels said they knew it would be.
"We don't expect anything other than the normal Shoe," said General Manager Billy Eppler.
Manager Mike Scioscia said variations of the same when questioned in recent days. Ten minutes before Shoemaker took the mound, Scioscia approached observing reporters to ask what they could possibly be writing about.
Shoemaker first long-tossed with catching coach Steve Soliz, then showed him the protective piece of carbon fiber he'd have inside his helmet, intended to diffuse the impact of any future line drives to the head.
When Shoemaker moved to the bullpen, only bullpen coach Scott Radinsky maintained his gaze on him. The others roamed. At 12:17 p.m., Huston Street walked off the mound, and Shoemaker walked onto it. Arte Moreno, the owner of the Angels, leaned on the cage behind the plate, alongside two Angels assistant general managers. Shoemaker's agent, Fred Wray, stood farther back, behind the backstop. About a dozen fans watched from behind another fence.
He used a carbon-fiber headguard produced by Safer Sports Technologies, the same sort of piece Houston right-hander Collin McHugh began wearing in 2015. McHugh's high school teammate owns the company.
Shoemaker has received two other types of protective headgear, and he may still try another in a Cactus League game. But he favors the SST piece for now. Eppler said the Angels will support whatever choice he makes, even if he uses nothing at all beyond his cap.
Shoemaker's health and return to form is of significant importance to the Angels' 2017 season. He figures to claim the No. 2 spot in their rotation, and he was their best starting pitcher a year ago, logging a 2.83 earned-run average in the 20 starts preceding his injury.
There are further, higher hurdles to surpass before he truly can be considered back. This was just step one, a big step one.
"It is a really big deal," Shoemaker said. "But — and I don't know how to word this — I like that it's not that big of a deal doing it."
Short hops
Right-hander Cam Bedrosian is behind schedule a couple days because of a groin strain suffered during fielding practice Tuesday. … Infielder Cliff Pennington was not at camp Wednesday, suffering from flu-like symptoms. … Scioscia said he did not mind the new rule introduced by Major League Baseball for the 2017 season, making intentional walks now done by gesture instead of with four intentional balls.
Twitter: @pedromoura
---
Get the latest on L.A.'s teams in the daily Sports Report newsletter.
You may occasionally receive promotional content from the Los Angeles Times.