Angels have new look around camp, but familiar personnel issues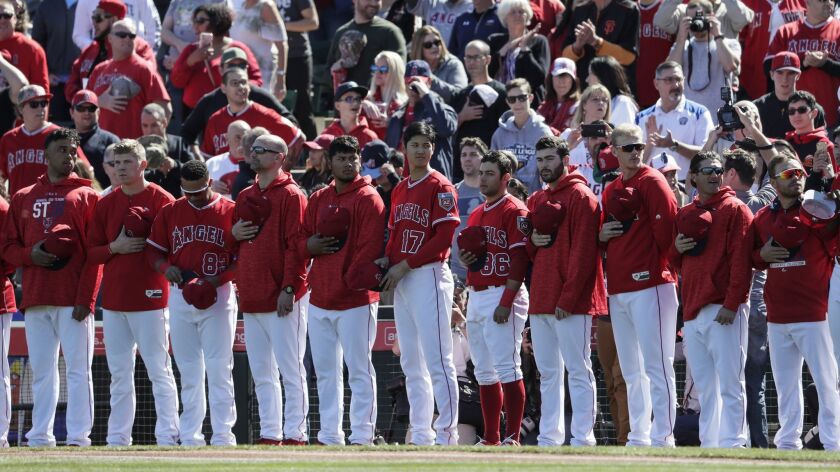 Reporting from tempe, arizona —
There were a couple of new looks around the Angels spring-training clubhouse when it opened Tuesday.
There was a new manager of course, Brad Ausmus. Television monitors were mounted on the Angels' spring-training clubhouse walls for the very first time. That development elicited a one-word reaction from left-handed starter Andrew Heaney: "Whoa."
Jaime Barria, a rookie starter last year, walked in looking substantially slimmer than the 210 pounds he was listed at a year ago. He enters spring training looking for an opening-day roster spot.
What hadn't changed were the issues that typically face a major league team this time of year. In the Angels' case, Little else regarding the Angels' situation in Arizona had changed as pitchers and catchers reported to Tempe Diablo Stadium for physical examinations Tuesday morning. Two-way player that meant two-way player Shohei Othani still didn't have a timeline set for his return as a designated hitter, Albert Pujols' workload for the spring had yet to be determined and infielder Zack Cozart's role for 2019 was up in the air.
But Ausmus offered tidbits of hope. The most significant came as a surprise: Ohtani recently started swinging a bat — not at a pitch but swinging nonetheless — for the first time since undergoing elbow ligament-replacement surgery Oct. 1. He had been cleared to only start strength training on his right side two weeks ago.
"We're not going to put a date on [his return] but we're thinking May, some time in May," Ausmus said. "But that's assuming everything goes well."
The Angels are in a weird spot. Ohtani must progress to hitting balls off a tee and then to hitting balls flipped to him by a coach before he can participate in live batting practice. While advancing through those steps, he will eventually have to fit throwing back into a routine — though any return to a major league mound won't be until 2020 at the earliest. Those concurrent processes pose a challenge to the Angels medical staff.
The good news is that Ohtani has already moved ahead of schedule.
"His personality, he's going to want to get on the field quickly, because he wants to compete," Ausmus said. "But we have to be smart about Shohei's long-term career and success."
Another option at designated hitter, Pujols, reported to camp early following arthroscopic surgeries on his left knee and right elbow during the final months of last season.
Pujols, who will also play first base, will be monitored throughout the spring but has been cleared for all baseball activities.
"I think the important thing is to keep him healthy all year," Ausmus said. "That will be the approach."
Cozart played most of his games with the Angels at third base before his injury last season. There is a chance his role may change this year.
Cozart, who was a shortstop for the Cincinnati Reds for seven seasons before he signed with the Angels in December 2017, will spend time on both sides of the diamond during spring workouts. The Angels want to give David Fletcher and Taylor Ward, rookies last season, and prospect Luis Rengifo a chance to win a spot on the opening-day roster. Since Ward plays only at third base, Cozart will move around.
Cozart, 33, will take most of his reps at third base, where he feels least comfortable.
He is expected to participate in workouts without restrictions.
"He's felt good for a while," Ausmus said of Cozart, who also arrived in Tempe early.
The Angels' first full squad workout is scheduled for Monday.
Sign up for our daily sports newsletter »
---
Get the latest on L.A.'s teams in the daily Sports Report newsletter.
You may occasionally receive promotional content from the Los Angeles Times.