Angels show resiliency in six-game winning streak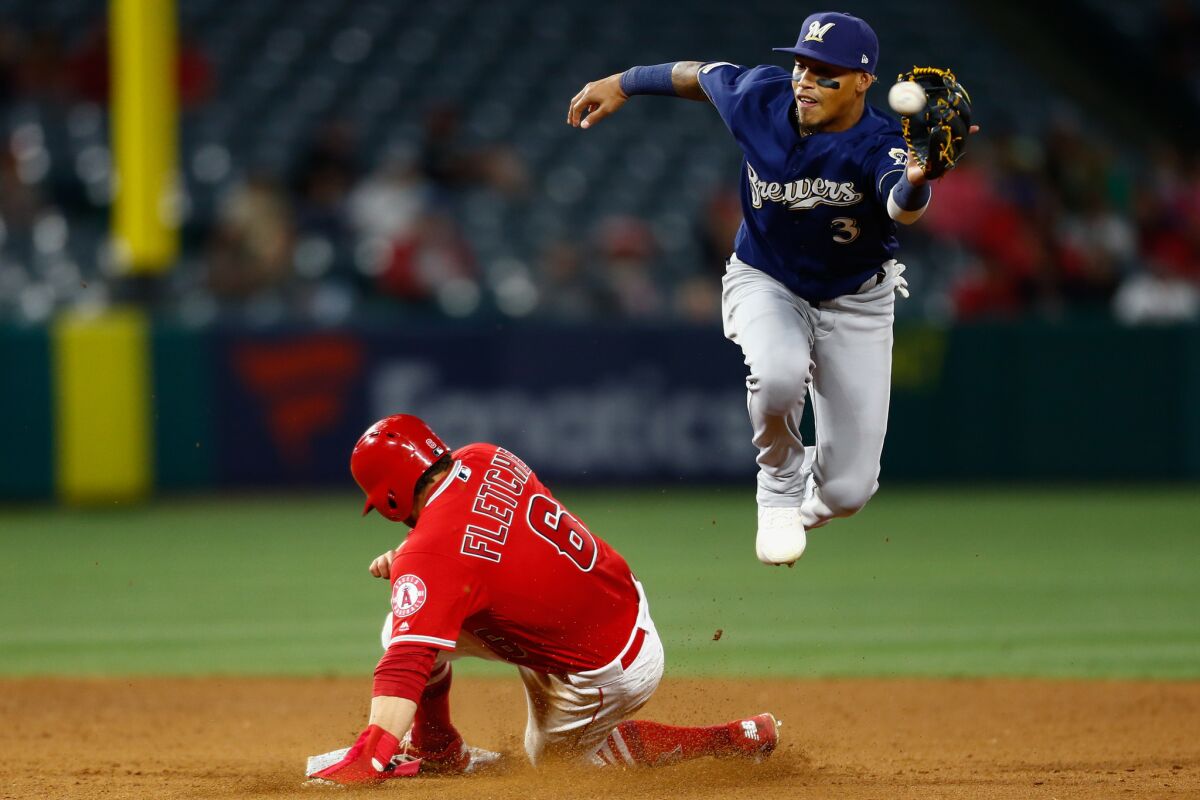 The Angels arrived in Anaheim a week ago scuffling.
They played six games against two division rivals on the road to start the season and came home for the Angel Stadium opener with one win. They wasted great pitching performances by falling into an offensive slump so deep they owned a sickly team on-base-plus-slugging percentage of .481 and an unsightly batting average of .178.
They then lost the home opener, throttled by a Texas Rangers team that is in the early stages of a roster rebuild.
Everything changed over the last six days. The Angels are hitting again, the pitchers are holding steady and the wins are piling up. The Angels secured a series sweep of the Milwaukee Brewers with a 4-2 victory Wednesday night and won their sixth game in a row.
"That was just an amazing homestand," said first baseman Justin Bour, who drove in two of the Angels' runs. "Not just today, but the whole thing. It took all of us to win. Pitching, defense and timely hitting. So it was huge."
Unlike in previous games during this modest streak, the Angels didn't claw across runs in multiple innings. They got by Wednesday by assembling a string of six productive plate appearances in the third inning.
Catcher Kevan Smith, who was ejected by plate umpire Phil Cuzzi in the top of the eighth for arguing about the strike zone, was hit by Brewers starter Brandon Woodruff (1-1) to lead off the third. David Fletcher drew a six-pitch walk. Both moved up a base when Kole Calhoun singled up the middle, loading the bases with no outs.
That's when Andrelton Simmons strode to the plate. After taking Woodruff's first pitch, a 96-mph fastball that tailed inside for a ball, he turned on another heater that stayed over the plate. He shot it into right field for a run-scoring single, and fans at Angel Stadium erupted. Bour followed with a two-run bloop hit to center field. The Angels' fourth and final run of the game scored on Albert Pujols' double-play ground ball.
It was the Angels' first game this season without center fielder Mike Trout, who sustained a minor groin injury a day earlier. He is not expected to be out for long, but the Angels have been crippled by injuries to start the season. Left fielder Justin Upton will be out until at least June as he recovers from a toe sprain; two-way player Shohei Ohtani may not return as the team's designated hitter until May.
The Angels needed a game like that on Wednesday, against a Brewers team that took the Dodgers to a seventh game in the National League Championship Series last October, to prove to themselves that they can be effective even without their biggest stars.
"What it says is you need all 25 men on the roster and sometimes more," manager Brad Ausmus said.
Angels starter Felix Pena was not sharp in his third start of the season. He threw 32 balls among his 72 pitches. He bounced pitches in the dirt. He plunked two hitter, saw hard contact on baseballs put in play, and overall struggled to locate his pitches.
If not for the Angels' defense, Pena might not have escaped his four-inning outing with only one unearned run charged to him.
Outfielder Brian Goodwin started in center field and pulled a Trout-like feat: He tracked a hard-hit line drive off the bat of Yasmani Grandal to the wall, jumped at the warning track and hauled in the baseball before it hit above the yellow line that distinguishes a home run from a ball in play. As Goodwin came down to his feet, the final out of the second inning in his glove, Pena lifted both his fists up in celebration.
"He's saved our skin a few times," Pena said of Goodwin in Spanish. "I'm really happy about what everyone on the team is doing for each other."
In the fourth inning, the left-handed-hitting Mike Moustakas drove the ball to right field, where it caromed off the corner of the wall. Calhoun was in perfect position to play the ricochet and was able to hold Moustakas to a single. Moustakas never scored, but he was able to advance to third base on a hard-hit line-out to deep right field by Eric Thames.
Pena ended the inning with a bases-loaded swinging strikeout of Orlando Arcia. The 29-year-old Pena slapped his glove, did a double fist-pump and roared what appeared to be a Spanish curse word on his way off the mound.
"You could see he wanted that out, and just went after them and attacked with his best stuff," Smith said.
The bullpen door opened in the fifth inning, leading to a 2 2/3-inning performance by Jaime Barria. The 22-year-old, recalled early Wednesday so he could help spell the Angels' overworked bullpen, pitched around four hits and gave up only one run. Veteran reliever Cam Bedrosian bailed Barria out of a two-out jam in the seventh inning by inducing a ground ball to strand 2018 National League MVP Christian Yelich at first base. Bedrosian worked a scoreless eighth inning. Barria was optioned back to triple-A after the game
Sign up for our daily sports newsletter »
With closer Cody Allen unavailable since he'd appeared in Monday's and Tuesday's wins, Ausmus turned to hard-throwing right-hander Hansel Robles for the save. Robles trotted out of the left-field bullpen to what Ausmus described as a "buzz-worthy" video. It featured the theme song used by the Undertaker, who is Robles' favorite wrestler, and slow-moving images of both a white horse and Robles' feet.
He quickly retired the side for his first save of the season.
"You can put whatever you want on the board," Bour said. "I'll take a 1-2-3."
The Angels are now heading to Chicago, where they're expecting to face the Cubs in unfavorable weather conditions, to start a seven-game trip Friday.
Even without the guarantee of Trout in the starting lineup Friday, the team's outlook doesn't seem so bleak anymore.
Twitter: @maria_torres3
---
Get the latest on L.A.'s teams in the daily Sports Report newsletter.
You may occasionally receive promotional content from the Los Angeles Times.