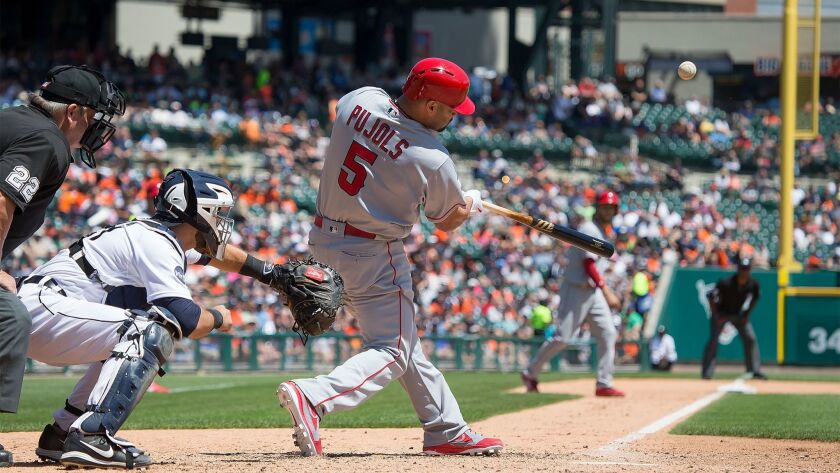 Reporting from Detroit —
They managed nothing, and then they could do so much. On Wednesday night, the Angels did not get a man to second base in a shutout defeat. On Thursday afternoon, the Angels advanced 14 men there, a forceful enough effort to erase the recent memories.
Hours after their worst offensive performance of 2017, the Angels registered one of their best, scoring 10 unanswered runs to race past Detroit 11-4 at Comerica Park.
"That's the beauty of this game," said Eric Young Jr., one of three Angels with three hits. "At any time, anything can click. If you stay persistent with it, something like today can happen."
The Angels (31-32) did not sleep through the first of two weekday 10 a.m. PDT starts on their schedule this season. They left afterward for a weekend series with the Houston Astros, far and away the pacesetters of the American League West.
The afternoon began inauspiciously for the Angels' JC Ramirez, who was making his 11th career start. Ian Kinsler led off with a single, then stole second before Alex Avila walked. Next, Miguel Cabrera lofted a soft liner to right field. At first, it appeared that Kole Calhoun would catch it, but it was hit too softly. It also bounced in a manner that Calhoun did not expect, and Kinsler scored.
Ramirez tore through the talented Tigers hitters that followed. He struck out Victor Martinez, J.D. Martinez and Justin Upton swinging, pumping high, straight fastballs clocked at 97, 98 and 98 mph, respectively.
Late last season, Ramirez ceased throwing a traditional four-seam fastball after the Angels discovered he could not control its eventual location. He sticks to sinking two-seamers now, but about half of the two-seamers he threw Thursday behaved like four-seamers, with little perceptible movement.
"I don't know why," Ramirez said. "But when it moved, it moved really well."
His first inning required 26 pitches. Nick Castellanos then clobbered his second pitch of the next inning for a solo home run to right-center, and Kinsler rapped a two-out double down the left-field line. Avila doubled him in. Cabrera swung at the first pitch and laced a ball to the right side, but Angels second baseman Danny Espinosa speared it as he slid.
Espinosa then supplied the Angels' first offense in the top half of the third, doubling in Young, who had singled. Espinosa eventually was stranded at third base, and the Tigers extended their lead on a single and a double in the bottom of the inning.
Ramirez let on the first two men he faced in the fourth inning. After those two hits, he retired three Tigers in a row to escape.
"He survived," manager Mike Scioscia said. "He showed us something."
At that point, the Angels' drab offense charged to life. Young slapped a double and Espinosa blooped a single, putting runners on the corners for backup catcher Juan Graterol, the Angels' No. 9 hitter. He dribbled a ball to shortstop and evaded Cabrera's tag on an off-line throw to first. Young scored and Espinosa took second. Espinosa soon scored when Andrelton Simmons singled, and Graterol scored when Calhoun singled. Albert Pujols drove in one more run with a sacrifice fly that Upton dropped on the transfer.
When Yunel Escobar followed with a single to put runners on the corners, Tigers manager Brad Ausmus came for his starter, right-hander Michael Fulmer. The 2016 American League rookie of the year dominated the Angels earlier this season and last, but wondered to local reporters afterward if he had been tipping his pitches.
"I feel like I made some good pitches, I made some bad pitches," Fulmer said, "and they hit both of them."
Ramirez finished the fifth with ease and gave way to rookie Keynan Middleton for the sixth, the last high-leverage inning the Angels needed to pitch. With the potential tying run on third, Middleton induced an inning-ending foul popup from Avila. Three relievers split the remaining three innings.
Simmons began the Angels' half of the seventh with a double. Calhoun walked, and Escobar did the same after Pujols flied out. When C.J. Cron singled in two runs, Ausmus went with left-handed reliever Daniel Stumpf, who was no better than right-hander Arcenio Leon had been. Pinch-hitter Shane Robinson walked to load the bases. Young singled to score a run. Espinosa singled to score two. And, once Graterol popped out, Simmons singled to score one last run.
It was Simmons' 18th multi-hit game of 2017, Espinosa's fifth and Young's fourth in 10 days as an Angel.
Marveling about the 32-year-old outfielder's performance in Mike Trout's absence, Scioscia said Young was maximizing his opportunity.
"I'm enjoying seeing my name in the lineup," Young said.
Follow Pedro Moura on Twitter @pedromoura
---