Angels trade Hector Santiago and Joe Smith in separate deals, acquire Ricky Nolasco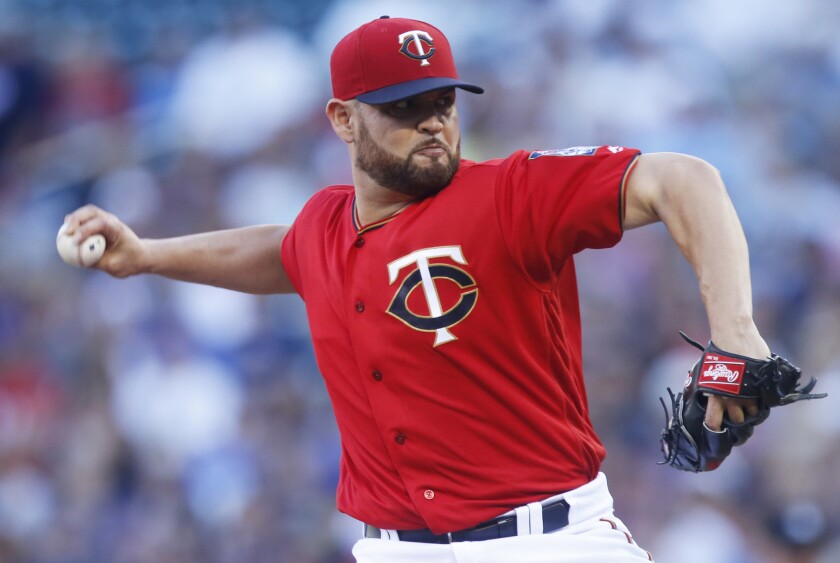 The Angels took one step into a clouded future at Monday's trade deadline, trading starter Hector Santiago and reliever Joe Smith for three right-handers, one of whom should become the organization's top prospect despite injury concerns.
Santiago, a left-hander, moved to the Minnesota Twins along with minor league right-hander Alan Busenitz in exchange for veteran Ricky Nolasco and former top-50 prospect Alex Meyer. The Angels also received cash from the Twins, according to a person with knowledge of the situation who spoke anonymously because the financial terms weren't made public.
Smith, a submarine right-hander, went to the Chicago Cubs for Class-A pitcher Jesus Castillo.
An All-Star a year ago, Santiago started this season poorly but rebounded to record a 1.78 earned-run average in July. He had a 3.82 ERA in three seasons as an Angel, and a 4.25 mark in 2016. Obtained in the Mark Trumbo trade during the 2013 Winter Meetings, Santiago was under team control through next season.
Nolasco, 33, is a Los Angeles native and a veteran who has performed awfully since signing a four-year, $48-million contract with the Twins in December 2013, after the Dodgers acquired him at that year's trade deadline. He owns a 5.44 ERA in 321 innings over parts of three seasons, and is owed roughly $16 million before the end of next season.
The Twins are paying the difference between the money due Nolasco and Santiago, who stands to receive about $8 million in his final year of arbitration.
The trade will be rendered a success or failure based on what Meyer accomplishes in Anaheim.
A 2011 first-round pick, Meyer was a top-50 prospect as recently as last season, but has hardly pitched this year because of a shoulder injury. He is scheduled to throw live batting practice Wednesday at the team's spring-training facility in Arizona, and soon ramp up his throwing, with the goal of pitching in the majors come September.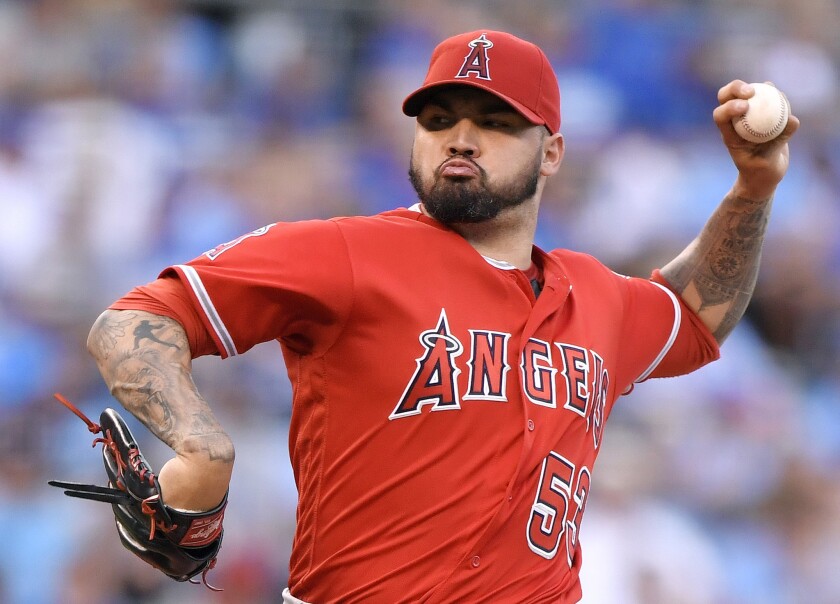 Meyer, 26, is 6 feet 9. He throws a fastball and curveball and sometimes a changeup. But with only two consistent pitches, and because of injury and delivery concerns, some scouts wonder whether Meyer will end up pitching out of the bullpen.
Angels General Manager Billy Eppler said Meyer would enter spring training in 2017 as a starter.
"To get where we need to go, we're going to need to take calculated risks," Eppler said by phone Monday. "Risks that have a high degree of upside."
Busenitz, the minor leaguer the Angels included in the deal, was recently called up to triple-A Salt Lake, where he struggled in 13 innings after dominating in double A. The 2013 25th-rounder has been clocked throwing his fastball as hard as 99 mph.
Smith signed a three-year, $15.75-million contract in November 2013, and will be a free agent at season's end. The Cubs are assuming the $1.8 million he is owed, which should bring the Angels back below the $189-million luxury-tax threshold they surpassed upon signing Tim Lincecum in May.
Smith, a 32-year-old submariner, had a 3.82 ERA this season — his 10th consecutive season with an ERA below 4.00. Few relievers in baseball history have managed that feat.
Castillo, a 20-year-old right-hander, struck out 38 and walked 11 over seven starts for Class-A Eugene this season. He will join the rotation of the Angels' lower Class-A affiliate in Burlington, Iowa. He has been traded twice but was not considered one of Chicago's top 30 prospects by MLB.com.
"We know he's young," Eppler said. "We know he's athletic."
The Angels explored trades for several other players on their major league roster. None of their healthy players are on expiring contracts, like Smith's, removing the pressure to trade them now or obtain no value in return.
Third baseman Yunel Escobar, with a $7-million team option for next season or a $1-million buyout, was a candidate to be dealt, but concerns about his clubhouse behavior hampered his market. Hitting .322, the 33-year-old could still be traded in the off-season.
Also remaining with the team was closer Huston Street, who has struggled this season and is owed $9 million in 2017. The Angels received significant interest in reliever Cam Bedrosian and starter Matt Shoemaker, but opted to keep both, who are under team control next season.
MORE FROM SPORTS
Meet the Rams: A receiver group led by Kenny Britt and Tavon Austin can only improve in 2016
Fencer Ibtihaj Muhammad is about to make U.S. Olympic history
2016 Rio Summer Olympics: Keep track of all the Rio Olympics news
---
Get the latest on L.A.'s teams in the daily Sports Report newsletter.
You may occasionally receive promotional content from the Los Angeles Times.