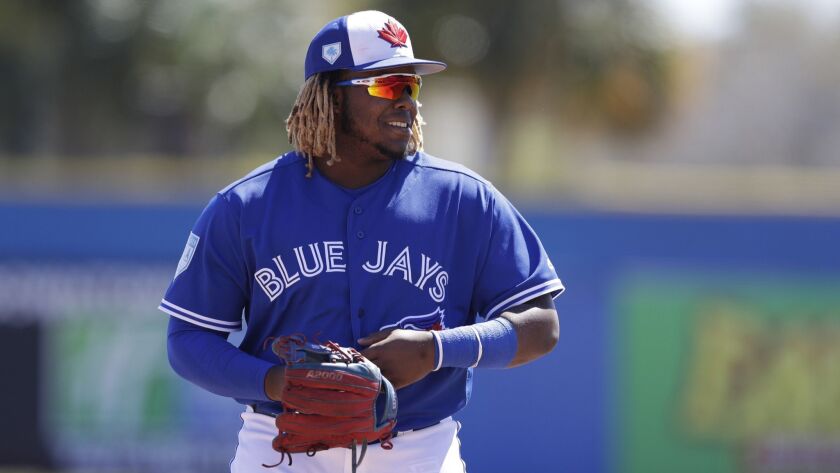 When they arrive at Angel Stadium on Tuesday to see the first pitcher drafted by the Angels make his debut as a starter since Garrett Richards make his big league debut, Angels fans may be distracted by the offspring of Hall of Fame outfielder Vladimir Guerrero sitting in the opposing dugout.
Such is the scenario facing Griffin Canning, the 22-year-old right-hander from Santa Margarita High and UCLA who will start against the Toronto Blue Jays. And one of the first batters Canning should face will be third baseman Vladimir Guerrero Jr., the 20-year-old son of a nine-time All-Star and 2004 American League most valuable player who entered Cooperstown in an Angels cap.
As a precocious child soaking in the final six years of his father's career, Guerrero Jr. used to take batting practice and roam the outfield at Angel Stadium. It was easy to envision him in a full-sized Angels uniform when he got older.
But when the Angels could have attempted to sign him out of the international pool of amateurs during the 2015 period, general manager Jerry Dipoto opted for what he considered a safer bet. Dipoto spent all the Angels' international signing bonus money — and then some — on a 20-year-old shortstop who defected from Cuba and was available in the class prior to Guerrero Jr. Roberto Baldoquin possessed what Dipoto, now the GM of the Seattle Mariners, described as gifted defensive abilities and "a very advanced feel in the batter's box."
"He's not a raw, let's-wait-and-see-how-this-turns-out projection," Dipoto said in January 2015. "He looks like a major league player now. He needs a little time in the minor leagues to adjust to a new country, but he's a pretty mature kid. He has a skill set that is very well-balanced."
Believing he would be the team's shortstop of the future, the Angels gave Baldoquin $8 million. The sum so far exceeded the team's $2.38-million international bonus pool for the 2014 class that the Angels were subject to a 100% overage tax that increased the cost of signing Baldoquin to roughly $14 million.
The move also barred the Angels from signing an international player for more than $300,000 during the 2015 and 2016 signing periods, knocking them out of contention for Guerrero Jr.'s services.The Angels' farm system, rated as among baseball's poorest under Dipoto, suffered further as a result.
Guerrero Jr. signed out of the Dominican Republic with the Blue Jays in July 2015 for $3.9 million. Then 16 years old, he flashed raw power reminiscent of his father's and displayed considerably better strike zone discipline. The tools allowed Guerrero Jr. to rise in a flash. He led the minors with a 1.073 on-base-plus-slugging percentage in double A and triple A as a 19-year-old last season. He seemed ready to ascend to the majors in September but the Blue Jays waited until Friday to promote him. In doing so, they gave him time to recover from an oblique injury suffered in spring training and delayed his free agency by a year to 2025.
Sign up for our daily sports newsletter »
Meanwhile, Baldoquin has languished in the Angels' minor league system. He didn't reach double A until last June. He posted career highs across the board in 2018 but the numbers were pedestrian: A .278 batting average and .713 OPS. .
Now two weeks shy of his 25th birthday and back at double A, Baldoquin is batting 185. The walk-off home run he hit for Mobile, Ala., Monday was only his eighth in four-plus seasons.
Baldoquin's progress within the minor league system has been slowed by injuries, most of them soft-tissue related. Although none of the injuries have been serious, they've compromised his ability to gather plate appearances and experience in the field. He appeared in a career-high 82 games last season.
Baldoquin, who is 5 feet 11 and nearly 200 pounds, is in a better place now.
"He's in a good position today physically," Angels director of minor league operations Mike LaCassa said. "He had a string of injured-list stints over the last couple of seasons and he's tackling the opportunity to play regularly and continue to gain that experience. … That's something all players need for their development, regardless of pedigree or experience."
It's impossible to predict what role Baldoquin will serve in the future. The Angels under GM Billy Eppler, who took over in October 2015, take pride in helping their players improve their positional versatility. Baldoquin has played second and third base in addition to shortstop.
"He definitely has the ability to do that at the highest level," LaCassa said. "We've seen a lot of strides there. Just seeing him grow as a baseball player in each of those areas in addition to learning a new culture and everything associated with that, he's grown a lot over the last two years."
But when Guerrero Jr. makes his first appearance at Angel Stadium this week, he is likely to elicit a warm reception from fans who remember his father and can only wonder what if.
---