Angels eliminated from playoff contention in loss to White Sox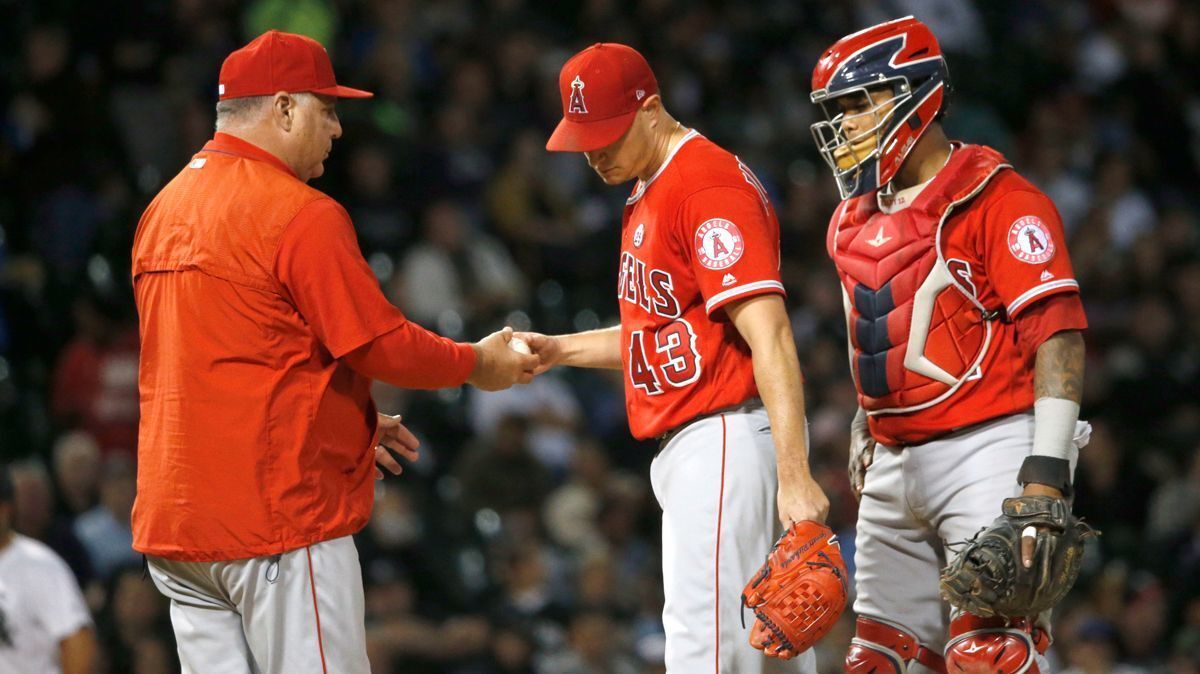 Reporting from Chicago —
Kole Calhoun hung on the yellow edges of the right-field fence, watching the last remnants of the Angels' playoff hopes touch ground. On the mound, Blake Parker turned his gaze skyward, squinted, and sighed.
At 11:10 p.m. CDT Wednesday, 10 innings and four hours into their 158th game of 2017, the Angels' season officially died. A Chicago White Sox rookie named Nicky Delmonico launched a two-run home run off of Parker and eliminated the Angels from postseason contention.
"We were in it until the end," said Mike Trout, who struck out four times for the fifth time in his career. "It was fun. The games meant something."
The final score was 6-4, White Sox, for the final game that will mean anything. It was played before 17,012 fans, dollar hot-dog night drawing an unseasonably large crowd to Guaranteed Rate Field.
As it has so often this season, the Angels' bullpen graced the team with a chance to win when its starter slipped. In his sixth and final start of the season, the talented right-hander Garrett Richards failed to finish four innings, unable to throw his slider for strikes. Their first four relievers combined to allow one unearned run in five innings.
"Even just getting close to the playoffs," Angels manager Mike Scioscia said this week, "is a product of what that group of guys has done."
In spring training, the Angels expected to deploy a revolutionary relief corps, utilizing at least three relievers in regular multi-inning stints. Injuries struck early and often, forcing them to abandon that plan and pressuring unproven pitchers into high-leverage roles.
"You got to see a small sampling of it, when you were watching certain guys get loose earlier or guys go out for multi-out situations," general manager Billy Eppler said in May. "'Oh yeah, he's sticking to this.' And then boom, it's gone."
Still, the group held the line. And, accordingly, the Angels' postseason dreams lasted longer than most observers believed possible. They came back to win so many times. Ultimately, though, the outsiders were right, the Angels wrong.
Their season started to die in its third game, at an empty Oakland Coliseum, when catcher Martin Maldonado motioned to the Angels' dugout to come check on Richards, who was starring until he suddenly started flexing his biceps. Their best pitcher missed the next five months with an irritated nerve in his biceps.
Often in recent weeks and months, Richards has expressed regret that he could not participate in most of the playoff run. Late Wednesday, he expressed anguish that his participation resulted in this.
"It feels terrible to be the guy that the season ended with," he said. "My teammates deserve better than that. I hold myself accountable."
He skated through the first three innings, but never felt right. His slider careened into the dirt every time he tried to throw it into the zone.
"My mechanics, I just couldn't repeat them," Richards said.
In the fourth inning, the White Sox took advantage. Jose Abreu led off with a single into left and scored when Delmonico smoked a one-out double to the center-field wall. A walk and a single loaded the bases and forced action in the Angels' bullpen.
The White Sox scored twice more on a tapper and a wild pitch. Another walk forced Richards' exit. He threw 34 pitches in that inning alone, more than half of his total for the night.
Hushed early against touted rookie right-hander Reynaldo Lopez, the Angels rallied in the fifth. With two men on, Calhoun bashed a ball beyond the center-field fence. Andrelton Simmons singled in the go-ahead run in the next inning.
Later in the inning, Luis Valbuena committed an error to allow a man on, and Cam Bedrosian fired two errant pitches to allow him to take third. A single scored that man and tied the game, as the Minnesota Twins tuned in from the visiting clubhouse at Cleveland's Progressive Field.
When the Angels lost, the Twins sprayed champagne and secured the American League's last playoff spot. They became the first team in major league history to do so one year after losing 100 or more games.
Three hundred miles west, the Angels' game remained tied into the 10th, rookie right-hander Keynan Middleton turning in his first-ever two-inning outing to preserve it. Parker, a waiver claim who transformed into one of the team's most valuable players, finally faltered.
"It's not fun to finish with a sour taste in your mouth," Parker said. "But I'm proud of what we've done as a team. We had a tenacity about us that was fun to be with, fun to be a part of."
The Angels' record, 78-80, is mediocre. They remained in the race this late primarily because there were only four good American League teams this year. But it was not so simple. They lost their best pitcher for five months, the world's best player for six weeks, and an array of pitchers for varying lengths of time. And they almost overcame it all.
"We didn't leave a shred of anything anywhere," Scioscia said. "We left it all on the field, all the way through."
Richards, the team's great hope for 2018, said he felt conflicted about whether to deem the season a success or failure.
"The fact that we were in it for basically the whole season is, I guess, something you can hang your hat on," he said. "This group strives for more than that, and that's what makes us, I think, beautiful."
Indeed, the 2017 Angels were not an entirely irredeemable experiment. Eppler and his staff demonstrated an ability to unearth inexpensive, effective pitching talent. Between Parker, Yusmeiro Petit, JC Ramirez, David Hernandez, Parker Bridwell and Bud Norris, they extracted 513 innings of 3.51 earned-run average performance, almost a run better than the AL average. Those six pitchers entered the organization in an eight-month span, all at no acquisition cost, for a combined 2017 salary of $6 million.
Now, they just have to find more hitters.
"The obvious talking point this winter," Scioscia said, "is going to be our offense."
Short hops
Third baseman Yunel Escobar's season is over. Out with an oblique strain, he was deemed unfit to play instructional league games in Arizona on Wednesday as scheduled. He is a free agent at year's end, and is unlikely to return to the team.… Before Wednesday's game, the Angels decided to start left-hander Andrew Heaney on Thursday if they were not yet eliminated from postseason contention, and right-hander Bud Norris if they were. Returning from Tommy John surgery, Heaney has dealt with shoulder soreness this month.
Follow Pedro Moura on Twitter @pedromoura
Get the latest on L.A.'s teams in the daily Sports Report newsletter.
You may occasionally receive promotional content from the Los Angeles Times.