Justin Bour seems to be getting back in the swing with the Angels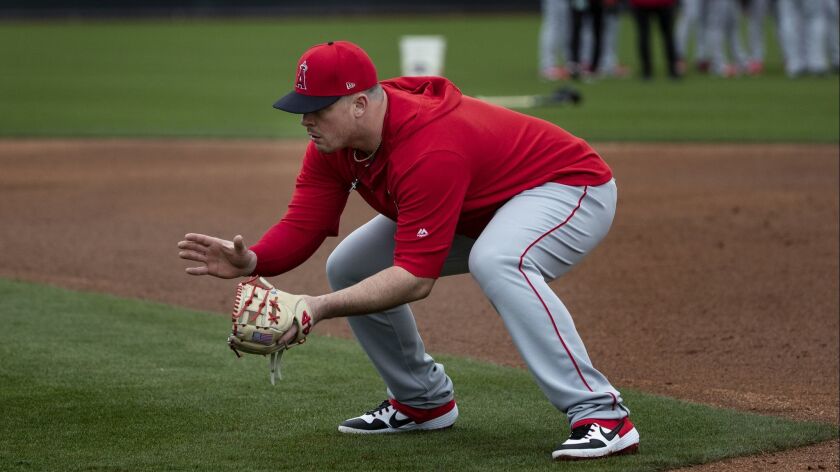 Reporting from tempe, ariz. —
The clips were viewed side-by-side, one video showing an at-bat from Justin Bour's best year at the plate and another from his worst.
The newest Angels first baseman had never seen his swings presented so starkly. The mechanical differences that helped explain his 2018 offensive struggles had eluded him until the Angels' trio of hitting gurus put them on display.
"To kind of see that side view is huge," said Bour, who had his best year in 2017 with Miami. "When you see something just as basic as that it kind of clicks. It's like, 'Oh, OK, that makes sense.' "
Bour has been working with those coaches — Jeremy Reed, Shawn Wooten and Paul Sorrento — to refine his setup in the batter's box for the better part of two months. Although he was held out of the Angels' lineup for the first week of Cactus League games because of a right hamstring strain, Bour had begun to see some of their influences take hold.
In his first game in an Angels uniform Saturday, they literally took off.
He set himself in the left-handed batter's box, awaited the 3-1 offering from the Cincinnati Reds' Luis Castillo and let the momentum produced by his 6-foot-4, 270-pound frame do the work. He swatted a belt-high pitch so hard it flew over the right-field fence at Goodyear Ballpark and continued over the pavilion before landing somewhere outside the stadium.
No one could determine where that baseball wound up.
All that mattered was that Bour, a power hitter who was sapped of some of his slugging abilities last season, had started his slate of spring training games on a positive note.
"It was good to see that," Bour, 30, said, "because that came from a lot of work."
Bour, who hit 20 home runs and had a career-low .227 batting average in a career-high 141 games last season, entered the offseason unsure what direction his career would take.
He'd been informed in early November, about a month before his wedding, that the Philadelphia Phillies were not going to tender him a contract for the 2019 season. Bour knew their parting was inevitable because the Phillies had enough depth at first base to discard him. Plus, they'd acquired Bour soon after the non-waiver trade deadline from the Marlins only so he could provide power off the bench while they chased a postseason berth.
After the Phillies fell out of contention and Bour's slugging production fizzled, Bour became a free agent on the heels of his worst offensive campaign.
"I really had to do some soul searching in the offseason to figure out what I needed to work on, what I needed to get better at," Bour said. "But there's really no one else to blame but myself for the lack of numbers I put up."
Over five years in the major leagues, Bour has a slugging percentage of .466 with 84 home runs, 66 doubles, two triples and 277 runs batted in. He was only one season removed from participating in the 2017 All-Star game home run derby, where he lost 23-22 to the New York Yankees' Aaron Judge — the eventual champion — in the first round.
Sign up for our daily sports newsletter »
Despite his dropoff in production, Bour was not free for long.
The Angels called in December, right after Bour's honeymoon. They offered $2.5 million on a one-year contract and a nurturing environment. They also offered some things he'd never seen, such as the videos shown to him upon his arrival at the Angels' spring training complex in January. And they promised the opportunity to work his way into a daily spot in the lineup.
Most importantly, they gave him ample time to prepare for the season, welcoming him to Tempe Diablo Stadium early.
"I've been pleasantly surprised with how things are run and how much attention to detail and how important everything is to the organization, from stretching to mobility to strength training," Bour said in late January. "There's a lot of new things happening in the game of baseball and a lot of development. … The Angels have all that here. Really if you want to get better, there's a lot of opportunity."
Bour is expected to share duties with Albert Pujols at first base, the Angels hoping Pujols' knee, which had been surgically repaired late last season, remains sound. Bour could serve as the full-time first baseman and Pujols the full-time designated hitter until Shohei Ohtani is cleared to return.
Bour is likely to serve in a platoon role throughout most of the season, but manager Brad Ausmus has said he does not intend to pigeonhole Bour, who has a career .220 average against left-handers.
"Whether he's at first base, DH-ing or coming off the bench, he can be a difference with the bat," Ausmus said earlier this spring. "He's a big strong guy. He's a mountain of a man. He's a little imposing to the opposing pitcher."
Whatever happens, Bour already has made some strides toward returning to form. His setup at the plate is allowing him to fire his hips sooner and making it easier to get his bat to the ball.
The mammoth home run that left the stadium is evidence of that.
"We just try to get him to get in the box correctly and let it happen from there," said Reed, the Angels' first-year hitting coach. "You can't over-evaluate spring training at-bats. … For a guy like that, we see the swing come out. I don't really care about the results."
---
Get the latest on L.A.'s teams in the daily Sports Report newsletter.
You may occasionally receive promotional content from the Los Angeles Times.