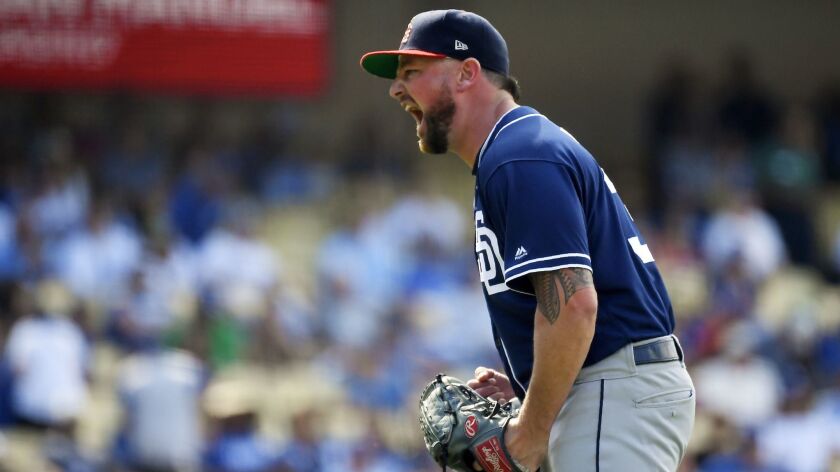 Reporting from CLEVELAND —
The Angels' bullpen has been a strength this season, notwithstanding former closer Cody Allen's brief but turbulent stint. Hansel Robles and Ty Buttrey have impressed with high-90s heaters and earned-run averages under 3.00. Cam Bedrosian, Justin Anderson and Noe Ramirez have assembled serviceable campaigns.
But that relief corps might have sported a different look if the Angels hadn't let current Padres closer Kirby Yates, one of the sport's best ninth-inning weapons, slip from their grasp two years ago.
"Yeah," Angels general manager Billy Eppler said when asked if he regretted designating Yates for assignment after a single forgettable two-run outing in April 2017. "I would like to have eight relievers that are all performing at their peak. … In this business, [with] the fungible nature, or the transactional nature, of relievers, this happens. It is what it is."
In 2017, Yates was a 30-year-old with an ERA north of 5.00 in 98 career appearances. His lengthy list of transactions featured the beginning of his professional career as a nondrafted free agent signed by the Tampa Bay Rays in 2009, a 41-day stint on the Cleveland Indians' roster during the 2015-16 offseason and 41 appearances for the New York Yankees in 2016. The Angels jumped aboard, claiming Yates from the Yankees before sneaking him through waivers at the start of the 2017 season and calling him up in late April when they needed a fresh bullpen arm.
Within days of being designated, the Padres extended Yates another lifeline during their 103-loss campaign. And Yates thrived.
Now 32, the late-blooming Yates is still improving. He entered the All-Star break leading the major leagues with 30 saves. His 1.15 ERA ranks third among relievers who have thrown at least 27 innings. He has struck out 60 batters and issued only nine walks through 38 games. The marks are so astounding Yates was named an All-Star for the first time.
"It's just crazy that you can go through so much and then all of a sudden, you have success and you're an All-Star," Yates said Monday. "And it's pretty cool to be able to say that I'm an all-star. I take pride in that. I'm proud of myself and this is something I won't take for granted."
The Angels had a burgeoning bullpen in 2017. Veteran Yusmeiro Petit was on track for a career-best year and finished with 101 strikeouts and a 2.76 ERA in 60 games. Bud Norris spent most of the season with an ERA under 3.00 while collecting 19 saves. After striking out 17 consecutive batters in his last five spring-training outings, journeyman Blake Parker positioned himself for his own personal best campaign. Bedrosian didn't allow any runs in April before sustaining a groin strain that knocked him out almost two months. Keynan Middleton, on the cusp of his first call-up, was throwing a fastball that touched triple digits in triple A.
Dodgers manager Dave Roberts would like a White House invitation to decline »
Yates had talent, Eppler said, but the journeyman had no minor league options remaining.
The Angels wanted to stash Yates away at Salt Lake but the Padres intervened. They helped him develop the mid-80s split-finger fastball he picked up while with the Yankees a year earlier. He now throws that pitch 42% of the time, a change that has been instrumental in his ability to hold hitters to a minuscule .163 batting average.
"He was left for dead by everyone else except for himself," fellow Padres reliever Craig Stammen told the San Diego Union-Tribune.
Yates harbored no ill feelings toward the Angels. He understood the roster crunch they faced.
He was frustrated nonetheless. He had moved after the 2016 season from his native Kauai, Hawaii, to Arizona and gave up surfing to dedicate himself fully to his craft during the winter. Before the Angels cut bait, Yates thought his career was turning a corner.
"I was becoming better," he said. "I was starting to throw the ball really well. I think all the other times I was kind of hoping like, 'Please somebody claim me just so I could stay in the big leagues.' When the Padres claimed me, I felt like I was ready to be a big leaguer. I was ready to have success. … I felt like I was good enough to go and get outs anywhere I went."
Yates was right. Since 2018, he has been worth 3.9 wins above replacement. Milwaukee's Josh Hader and Oakland's Blake Treinen, who each provided about 4.0 fWAR, are the only relievers who have outperformed Yates in that time.
The only Angels reliever approaching Yates' production? Rookie Buttrey, who has a 2.78 ERA and has provided 2.0 fWAR in 57 games since debuting late last year.
"He's capitalized on it," Eppler said of Yates. "I'm extremely happy for him."
Sign up for our daily sports newsletter »
---