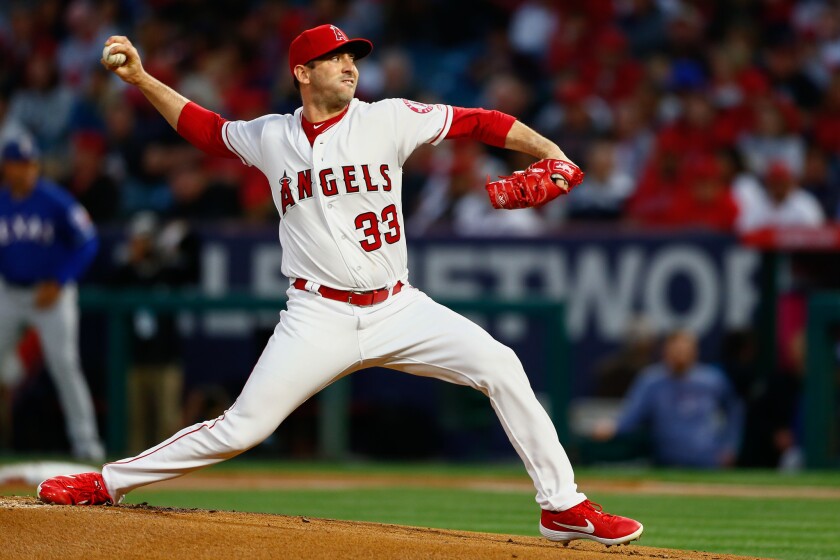 Inside a ground-floor suite at Angels Stadium, about 30 minutes before Matt Harvey made his first home start, his agent outlined the blueprint for a revival. Scott Boras has represented Harvey through peaks and valleys, from magazine covers to tabloid fodder to the operating table, and he believed a renaissance remained possible.
"The key to Harv is fastball command," Boras said. "'Can I get it up in the zone? Can I get it down in the zone? Can I put it in and out?' And then all his secondary stuff follows."
Less than an hour later, with a pair of Texas Rangers already on base in the game's first inning, Harvey flung a first-pitch fastball to outfielder Joey Gallo. The velocity of the pitch was credible: 93.6 mph. The location was less commendable; the pitch bisected the plate, where it connected with Gallo's lumber. A homer soared into the right-field seats, spoiling the evening before dusk had settled in an 11-4 Angels loss.
The barrage did not end there. Two batters later, after Harvey's erratic command led to a four-pitch walk, Rangers first baseman Ronald Guzman hooked a belt-high slider inside the right-field pole for a two-run shot. The first inning required 32 pitches and resulted in five runs — three more than Harvey yielded in his encouraging outing in the season's second game. He surrendered eight runs in all, leaving with no outs recorded in the fifth.
"There's a lot of work to be done," Harvey said. "You can't go out there and pitch high in the zone and expect to get people out."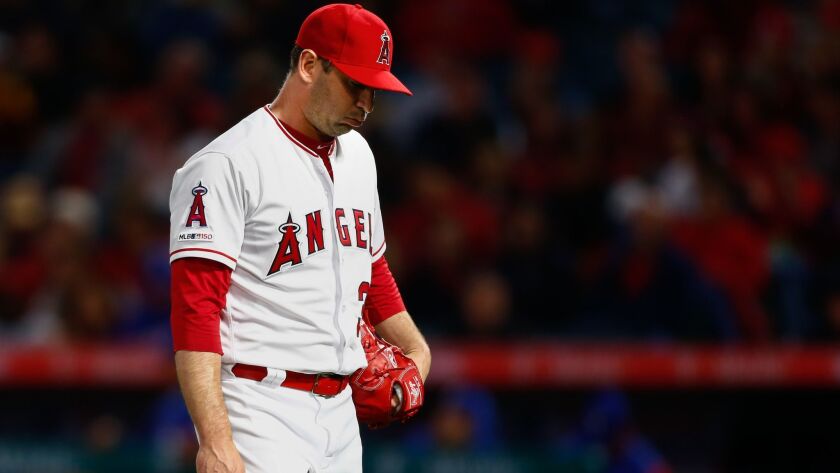 During an abysmal, season-opening road trip, the Angels lost all five games played without Harvey on the mound. They won with Harvey's six-inning quality start against the Oakland Athletics. Harvey only struck out one batter, and the Athletics are not expected to be an offensive force, but the outing at least offered reasons for encouragement about this season.
The optimism dissolved as the Rangers took flight in Thursday's first inning. More discomfort awaited before the third, as shortstop Andrelton Simmons departed with a back issue. The Angels employ three players who belong on a roster with nonpareil outfielder Mike Trout: Simmons, outfielder Justin Upton and two-way player Shohei Ohtani. Upton and Ohtani are both on the injured list. Simmons may soon join them.
Trout displayed his usual brand of brilliance in the third. He saved Harvey by cutting down a runner at the plate with his arm, then bashed a solo shot. The crowd serenaded him with "M-V-P" chants. Trout has won that award twice since debuting in 2011; he has yet to win a playoff game.
The limitations of a one-star roster have been apart for the past decade in Anaheim. The Angels haven't made the playoffs since 2014. They are unlikely to contend in 2019, but possession of an asset like Trout forbids tanking. So general manager Billy Eppler tried to rebuild his pitching staff this winter, doling out deals like a one-year, $11-million contract to Harvey.
The appeal of Harvey resided in the height of his ceiling, rather than the depth of his floor. He dominated the sport in 2013 and again in 2015, his first season back from Tommy John surgery. From there, beset by injuries and indiscretions with the New York Mets, his performance petered out.
There were encouraging signs for Harvey after the Cincinnati Reds acquired him last season. His fastball velocity stabilized at 94 mph in his second year back from surgery to recover from thoracic outlet syndrome. He avoided the off-field mistakes that dogged him in New York.
The Angels bought short on Harvey, but they did not buy low. Harvey will be paid more than twice as much in 2019 as Wade Miley, who took a one-year, $4.5-million deal with the Houston Astros after posting a 2.57 earned-run average in 2018. Harvey will be paid nearly four times as much as Gio Gonzalez, who merited only a minor-league deal with the New York Yankees that could reach $3 million. Harvey will be paid more than seven times as much as Drew Pomeranz, who accepted a $1.5 million deal with the San Francisco Giants even though he had a 3.32 ERA from 2016 to 2017.
All those players were still available when the Angels signed Harvey in late December. So was former American League Cy Young award winner Dallas Keuchel, who remains unsigned. Eppler also non-tendered Matt Shoemaker, who has yet to allow a run during his first 14 innings with the Toronto Blue Jays.
Harvey looked viable last week. He served as the bright spot during a bleak trip. The offense looks sluggish without Ohtani and Upton. In order to stay afloat, the Angels might require yeoman's work from their rotation. Trevor Cahill, the starter on opening day, has been productive in two outings. And Harvey had lifted his teammates to their only victory.
He succeeded against Oakland because he buried fastballs in the bottom of the zone, a skill he could not replicate Thursday. He paid for imprecision in the first inning. In the third, he yielded a trio of consecutive hits which led to a run. Trout protected Harvey by pegging Guzman at home after former Dodger Logan Forsythe laced a belt-high fastball into center. Trout could do nothing when catcher Isiah Kiner-Falefa whacked another misplaced fastball into right for an RBI double.
Sign up for our daily sports newsletter »
"The stuff was actually good," Ausmus said. "The command was where he got hurt early."
Harvey left the stage in the fifth after giving up a single and missing the zone with four fastballs for a walk. He stared at the dirt as Ausmus took the baseball. The crowd did not applaud or jeer as Harvey exited the diamond. They appeared not to notice.
"Not a good first one here," Harvey said. "I'll be mad for the next 24 hours, and get back to work tomorrow."
Twitter: @McCulloughTimes
---