Angels win sixth-straight behind Patrick Sandoval's strong start, superstitious lineup card routine
PHOENIX — Patrick Sandoval, the starting pitcher, was credited with his first victory of the season on Sunday afternoon.
Patrick Sandoval, courier of the pregame lineup card, picked up his sixth straight win.
After delivering the Angels' lineup card to the umpires before each of the team's five straight wins entering Sunday, the left-hander once again made the pregame trek to home plate in the series finale against the Arizona Diamondbacks.
This time was a little different, with Sandoval's name actually written on the sheet as the team's starting pitcher. But the result was the same, a 10-3 blowout that extended the Angels' season-long winning streak to six and pushed their overall record (33-32) over .500 for the first time since May 1.
"There's no way he was not taking it out," manager Joe Maddon said with a laugh.
Added first baseman Jared Walsh: "We're going to ride the wave as long as we possibly can."
Asked if he takes credit for the Angels' season-long winning streak, Sandoval grinned.
"No comment," he said.
But after Sunday's performance, in which he gave up just two runs in six-plus innings while also recording his first career base hit, he can claim to be the key factor in at least one of the wins.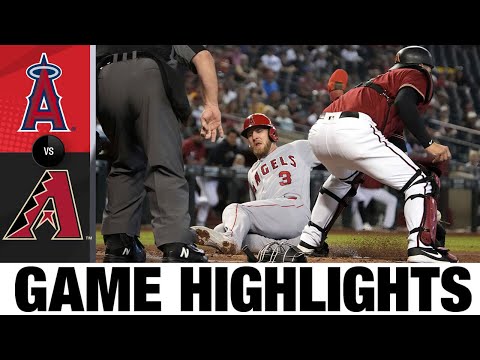 Highlights from the Angels' 10-3 win over the Arizona Diamondbacks on Sunday.
"It really comes down to the starting pitching," Maddon said. "Sandy was really good."
Starting in his fifth straight outing while filling in for injured José Quintana, Sandoval yielded just four hits (all singles, including two that didn't leave the infield) and two walks while striking out four batters and dominating with mostly a fastball-changeup mix.
Since moving into the rotation on May 17, the 24-year-old Mission Viejo native has a 2.77 ERA.
"I've been on this guy's potential from the first time I saw him last year," Maddon said. "I think more than anything, he really has a stronger sense of belonging here. A 'I can do this' kind of a feel."
On Sunday, that composure carried over to Sandoval's first at-bat at the plate.
After Max Stassi had given the Angels an early lead with a two-run home run in the first, Sandoval came up with one on and no outs in the top of the second.
After missing with a bunt attempt on the first pitch, he initially squared around again as Diamondbacks starter Jon Duplantier delivered the second. But this time, Sandoval pulled it back and swung, bouncing his first career base hit past a pulled-in infield to put runners on the corners with no outs.
It was a key moment in what became a four-run inning.
In the next at-bat, David Fletcher plated one run with a safety squeeze, reaching first himself as the Diamondbacks (20-46) unsuccessfully tried to throw home.
An excerpt from 'Cheated' tells the deeper story of the 2017 Dodgers-Astros World Series and the lengths the Astros went to win a tainted World Series title
Two more runs scored when Justin Upton lined a single up the middle — one of his three hits on the day — that center fielder Ketel Marte misplayed.
Walsh then made it 6-0 by pulling an RBI double into the right-field corner, the first of a three-RBI day that also included a home run in the eighth.
"We're having a good time in the clubhouse," Walsh said. "Hopefully we keep rolling off some victories."
Until they lose, the Angels will keep sending Sandoval out to the pregame meeting with the umpires too.
"Probably the most important part of my day was taking the lineup card out," Sandoval said.
The gimmick started innocently, a request last Monday from Mike Trout and Angels quality assurance coach Tim Buss for Sandoval to take the card since he was already out of the dugout.
"My first time, I was nervous," Sandoval said. "I dropped the card actually."
But now, it is bordering on unskippable superstition.
"There's a bounty on 10 in a row that I pay out," Maddon said, chuckling again.
And the way things are going right now, maybe the Angels might actually get there.
Said Sandoval: "I don't see any end in sight."
Shohei Ohtani expected make 'reopening day' start Thursday; Mike Trout rehab update
PHOENIX — Shohei Ohtani wasn't in the Angels' lineup again on Sunday, starting on the bench for a second-straight game during a National League series against the Arizona Diamondbacks with no available designated hitter.
But before the game, manager Joe Maddon said that Ohtani is lined up to make his next pitching start on Thursday against the Detroit Tigers — the same day Angel Stadium will return to full capacity for the first time this season.
After playing all of last season in empty ballparks during the coronavirus pandemic, the Angels have been forced to cap capacity at Angel Stadium to roughly 33% so far this season under state pandemic limitations.
Those restrictions will end on June 15, however, allowing the Angels to welcome back a full-capacity crowd for the first time since the 2019 season when they return home from their current six-game road trip.
And when they take the field for the "reopening day" game, they'll have their two-way star on the mound.
Entering Sunday, Ohtani has a 2.85 ERA as a pitcher, top-25 among MLB starters with at least 40 innings pitched, and a .966 on-base-plus-slugging percentage as a hitter, fifth-best in the majors. His 17 home runs are also tied for third most in baseball.
Mike Trout rehab update
The Angels said Mike Trout is still walking on the treadmill and continuing upper body and core workouts as he continues to rehab a calf strain that has kept him out since May 18. The team hopes to have more of a plan for the three-time MVP early next week.
Trout's initial six-to-eight week timeline lined him up to return either in late June or early July, though Maddon said earlier this month that Trout might not make his return until after the July 12-15 All-Star break.
Speaking to reporters last week, Trout said his rehab was going well and that he hoped to start jogging soon.
Angels climb back to .500 after five-run comeback against the Diamondbacks
PHOENIX — Angels manager Joe Maddon called it a mental hurdle, an all-important landmark in a season that is slowly starting to turn around.
For the first time since May 2, the Angels climbed back to .500 on Saturday with an 8-7 win over the Arizona Diamondbacks, improving to 32-32 after once being as many as eight games below .500 last month.
And much like their recent rebound, in which they've now won a season-best five in a row and 13 of their last 18, they had to dig their way out of a deep early hole on Saturday too.
After starter Alex Cobb surrendered a five-spot in the third inning, each run scoring with two outs as the Diamondbacks (20-45) batted around, the Angels faced what seemed like an almost insurmountable 5-0 deficit.
But then they rallied, chipping away little by little — two runs in the fourth, two more in the fifth, and another in the eighth to answer a Diamondbacks tally the half-inning before — before delivering the final blow by taking the lead in a three-run ninth inning.
"Down early, kept fighting back right up to the last inning," Maddon said. "Everybody contributed again."
Anthony Rendon did the most damage by going two for three with four RBIs, hitting his first home run in more than a month in the fourth inning and the game-tying sacrifice fly in the top of the ninth.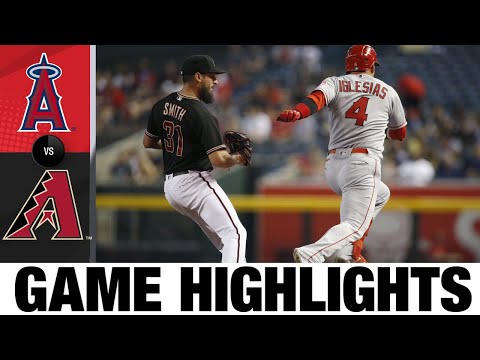 Highlights from the Angels' win over the Arizona Diamondbacks on Saturday.
Justin Upton drew three walks as the leadoff hitter, while Max Stassi, Taylor Ward and José Iglesias each recorded two hits — including back-to-back ninth-inning RBI doubles from Iglesias and Ward to score the winning runs.
José Suarez pitched four crucial innings of relief, giving up just one run to keep the lineup within striking distance. Alex Claudio was credited with the win after tossing a scoreless eighth. And closer Raisel Iglesias, despite giving up a solo home run in the ninth, got his 11th save.
Even the bench provided key contributions, from a pinch-hit RBI base hit by Phil Gosselin in the fourth to a single by Shohei Ohtani and run-scoring sacrifice bunt by Kean Wong in back-to-back pinch-hit at-bats in the eighth.
As a result, the Angels have an even record for the first time since they were 13-13.
"It's an achievement, it's a goal," Maddon said. "You got to get there. The guys understand that. But they're so pro about their work right now. I could not be more impressed with this group."
While this recent five-game winning streak has come against softer competition — Saturday was the Diamondbacks' ninth loss in a row — the Angels have also had to do it without the injured Mike Trout.
Compensating for his absence has been a teamwide effort, starting with improvements from a pitching staff that entered Saturday with the seventh-best team ERA (3.40) in June to a lineup that has benefited from Stassi's return from injury, Upton's consistency in the leadoff spot and Rendon's steadily-improving form at the plate.
"We're missing some pieces right now and that's difficult, but this is the style and method I envisioned for this group," Maddon said. "This is what made us successful historically here … There needs to be a grittiness about Angels teams. That's how we made our mark."
And though there are still 3 ½ months to go this season, the past several weeks are providing the Angels with confidence they hope to carry the rest of the way.
Jo Adell, the Angels' top prospect, has benefitted from playing in the minors, but there's some work that needs to be done before he returns to the majors.
"The guys come in and you're shaking their hands and it's like business as usual, like they expected to do that," Cobb said of Saturday's atmosphere. "There's nothing crazy in the clubhouse. We have our postgame celebration like we do every win. It's just, the look on their face was like, 'Yeah, we knew we were going to come back and win that game.'"
Despite trailing by one for most of the latter innings, it wasn't until the ninth that the Angels finally went in front. The rally began with a leadoff double by Jared Walsh, followed by a single from Stassi and then Rendon's sacrifice fly.
José Iglesias came up next and drove a double over Ketel Marte's head in center field, the ball bouncing off the wall as Stassi raced all the way home to break the 6-6 tie. Ward hit the next pitch down the third-base line to score Iglesias and make it a two-run game.
"It takes 26 guys to win a ballgame and definitely to go deep into a season," Rendon said. "That's what we're doing right now. That's what we have been doing over the last week."
And with their record finally back on level footing, Maddon wants to see the team take more incremental steps up the standings — to turn this recent stretch into a launching point for the rest of the campaign.
"You start thinking five over [.500], then 10 over, then 15 over, that's how I've always done this," Maddon said. "But you got to get there first. It's a mindset, and then keep building off of that."
Angels notes: Ohtani's knee fine to pinch-hit; Quintana to have rehab assignment
PHOENIX — The Angels enter Saturday with a chance to get back to .500 for the first time since May 2, thanks to a 7-2 start in the month of June and an extended 12-5 stretch over the past three weeks.
They'll have to do it without Shohei Ohtani in the starting lineup, the two-way star starting on the bench with no available designated hitter in the National League game against the Arizona Diamondbacks. But, Ohtani should be fine to pinch-hit even after taking a hard foul ball off his knee during Friday's series-opener.
Ohtani said through his interpreter that his knee felt "pretty stiff" following Friday's game, but Angels manager Joe Maddon said it shouldn't affect his availability off the bench for the final two games of this weekend's series.
"I'm certain he'll be able to pinch-hit," Maddon said.
Without Ohtani, Maddon mixed up Saturday's lineup. Jared Walsh was bumped up to the No. 2 spot. Anthony Rendon was moved to the cleanup role. And Max Stassi will hit third for the first time in his career.
Here's the Angels full lineup:
In other roster news Saturday: Injured starting pitcher José Quintana (shoulder inflammation) will throw a bullpen session on Monday. After that, Maddon said the club will create a schedule for when he can return to action.
Maddon said part of that schedule is expected to include a rehab assignment for Quintana, who had a 7.22 ERA in nine starts before getting hurt on May 30.
The Angels are still evaluating how they might fit Quintana back into the rotation, and who might be taken out of the current six-man group.
"There's no reason to fast-track it right now," Maddon said.
The Angels also announced Saturday that right-handed relief pitcher Hunter Strickland, who was designated for assignment last week, has been traded to the Milwaukee Brewers for cash considerations.
In a game that had everything, Shohei Ohtani does it all as Angels prevail in 10 innings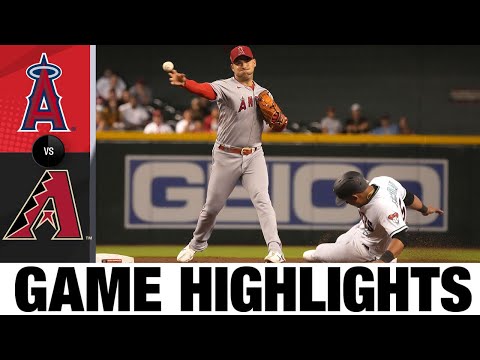 Highlights from the Angels' win over the Arizona Diamondbacks on Friday.
PHOENIX — As Joe Maddon leaned against the netting behind home plate during Friday afternoon's pregame batting practice, an Angels fan in the front row at Chase Field caught the manager's attention.
"Does Ohtani hit BP on the day he pitches?" the fan asked.
Maddon said no, not on the field anyway.
By the end of Friday night, it was about the only thing the Angels' star didn't do. Making his sixth two-way start of the season in the Angels' 6-5 extra-inning win against the Arizona Diamondbacks, Shohei Ohtani's performance included almost everything else.
So did the game itself, the Angels (31-32) overcoming multiple Arizona rallies to win a season-high fourth-consecutive game.
Here are three observations from the game:
Ohtani shines again playing both ways
The early innings were all about Ohtani.
He pitched, giving up two runs in five innings while striking out eight batters and topping out at 99.6 mph with his fastball, his velocity finally back to a normal mid-90s mph average after a dip in recent outings.
He hit, going two for four with two doubles and an RBI, his 10th game this season with multiple extra-base hits.
He survived an injury scare, staying in the game after fouling a ball off his right knee in the third inning, then immediately doubling home a run as the Angels took an early 3-0 lead.
And he worked out of jams, stranding runners in scoring position in each of his final four innings.
"When faced with a dilemma, he turns up that dial," Maddon said. "The velocity shows up. He throws even more strikes. Love it. He knows exactly what he's doing at all times."
The same held true at the plate.
Even with the Angels leading 4-2 after Ohtani's five innings on the mound — thanks to two RBIs from Kurt Suzuki, who finished the night with three hits and a home run, and another from Anthony Rendon — Maddon decided to shift Ohtani to the outfield in the bottom of the sixth in order to get him an extra at-bat.
The Angels ended up needing it.
After the Diamondbacks tied the game at 4-4 with two runs against reliever Chris Rodriguez, Ohtani stepped to the plate in the seventh and laced his second double to right field, crucially moving Justin Upton from first to third base where he would later score a go-ahead run on a wild pitch.
"Leaving him in for one more at-bat, he puts it in the gap," Maddon said of Ohtani, who now has a .961 on-base-plus-slugging percentage and 2.85 ERA. "Pretty much a brilliant night for Shohei."
Ohtani unhappy with balk calls
The only runs the Diamondbacks (20-44) scored against Ohtani came in the fifth inning, after the right-hander was called for the first two balks of his major league career.
Both balks came with two runners on during a two-out at-bat against Eduardo Escobar. And both were called by third base umpire Dan Merzel.
Ohtani visibly disagreed both times, raising his arms and shaking his head. Maddon came out to argue the first, and also appeared to react with dissatisfaction from the dugout at the second.
"They said he flinched on the first one," Maddon said, adding that he believed the second one was because the umpires ruled Ohtani didn't have a "discernible pause" before delivering a quick pitch to the plate.
"After looking at the replay on my own," Ohtani said through his interpreter, "I felt like it was a pretty hard call."
The first balk moved runners to second and third. The second one brought home a run. The Diamondbacks scored again when Ohtani threw a wild pitch on a two-out third strike. As he returned to the dugout after the inning finally ended, Ohtani appeared to turn back and look at Merzel.
"That's the most emotion I've seen from Shohei," Suzuki said. "You like that. You like to see that fire, that competitiveness. Shohei is a pretty quiet kind of guy, but I tell people when he steps between the lines, he's a different person. You saw that tonight."
Angels win during weird 10th inning
The balks wouldn't be the last time the umpires were involved in an unusual sequence.
Once the game went to extra innings, after Escobar hit a two-out, full-count, game-tying home run off Raisel Iglesias in the bottom of the ninth to give the Angels closer his first blown save since April 23, the Angels took the lead during a hectic 10th inning.
With two on (including Jared Walsh, who was the automatic runner that began the inning at second) and one out in the top of the frame, the Diamondbacks mistakenly removed reliever Ryan Butcher from the game after he had faced only two batters — one short of MLB's new three-batter minimum rule.
Jo Adell, the Angels' top prospect, has benefitted from playing in the minors, but there's some work that needs to be done before he returns to the majors.
Initially, no one noticed the gaffe, allowing Butcher to walk all the way back into the dugout. Even Maddon was unaware of it until he was alerted by Angels catching coach Jose Molina. But after Maddon walked onto the field to tell the umpires, Butcher was forced to return to the bump to face Suzuki.
"That's the benefit of having a great staff like we do," Maddon said. "Give J-Mo a lot of credit on that one."
Butcher's outing only lasted one more pitch, as he plunked Suzuki to load the bases.
The only problem: Suzuki suffered a dead leg after getting hit behind his knee, forcing him to come out of the game (Suzuki later said he should be fine). Max Stassi was the Angels' last available bench player, but was already on deck to hit in the pitcher's spot. So Maddon instead turned to Griffin Canning, sending the right-handed pitcher to first base to pinch-run.
When Stassi hit a slow ground ball to second in the next at-bat, Canning made a good break that left Diamondbacks second baseman Josh Rojas with no other play than a throw to first base.
Walsh was able to cross home plate to put the Angels back in front. And this time the lead held, with Steve Cishek and Alex Claudio combining for three outs in the bottom of the 10th to end the game.
"One of my favorite signs of a really solid group is when you win extra-innings on the road," Maddon said, before cracking a sly grin. "And when you win in extra innings on the road with fabricated rules, that makes it even better."
Angels vs. Diamondbacks updates: Angels win 6-5 in extra innings
Live updates as Shohei Ohtani takes the mound for the Angels against the Arizona Diamondbacks...
End 1st — no score: Shohei Ohtani grounded out in his first bat, but was electric in the first inning on the mound. He retired the first three batters on 11 pitches, all strikes and two via the strikeout. He threw only fastballs (which reached as high as 97 mph) and splitter (which accounted for all three outs).
Top 3rd — Angels take 3-0 lead, Ohtani fouls ball off leg: The Angels took the lead first, but not without a scare. After catcher Kurt Suzuki opened the scoring with a solo home run, Shohei Ohtani fouled a ball off his right knee and went down in pain.
He stayed in the game after getting checked out by trainers for a couple minutes and jogging around in foul territory. He then laced an RBI double into right center field with an exit velocity of 114.9 mph and later scored on an Anthony Rendon RBI single.
Ohtani's stride looked a little hampered as he ran the bases, but he returned to the mound for the bottom of the third without issue.
Bottom 3rd — Angels lead 3-0, Ohtani (almost) hits 100 mph: Shohei Ohtani's first several pitches after fouling the ball off his leg looked off, including a four-pitch walk of opposing pitcher Merrill Kelly in which his fastball was sitting below 92 mph.
But then, facing a two-on and one-out jam, Ohtani revved it back up. After getting Ketel Marte to ground out, Ohtani threw five straight fastballs against Asdrubal Cabrera — including a 99.6 mph heater — to get an inning-ending strikeout.
Bottom 5th — Angels lead trimmed to 3-2 after Ohtani called for two balks: The Diamondbacks finally broke up Ohtani's shutout, thanks to some help from the third base umpire.
Twice in the fifth, umpire Dan Merzel called Ohtani for a balk — the first time in his MLB career he had been called for the infraction. The first one moved runners to second and third. The second one scored a run.
Ohtani visibly disagreed with both, raising his arms and shaking his head. Angels manager Joe Maddon came out to argue the first, and also appeared to react with dissatisfaction from the dugout at the second.
The inning continued, with another run scoring on a third-strike wild pitch with two outs. But Ohtani escaped with the lead intact by striking out David Peralta.
He appeared to glare back at Merzel as he returned to the dugout.
Mid 6th — Angels stretch lead to 4-2, Ohtani moves to outfield: The Angels got a run back in the sixth inning on a Kurt Suzuki single, his third hit and second RBI of the night.
Then, they pulled what is becoming the most interesting double-switch in baseball once again, shifting Ohtani to the outfield to begin the bottom of the sixth and calling Chris Rodriguez in from the bullpen. The move to the outfield will allow Ohtani to take one more at-bat, with his spot due up second in the seventh.
Bottom 6th — Diamondbacks tie game at 4-4: With Ohtani off the mound, the Diamondbacks quickly tied the game. Carson Kelly singled and Nick Ahmed doubled to begin the inning. Then one run scored on a ground ball to third, with catcher Kurt Suzuki charged with an error after dropping a throw to the plate, before the tying run crossed on an RBI single from Josh Rojas.
Top 7th — Angels retake 5-4 lead with help of Ohtani double: Shohei Ohtani helped put the Angels back in front in the seventh. After Justin Upton reached on an infield single, Ohtani crushed his second double of the game off the wall in right. That moved Upton to third, where he scored with two outs after making a good baserunning read on a wild pitch.
Bottom 9th — Dbacks tie it at 5-5: The Angels were one strike away from winning. But, in a full count with two outs in the bottom of the ninth, Eduardo Escobar hit a game-tying home run off Raisel Iglesias — the first blown save by the Angels' closer since April 23.
Final, Angels win 6-5: The Angels retook the lead during a 10th inning in which the Diamondbacks violated the three-batter minimum rule, pitcher Griffin Canning came into the game as a pinch-runner after Kurt Suzuki was injured on a hit-by-pitch, and Max Stassi drove in the go-ahead run with a bases loaded grounder.
In the bottom of the frame, Steve Cishek got the first two outs before Alex Claudio won a left-on-left battle with Stephen Vogt to end the game.
The Angels have won a season-high four-straight games and improve to 31-32.
Shohei Ohtani to play both ways Friday, this time in traditional National League game
PHOENIX — Friday will be a first for the Angels and Shohei Ohtani.
The two-way star will play both ways during the Angels' series opener against the Arizona Diamondbacks, the sixth time in nine pitching starts he has done so this season.
But for the first time, the Angels won't have to sacrifice the designated hitter to do it.
Instead, in what will be Ohtani's first outing on the mound in a traditional National League game, Angels manager Joe Maddon didn't have any decision to make.
As the pitcher, Ohtani was going to be in the lineup no matter what, batting second as the Angels go for what would be a season-best four-game winning streak.
It will be the final two games of this series that create complications, as the Angels will have to decide how to best use Ohtani without the option of a DH.
Despite entering the series with a .262 batting average, .951 on-base-plus-slugging percentage and 17 home runs, Ohtani will likely start on the bench in Saturday's and Sunday's games at Chase Field.
As was the case during the Angels' last NL series against the San Francisco Giants earlier this month, Maddon said last week he isn't comfortable yet having Ohtani start games in the outfield — though Ohtani could enter as a defensive replacement later in the contests in order to get a couple at-bats.
"At this point in the year, until everybody has a more established comfort zone, just will keep him for pinch-hitting purposes," Maddon said.
As a pitcher, Ohtani entered Friday with a 2.76 ERA this season. In eight starts, he has given up more than two earned runs only twice. And in 42 1/3 innings, he has 60 strikeouts.
At the plate, he is five for his last 14 with two home runs, two doubles and eight walks. His 17 home runs is one back of the MLB lead.