Chargers coach on Austin Ekeler: 'Optimistic, for sure' back OK to play at Washington
Chargers head coach Brandon Staley said he is "optimistic, for sure" that running back Austin Ekeler will play Sunday in the team's season opener.
Ekeler returned to practice Friday on a limited basis after missing two days because of a hamstring issue. He is officially listed as questionable for the game at Washington.
Staley also said veteran Chase Daniel will serve as the backup to quarterback Justin Herbert in Week 1. Easton Stick is also on the team's 53-man roster.
The Chiefs have been dominating the AFC West of late and, although the Chargers have potential, getting past the AFC champions will be difficult.
Staley said early in the week that Herbert's backup likely would be a week-to-week decision based on the game plan and the opposition.
The Chargers are quite healthy entering the season, with only reserve defensive back Trey Marshall (ankle) ruled out for Sunday.
Right tackle Bryan Bulaga missed time in training camp because of a groin/hip flexor problem but practiced in full all week and is expected to start.
Fullback Gabe Nabers has been slowed recently by a knee injury, but he, too, practiced all week.
Betting odds and lines for Chargers vs. Washington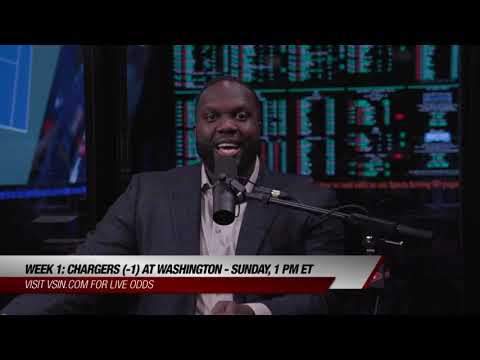 Betting preview for the Chargers vs. Washington Football Team game on Sunday.
Chargers (-1, 44.5) at Washington Football Team
Chargers quarterback Justin Herbert is the real deal, but the key to controlling every great passer is to break down the pocket by creating pressure, and Herbert will be facing a defensive front with the ability to dominate.
Washington ranked No. 4 in the NFL in scoring defense (20.6 points per game) last season. The line ranks among the best in the league with former first-round picks Chase Young, Jonathan Allen, Daron Payne and Montez Sweat leading the charge.
Journeyman quarterback Ryan Fitzpatrick runs hot and cold yet has plenty of playmakers to work with, including wide receivers Curtis Samuel and Terry McLaurin. The Chargers, who lost six games by seven points or fewer last year, will have to prove they deserve to be road favorites against an opponent with an elite defense.
Pick: Washington +1
VSiN, the Sports Betting Network, offers more expert sports betting content in a free daily email at VSiN.com/email.
Hamstring issue keeps Chargers' Austin Ekeler out of practice again
Austin Ekeler missed his second consecutive day of practice Thursday, casting uncertainty on his status for the Chargers' season opener.
The running back has been slowed by a hamstring injury this week. He was seen running on the side during the portion of practice open to the media but did not participate in any individual drills or team situations.
If Ekeler is unable to play Sunday at Washington, the Chargers would have Justin Jackson, Joshua Kelley and rookie Larry Rountree III as options.
Darius Bradwell, who appeared in two games last season, is on the practice squad.
A torn hamstring cost Ekeler six games last season. He was hurt in a Week 4 loss at Tampa Bay and didn't return until Week 12 at Buffalo.
He still finished as the team's leading rusher with 530 yards in 116 carries. Ekeler also caught 54 passes for 403 yards and scored three total touchdowns.
The Chargers special teams were among the worst in the NFL last season, and they've made several roster changes to improve a unit that cost the team games.
Reserve defensive back Trey Marshall also missed his second straight day of practice because of an ankle problem.
The Chargers will issue an official game status for Ekeler with their injury report Friday.

Chargers' Austin Ekeler misses practice because of hamstring problem
The Chargers had a mostly injury-free training camp and preseason but enter Week 1 with a potential issue involving Austin Ekeler.
The team's No. 1 running back was unable to practice Wednesday because of a hamstring problem. Ekeler was on the field during media viewing but was working on the side.
A torn hamstring cost Ekeler six games last season. He was hurt in a Week 4 loss at Tampa Bay and didn't return until Week 12 at Buffalo.
If Ekeler is unable to play Sunday in the season opener at Washington, the Chargers would have Justin Jackson, Joshua Kelley and rookie Larry Rountree III as options.
With a new coaching staff comes a new offensive approach, but coaches know they still need Justin Herbert to make it all work.
Darius Bradwell, who appeared in two games last season, is on the practice squad.
The Chargers received good news regarding right tackle Bryan Bulaga, who practiced in full. Coach Brandon Staley said Bulaga is on track to start Sunday.
The veteran has been dealing with discomfort in his groin/hip flexor area, Staley said.
The only other player who missed practice was newly acquired defensive back Trey Marshall, who has an ankle problem.
Chargers place Ryan Smith on IL, re-sign Kemon Hall
The Chargers placed cornerback Ryan Smith on injured reserve and re-signed Kemon Hall. Smith has been dealing with a core muscle problem and missed most of training camp. He will now be out for at least the first three games.
The Chargers also signed cornerback Kiondre Thomas to their practice squad. Thomas went undrafted this year out of Kansas State and was waived last month by Cleveland.
Chargers quarterback Justin Herbert's backup still undecided
Chargers coach Brandon Staley said he has not decided who will serve as Justin Herbert's backup Sunday. Chase Daniel and Easton Stick are the Chargers' options.
Staley said the team's No. 2 quarterback could change from week to week based on the opposition and the game plan. He added that Stick will operate the scout team during the week because he needs the experience.
"I think the way we're approaching that is a lot of it's opponent-specific," Staley said. " 'Hey, what's the health of our team? Who's the other team?' We're just going to go in …with a case-by-case basis."
Chargers' rebuilt offensive line to be tested against Washington Football Team
The Chargers rebuilt their offensive line in the offseason with the aim to become bigger and more physical.
That effort will be tested immediately when the team opens Sunday at Washington, which features a front-loaded defense that finished second in the NFL in fewest yards allowed last season.
"It's going to be an outstanding challenge for us," coach Brandon Staley said. "It's Year 2 in their program [under coach Ron Rivera], so you anticipate them to be even better."
Washington's front features Chase Young and Montez Sweat on the edges and Daron Payne and Jonathan Allen inside. Each was a first-round pick, and Young is the NFL's reigning defensive rookie of the year.
Staley called that front "definitely the strength of their defense." Washington finished fourth league-wide in 2020 in fewest points allowed and sixth with 47 sacks.
On top of that, the Chargers opened their preparation for Week 1 with concerns about veteran right tackle Bryan Bulaga, who has been dealing with discomfort in what Staley called his groin/hip flexor area.
Entering his 11th season, Bulaga was limited to 38% of the Chargers' offensive snaps a year ago because of injury. The team tailored his training camp workload to try to ensure he could reach the season opener intact.
But Bulaga still missed time dealing with the discomfort and, along with veteran center Corey Linsley, did not appear in any preseason games.
Staley, speaking before the Chargers returned to practice Monday, said Bulaga would attempt to ramp up his activity this week to see whether he'll be ready to play Sunday.
"He's feeling good," Staley said. "He's going to practice today fully. And then we're going to go from there. We're excited to see him out there. ... We're certainly a better team with him out there."
If Bulaga can't play, Storm Norton would start Sunday. Norton started three games last year and appeared in three others. He joined the Chargers as a free agent in April of 2020 after playing in the XFL.
Norton entered the NFL as an undrafted free agent in 2017 out of Toledo. He has spent time with Detroit, Arizona and Minnesota, playing one game for the Vikings in 2018.
"Storm Norton has come a long way," Staley said last week. "From being a guy who has come from the XFL, like five seconds ago, and is now a factor as an NFL tackle. I think his story is a good one.
"His story is a favorite of mine on how much he's improved and what he's added to our football team. I think that's a guy who has certainly carved out a good role for himself on our football team."
If Bulaga is out, the Chargers also would have the option of moving left guard Matt Feiler to right tackle and start 2021 fifth-round pick Brenden Jaimes in Feiler's spot.
Offensive coordinator Joe Lombardi, however, said the preference would be to replace Bulaga with Norton and disrupt only one starting spot rather than two.
The Chargers' depth up front isn't great, a fact that was reinforced during the preseason when the backups struggled and the offense repeatedly bogged down.
"We're no different than a lot of NFL teams in that you get a couple injuries, you're going to get a couple guys with a little less experience in there that are going to have to grow up fast," Lombardi said. "If you talk to 32 teams, 31 are saying, 'The O-line staying healthy is a very important part of our success this year.'
"I don't think we're any different than that. I think we can weather a little bit. That's part of our job — knowing where those strong points and weak points are in any part of the offense and game-planning around that."
The Chargers also have tackle Trey Pipkins, a third-round pick in 2019. He has started eight games over the last two seasons but has been unable to maintain a desired level of production.
"It's been up and down," Lombardi said. "He has the ability we're looking for. It's just a consistency thing. That just comes with experience."
As for Bulaga, the Chargers will monitor his progress this week while recognizing that his health could be an issue all season.
"He's no different than a lot of veterans," Lombardi said. "They've got a lot of wear on their tires. You're trying to save their workload for when they need it. Those guys end up having a lot of muscle memory. It's important they practice, but they can get away with a few less reps than some of the new guys."