DeAndre Jordan takes responsibility for Clippers' Game 5 loss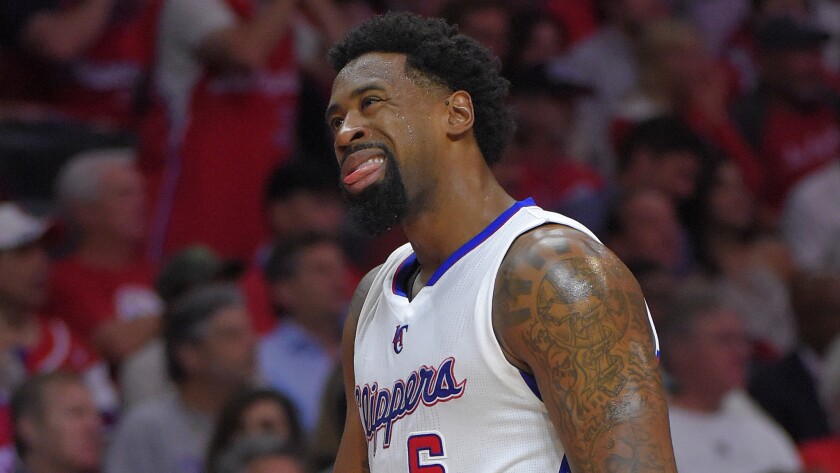 After the Clippers' 111-107 loss to the San Antonio Spurs in Game 5 of their first-round playoff series Tuesday, all of the players showered and got dressed except for DeAndre Jordan.
The Clippers center sat in front of his locker with his head in his hands.
He was still sitting in that position after both Chris Paul and Jamal Crawford showered, did their postgame interviews and left.
The play Jordan was distraught over happened with 4.9 seconds left and the Clippers trailing the Spurs by one point, 108-107.
Blake Griffin shot a contested one-handed floater that rolled around the rim, then Jordan tipped the ball in and was called for offensive interference on the play.
"I was under the basket so I couldn't really tell [whether Griffin's shot was going in]," Jordan said. I was trying to make a play on the ball, but it ended up being a dumb play. So ... this is on me."
After the play, Griffin immediately fouled Danny Green, who made his first free throw and missed his second. Kawhi Leonard then got the rebound. Jamal Crawford fouled Leonard, who went on to make two more free throws, giving the Spurs the four-point win.
The Clippers now face an elimination Game 6 in San Antonio on Thursday at 6:30 p.m. PDT. The Spurs have a 3-2 lead in the best-of-seven series.
Jordan, who finished with 21 points and 14 rebounds in the loss, said the Clippers need to stay mentally strong heading into that game and not let Game 5 affect them too much.
"[We have to] bounce back," Jordan said. "We have to play. We have to go win. That's it."
---
Get the latest on L.A.'s teams in the daily Sports Report newsletter.
You may occasionally receive promotional content from the Los Angeles Times.