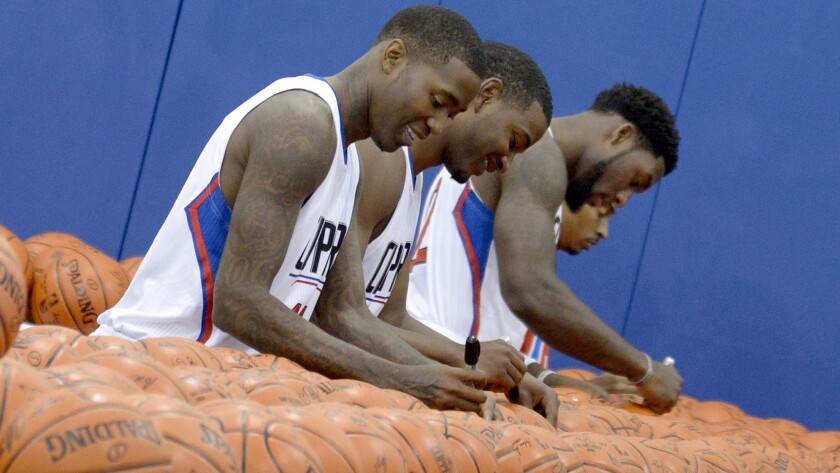 Jamal Crawford said that over the summer he did not know whether he'd be in a Clippers uniform when the 2015-16 season began.
The NBA's two-time sixth man of the year said he was in limbo, wondering if the call would come telling him he'd have to yet again uproot himself and switch cities, something that he's used to after having played with six NBA teams over his 15-season career.
"There were some stressful points, and there were some points where I was like, 'You know what, it's part of the business,'" Crawford said at the team's first day of training camp in Irvine on Saturday.
Crawford is entering his fourth season with the Clippers, and when he looks around at teammates, there are only three faces who have been there since he came to L.A. -- DeAndre Jordan, Chris Paul and Blake Griffin.
"I guess I'm one of those four guys who have been here, so obviously I'm where I'm supposed to be," Crawford said.
The Clippers' second unit is loaded with ball-handlers and playmakers after the team re-signed Austin Rivers and acquired Lance Stephenson and Josh Smith. Though Coach Doc Rivers will face quite a challenge in balancing minutes, Crawford said the surplus can only benefit the team.
"Sometimes it was Austin," Crawford said of who brought the ball up the court in scrimmage on Saturday."Sometimes it was Lance, sometimes it was me. Sometimes it's Josh. So you just never know, and if we don't know who's bringing it up then I know the defense doesn't know as well."
He has a point, considering the second unit beat the first unit in an afternoon drill.
Crawford said he's healthy heading into the season and doesn't anticipate needing any sort of minute restrictions despite being 35 years old. He described himself as a "rhythm guy" who benefits from playing as much as possible.
"All-Star break, I'm always playing," Crawford said. "Even if I miss two or three days, for me, that's like a week."
Crawford averaged 15.8 points on 39.6% shooting from the field last season, a dip from when he averaged 18.6 points on 41.6% shooting in 2013-14.
"It's not that I wasn't healthy, but I just wasn't in rhythm," Crawford said of last season. "I'd be good, then I wasn't. For me, I just need to stay at it. That's when I'm at my best."
---