Column: With the 'Lob City' era gone, the Clippers are still trying to figure out their identity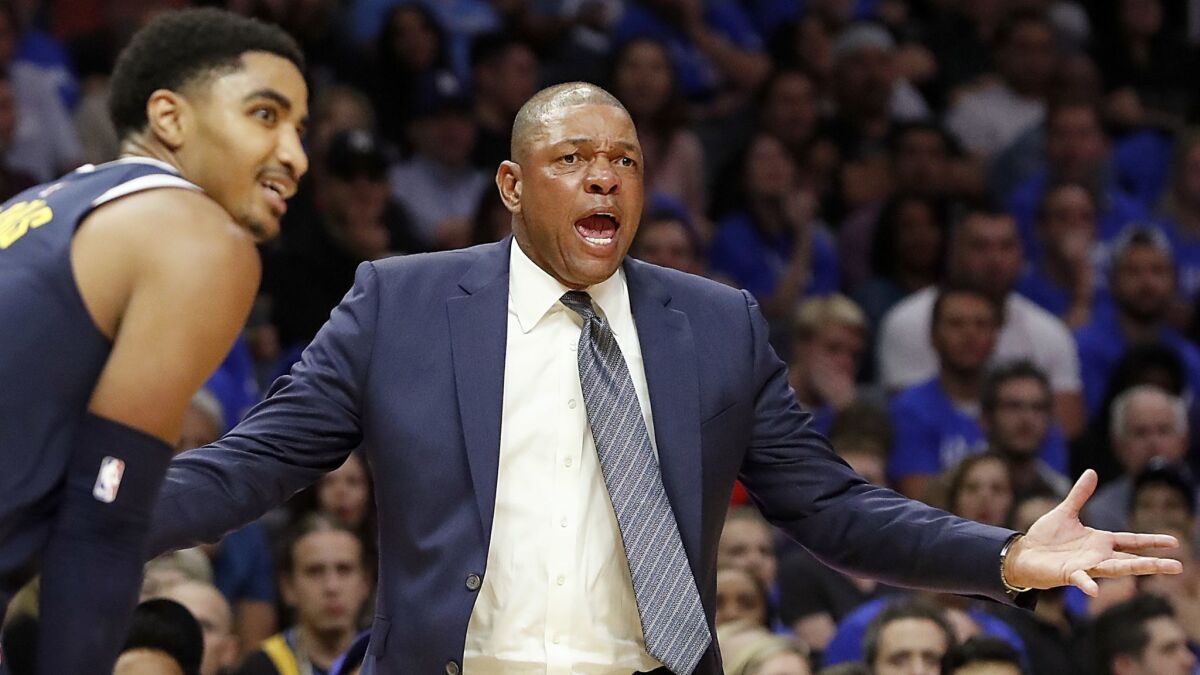 The final clod of dirt that buried the Clippers' star-driven "Lob City" era was tossed before their season-opening 107-98 loss to the Denver Nuggets on Wednesday at Staples Center.
High above the floor, where banners depicting Chris Paul, DeAndre Jordan, Blake Griffin and other players had been strategically placed the past few seasons to cover up the Lakers' championship banners, there's now a photo of unidentified players with upraised joined hands. "L.A. Our Way," is the message posted above a photo of the cityscape and skyline—picturesque scenes Clippers owner Steve Ballmer, incidentally, is eager to leave behind for a proposed arena in Inglewood.
L.A. the Clippers' way could mean a lot of things this season. The best-case scenario is they're a scrappy, defense-minded team that wins enough games to grab a playoff spot and become an attractive destination in next summer's deep free-agent market. It could mean a team whose work ethic overcomes some of its flaws, with rookie guards Shai Gilgeous-Alexander and Jerome Robinson offering fans enough hope to make up for a non-playoff finish. Gilgeous-Alexander had 11 points and four assists in 28 minutes in his debut Wednesday, and he's going to play a lot.
The worst-case scenario is that they're again hobbled by injuries and the new we're-all-in-this-together plan falls short for lack of, well, a star. It's too early to guess which way it will go. "It's an interesting team, really," said coach Doc Rivers, who did well to get 42 wins out of a divided and decimated group last season and faces a different but equally tough test this season.
Patrick Beverley, whose blunt honesty makes him the Clippers' conscience and whose diligence on defense figures to be its symbol, set the tone when he took the microphone and addressed the crowd before the game. "This is going to be a helluva year, man, straight up," he said, and that could mean a lot of things too.
On Wednesday it meant something less than the all-out defensive effort they'll need every game but 49 points from their bench. It meant holding Denver to 15 points in the third quarter but letting the Nuggets score 33 in the fourth quarter and erase the eight-point lead the Clippers had built with 5:14 left. "I thought down the stretch, and this is what we're going to have to work through, I thought each guy was trying to win the game for us instead of trusting what we were doing," Rivers said.
There are a lot of moving parts in play and Rivers is still sifting through them all.
"The thing that stood out to me is what I said before the year. Can we close games? And tonight we didn't do that," he said.
For what it's worth, he said the other day he likes what he's got to work with.
"I have had so much fun coaching them thus far. They like each other. They play hard. I have some bulldogs and you want a team, in some ways, to be your personality and this team has that," he said. "From what we see, is that going to be good enough? We don't know that yet."
He does know how they're going to have to play, and it won't involve lobs and alley-oops and many highlight-film moments.
"This is one of those teams I'm hoping that other teams are going to say, 'Man, we don't want to play these guys tonight,'" he said. "And that's our goal. That's our way. That's how we want to be. That's who we have to be. And if we're not that, I can tell you it's going to be a long season. But if we are that, it's going to be a heck of a season."
That's a big "if." A lot will have to go right for the Clippers to challenge for a playoff spot, and they know it.
"Any season you go into, you're never granted a playoff spot. So it's going to be something that we've got to work for and every day we're putting in this effort, putting in the time to be better than we were yesterday," said forward Tobias Harris, who recorded team highs in points (19) and rebounds (10). "We have hard workers on this team. We have guys who want to be here and we have guys who are focused on getting there, so the mix is really good."
That mix still needs elements to bind it together. "Chemistry is something that will continue to grow during the season," Harris said. "There will be ups and downs, but at the same time it's how we come together as a unit."
That didn't happen Wednesday, but Rivers found some positives. "Your offense will fail you at times and defense can't," he said. "I thought overall we gave ourselves a chance to win on a night we couldn't get the ball to go in."
L.A. their way? They'll have to see where it leads.
Get our high school sports newsletter
Prep Rally is devoted to the SoCal high school sports experience, bringing you scores, stories and a behind-the-scenes look at what makes prep sports so popular.
You may occasionally receive promotional content from the Los Angeles Times.