Clippers' late comeback wasted in loss to Heat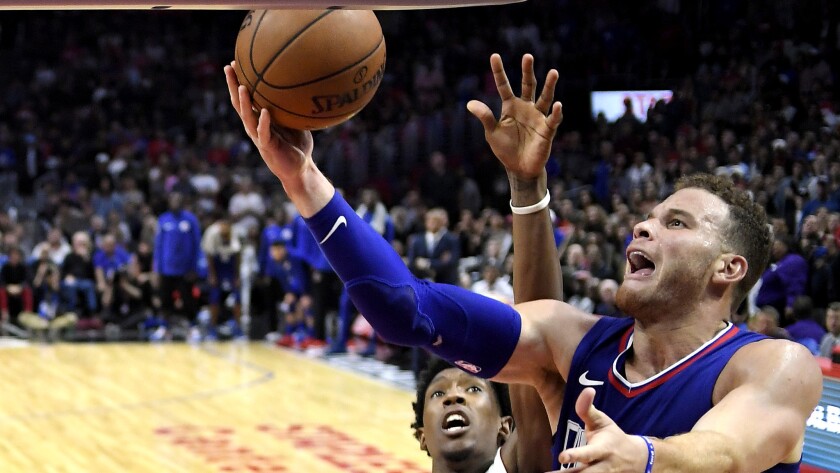 The Clippers leave for their first extended trip of the season Monday. But when they board their charter flight at LAX, they won't be packing much of the baggage that piled up during a five-game homestand that saw them lose four times.
They should take the final quarter of that homestand with them, though. It was arguably the team's best stretch of the season, one that saw them erase a 25-point deficit Sunday afternoon to take the lead with less than three minutes to play, only to give it back in a 104-101 loss to the Miami Heat at Staples Center.
"We've got to carry this over," guard Austin Rivers said. "That feeling that we had as a team that last quarter, we've got to feel that. And understand that if we play like that, we give ourselves a good chance every night."
They had a couple of good chances in the final seconds Sunday, first when Rivers stepped to the line for a pair of free throws with the Clippers up by one with 17 seconds left, and then on their final shot, when Blake Griffin put up an open 17-footer that could have given the Clippers the lead with three seconds left. "I had a good look. We got what we wanted," said Griffin, who finished with a game-high 23 points. "It just didn't go in."
But if the Clippers didn't get a win, they may have won some momentum with a fourth quarter in which they outscored the Heat 35-15. Offensively it was their second-best quarter of the season. Defensively it matched their stingiest quarter so far.
So while there are no moral victories in the NBA, there are lessons to be learned. And Clippers coach Doc Rivers said he thought Sunday's game provided his team with an education.
"It shows you you're never out of a game," he said. "We didn't make any changes as far as our schemes or anything like that. We just started getting stops. We started playing. We started playing together.
"Will that carry over? It should. But there's no guarantee to it."
The Clippers got the first bucket on a dunk from DeAndre Jordan, then didn't lead again until there was 2:55 left in the game. Through the first three quarters the Heat were 18% better from the floor, made nearly half their three-pointers — more than twice as many as the Clippers — and only rarely made consecutive trips down the floor without scoring.
That began to change midway through the third period when Lou Williams came off the bench to make a three-pointer, starting a sprint that would see the Clippers outscore the Heat 33-14 to go ahead 95-93 on a pair of Griffin free throws.
Two steals by Rivers with fewer than 30 seconds left gave the Clippers a chance to seal the win, with the first setting up Wesley Johnson for a running dunk. But after the second steal, Rivers missed the two foul shots.
On the other end James Johnson, fouled by Griffin with eight seconds remaining, made two free throws and that proved to be the difference. "Those are situations that I dream of being in," Rivers said. "It's just really disappointing. Frustrating. I feel like it's my fault we lost."
Williams finished with 22 points while Rivers had 12 points and four steals for the Clippers, who also got 19 rebounds from Jordan. Johnson finished with 14 points for the Heat, who were led by Hassan Whiteside's 21 points and 17 rebounds.
Now the Clippers head out on a three-game trip to San Antonio, Oklahoma City and New Orleans.
"The road sometimes can be very mean. And sometimes it can be great," said Doc Rivers, who has welcomed nine new players to this roster this fall. "You're kind of forced together. You spend more time together on the road. You just try to build. We're a team right now that every game is not an easy game. And so we have to be ready to play."
---
Get our high school sports newsletter
Prep Rally is devoted to the SoCal high school sports experience, bringing you scores, stories and a behind-the-scenes look at what makes prep sports so popular.
You may occasionally receive promotional content from the Los Angeles Times.