Column: Is this the end of Lob City? Griffin's injury and free agency could be the final chapter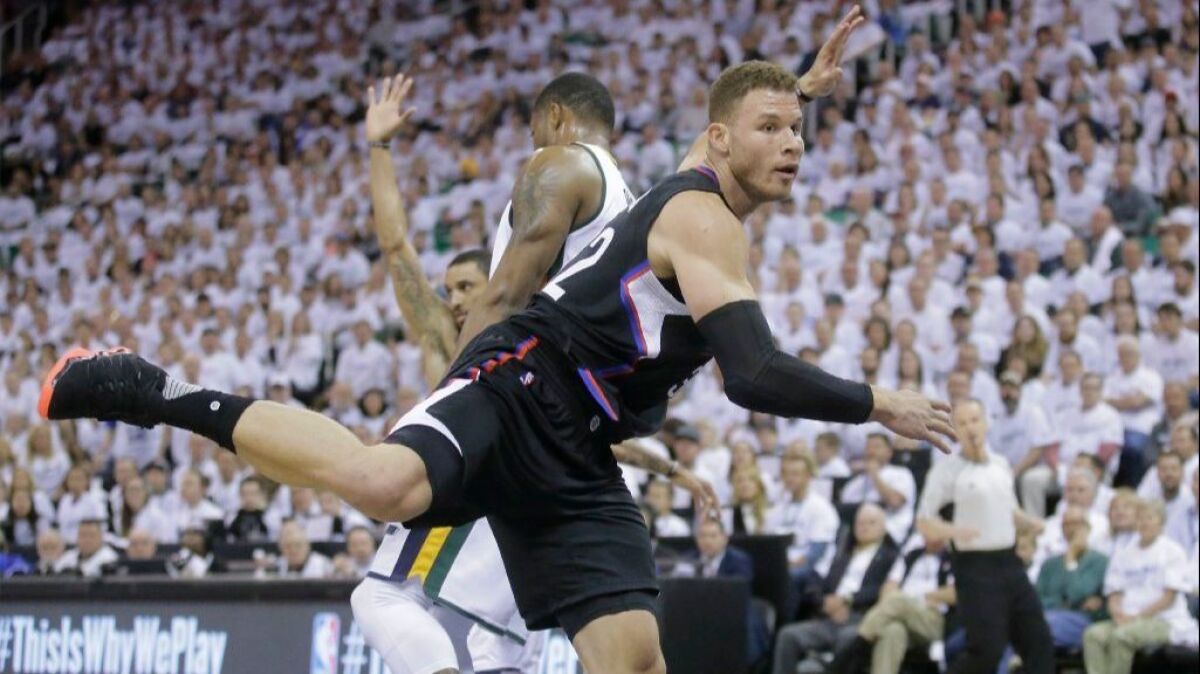 Reporting from SALT LAKE CITY —
This season will finish similar to the last, with a sidelined Blake Griffin on the bench in street clothes.
Only this isn't the same old story for the Clippers.
The most critical offseason in the franchise's history has come early, courtesy of news that Griffin will miss the remainder of the playoffs because of damage to the plantar plate on his big right toe.
Chris Paul and Doc Rivers promised the Clippers will be ready to take on Utah Jazz in Game 4 of their opening-round playoff series Sunday, but this is something more far-reaching than that.
The Clippers are staring ahead into the unknown.
Let's be clear: There won't be any championship trophies raised this season. If the Clippers aren't eliminated by the Jazz in this round, they will be swept out by the Golden State Warriors in the next.
Which takes us to next season. What will the Clippers look like then?
No one can answer that, not Griffin, not Rivers, not owner Steve Ballmer.
Griffin is expected to void the remainder of his contract and become a free agent this offseason. Paul is too.
J.J. Redick will also be a free agent.
A franchise characterized by stability in recent years could be on the verge of a major upheaval.
Griffin and Paul have said little to nothing about their future. But the questions are there, which Griffin acknowledged before the playoffs in a conversation with Broderick Turner of The Times.
"Everybody knows the situation for our team," Griffin said.
Is this the end of Lob City?
If economics are the only determining factor, Griffin and Paul will be back. The All-Stars can sign more lucrative deals with the Clippers than any other team because of the NBA's salary cap rules.
Under this scenario, the Clippers would retain their nucleus of Griffin, Paul and DeAndre Jordan. Perhaps they could fortify that core by trading for a player such as Carmelo Anthony, hope for better health next season, and take another couple of runs at a championship.
This is Rivers' publicly stated preference.
The injury to Griffin complicates matters. The forward's medical history could make the Clippers think twice about awarding him a maximum contract.
And perhaps Griffin also has other ideas. Unlike Paul, he doesn't qualify for a newly implemented "super maximum" contract, meaning he would be costing himself less money if he signs elsewhere. And, unlike the 31-year-old Paul, the 28-year-old Griffin probably has another large contract ahead of the deal he will sign this summer.
With or without Griffin, the Clippers should remain competitive, so long as Paul returns. The veteran point guard remains a legitimate impact player, as he demonstrated again in a Game 3 victory that moved the Clippers in front in the series, two games to one.
But if Griffin doesn't come back, what will the Clippers do? It's not as if they can let go of Griffin and sign another top-tier free-agent from another team to take his place. The league's salary cap rules would prevent them from doing that.
Anyone vaguely familiar with the Clippers' history knows there's a danger in breaking up this team. If the last six years have been marked by their inability to get over the proverbial hump, it's also been a period of unmatched tranquility on the court. Never before have the Clippers reached the playoffs in six consecutive seasons.
Rivers didn't want to offer any thoughts on the future and how Griffin's latest setback could affect his decision-making process in the summer.
"I'm thinking about Game 4," Rivers said. "Game 4 is what we have to focus on."
And who could blame him? There's a lot to think about here, perhaps more than anyone imagines.
Follow Dylan Hernandez on Twitter @dylanohernandez
---
Get our high school sports newsletter
Prep Rally is devoted to the SoCal high school sports experience, bringing you scores, stories and a behind-the-scenes look at what makes prep sports so popular.
You may occasionally receive promotional content from the Los Angeles Times.