With or without Jimmy Butler, Clippers confident they have key component of a playoff team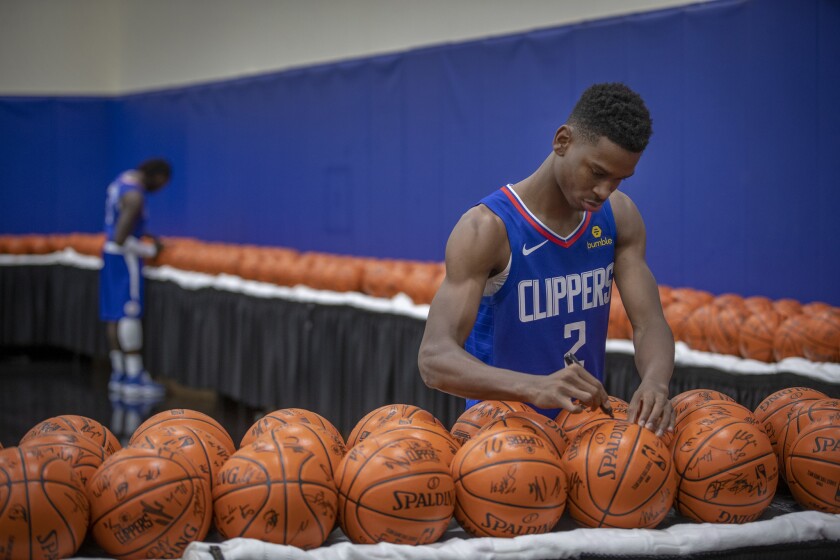 Clippers rookie guard Shai Gilgeous-Alexander (2) and teammate Montrezl Harrell sign basketball during media day in Playa Vista.
(Allen J. Schaben / Los Angeles Times)
Clippers center Boban Marjanovic, who is 7-foot-3 and 290 pounds, shows off his wingspan.
(Allen J. Schaben / Los Angeles Times)
Clippers coach Doc Rivers takes his turn Monday to address the media.
(Mark J. Terrill / Associated Press)
Clippers big men Boban Marjanovic, left, and Montrezl Harrell take questions from the media on Monday.
(Allen J. Schaben / Los Angeles Times)
Clippers point guard Patrick Beverley poses for photos during media day.
(Allen J. Schaben / Los Angeles Times)
Clippers rookie guard Jerome Robinson, left, and Shai Gilgeous-Alexander answer questions during media day at their training facility.
(Mark J. Terrill / Associated Press)
Clippers forward-center Montrezl Harrell makes the rounds as he signs basketballs during media day.
(Allen J. Schaben / Los Angeles Times)
The elephant in the room was actually a Timberwolf.
Jimmy Butler, the All-Star guard who demanded to be traded by Minnesota and reportedly prefers to land with the Clippers, never was mentioned when the Clippers gathered for Monday's media day at their practice facility to discuss the new season. But the topic of potential roster changes was unavoidable.
"I can't control the narrative outside and the rumors," coach Doc Rivers said.
Adding Butler would be an enormous step toward the franchise's goal of rebuilding a contender without a tear-down.
What it wouldn't do is dramatically alter the short-term expectations within a bullish locker room.
"Our expectation is to be in the playoffs," forward Tobias Harris said. "I don't think there's any other way to really look at it."
Others view the outcome differently. Oddsmakers Bovada and OddsShark have set win totals at 36 1/2 and 35 1/2, respectively, while ESPN projects an 11th-place finish in the Western Conference, three spots out of the playoffs.
Don't tell that to what Rivers called "a group of guys that we can win with."
"It's our job to make sure we're prepared each and every night so we can go out there and prove people wrong because I feel like a lot of people don't know what we're capable of this year," guard Avery Bradley said. "If we're able to stick together and have that mindset to work hard every single day, anything is possible for this team in the playoffs."
April's playoffs are a long way off. The team practices for the first time Tuesday at the University of Hawaii and plays its opening exhibition there Sunday before returning home for four preseason games. But the source of the Clippers' confidence is their considerable defensive potential.
Bradley and point guard Patrick Beverley are two of the league's toughest perimeter defenders and forward Luc Mbah a Moute holds similar distinction in the frontcourt. The Clippers finished 19th last season in defensive rating, giving up 107.7 points per 100 possessions, but that wasn't a reflection of the current roster. Injuries limited Beverley and Bradley to 17 combined games and Mbah a Moute was playing in Houston.
Rivers expects Harris and forward Danilo Gallinari to improve defensively, while Bradley said rookie guard Shai Gilgeous-Alexander can be "special" on that end of the floor.
In a nod to the "Lob City" nickname that defined the team's previous high-flying era centered around Blake Griffin, DeAndre Jordan and Chris Paul, Beverley has dubbed this defensive-minded iteration of the Clippers "Clamp City."
"We want to be the best defensive team in the league and we have the capability to do that," Mbah a Moute said.
The Clippers know all too well that success will hinge on staying healthy, and Gallinari, Bradley and Beverley all called themselves physically fine entering camp.
Injuries wrecked any chance for consistency last season, but the Clippers' 42-40 record using a league-high 37 starting lineups, and the team's 17-16 finish after trading Griffin to Detroit, led Gallinari to wonder what this team could do without much roster attrition — even in a brutally competitive West.
"We really don't care what people say, what they say on media, that kind of stuff," he said. "We know what we can do very well and so we will do it and we will show it. We don't mind being under the radar."
Twitter: @andrewgreif
---
Get the latest on L.A.'s teams in the daily Sports Report newsletter.
You may occasionally receive promotional content from the Los Angeles Times.