Clippers' Marcin Gortat might not be in the limelight, but he knows how to angle for the screen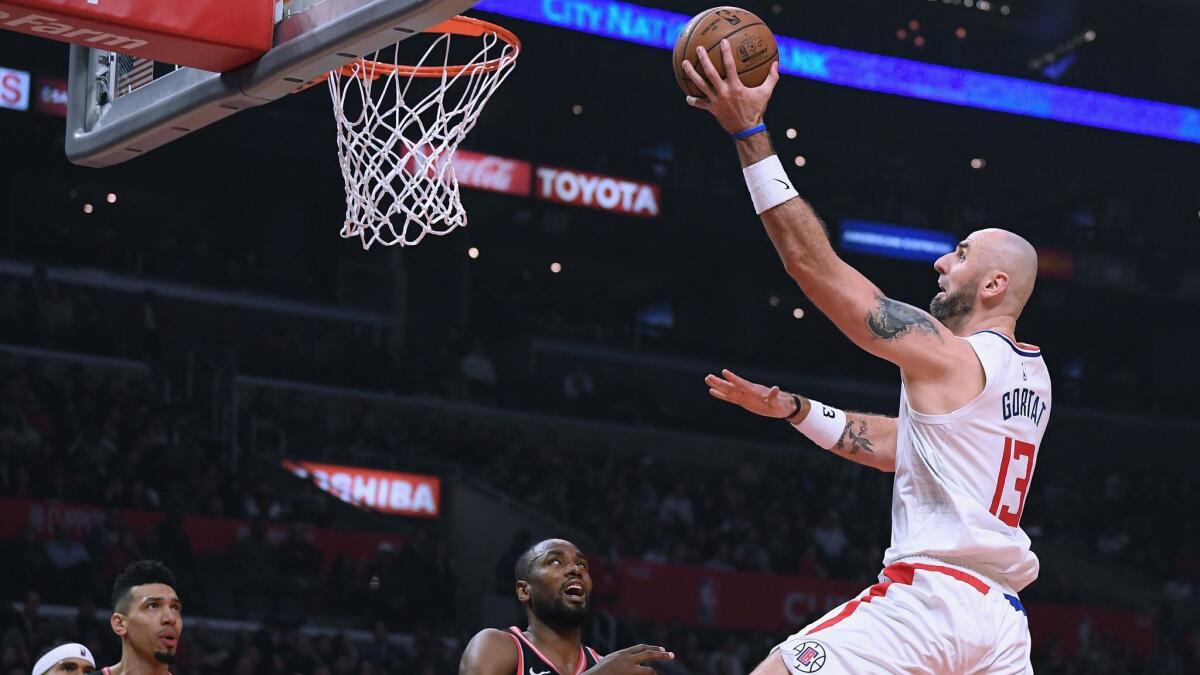 Reporting from San Antonio —
For 12 NBA seasons, Clippers center Marcin Gortat has been elbowed in the stomach, punched in the groin and pushed in the back as opponents try to fight through and around his screens.
He, in turn, dishes out his own muscle. There is a time and place, he allowed, to set a "dirty … screen and hold somebody on the screen, that's just how it is. Even players from opposite teams say, 'Dude, you grabbing on screens,' and I'm like, 'Yeah, I do.' As long as I'm not going to get caught with that then I'm going to continue to do that."
But underneath this exercise in brute force, the 6-foot-11, 240-pound center insists, there is an art.
The collision of bodies, which has become routine as offenses have become predicated on the pick and roll, also is a craft.
"He knows angles," Clippers coach Doc Rivers said. "It's funny, all the bigs with me think it's maniacal when I'm moving their shoulder half an inch and they think it's silly, but with [Marcin] you don't even have to do it."
Choosing the right angle, the right timing, the right decision of what to do after setting a screen — pop backward or roll toward the rim — is all part of a process that has made Gortat one of the league's most efficient screen setters. He ranks second in the NBA this season with 8.6 screen assists per 36 minutes, from which the Clippers average 18.9 points. The only player whose production tops Gortat's in those metrics this season is the Lakers' Ivica Zubac, who has played in 13 fewer games and 313 fewer minutes.
"I think I'm being more appreciated now, because it's not easy to set good screens now these days in the league," he said.
Some quibble with his definition of a "good screen."
"Every one of them's illegal," San Antonio coach Gregg Popovich said, grinning ever so slightly before Thursday's tipoff against the Clippers at AT&T Center. "That's why they're so good. You get away with an illegal screen, it's a hell of a screen. That's the way it is.
"No, obviously he focuses on it, he spreads his body out, he spreads his legs out, he comes to a stop, it's hard to get around him. He takes pride in it. And that's what any player does who shows a skill consistently."
It was always part of his game, dating back to his professional career in Germany, because he was mobile and strong.
After arriving in the NBA in 2007 in Orlando, he became adept at opening a gap between a ballhandler and a defender. Those details create what rookie guard Shai Gilgeous-Alexander called the difference in "a couple extra points a game."
Gortat studied Kevin Garnett and Kendrick Perkins and learned from former Orlando assistant Brendan Malone. In Phoenix, he fine-tuned the interplay between screener and ballhandler with Hall of Fame point guard Steve Nash. In Washington, his screens with guards John Wall and Bradley Beal became, in Gortat's estimation, "the most dangerous screening duo in the league."
"It takes years. You can't come into the league and do it right away," Gortat said. "You've got to understand you can't be a great screener and at the same time you can't average 20 (points a game), it just doesn't work like that."
Traded from Washington to the Clippers in July, Gortat set out to establish a similar connection with new teammates. He took Gilgeous-Alexander aside and asked if he played the soccer video game FIFA.
"Let's do give-and-goes," Gortat told him.
Gortat, who turns 35 in February, is averaging 17.5 minutes and 5.5 points a game, his lowest averages in nine years. He's become "completely a role player," but resolves to do that role best.
Even now, his approach is not foolproof. When Gortat popped closer to the three-point line rather than roll to the rim early this season Rivers benched him.
Gortat says he's learned.
"I understand sometimes his frustration with me," Gortat said. "I could probably roll every game one or two times more than just pop. It's about me seeing the game, reading the game. … I'm trying to do this as best as I can."
Twitter: @andrewgreif
Get our high school sports newsletter
Prep Rally is devoted to the SoCal high school sports experience, bringing you scores, stories and a behind-the-scenes look at what makes prep sports so popular.
You may occasionally receive promotional content from the Los Angeles Times.