A refocused Montrezl Harrell helps provide a winning spark for Clippers
Montrezl Harrell wore a red life jacket to Staples Center on Monday night, a choice that couldn't have been more fitting.
With his blocked shots and putback baskets, the 6-foot-8 forward has kept the Clippers afloat during their two most impressive victories, averaging 24.5 points and 8.5 rebounds, and shooting a combined 76% from the field Saturday against Milwaukee and Monday against two-time defending NBA champion Golden State.
"He's been amazing," coach Doc Rivers said. "He just plays so hard, and wills the game for us."
Both victories required overtime. Then again, effort has never been an issue for Harrell, 24, who plays a frenetic brand of basketball with seemingly endless energy.
"I'm not going to be outworked by nobody who's in front of me," Harrell said. "Simple as that."
Oh, but it wasn't this simple only three weeks ago.
After his averages in points, minutes, assists and shooting percentage spiked following last season's All-Star break, Harrell signed a two-year contract in July worth $12 million. He planned to keep the momentum going to begin his fourth season in the NBA.
Instead, he sputtered during the first two regular-season games, averaging 4.5 points on 22% shooting. Harrell had more turnovers (four) than points (three) against Oklahoma City on Oct. 19. Harrell's minutes shrunk as reserve center Boban Marjanovic played a larger role.
Rivers suggested Harrell was pressing.
"I was psyching myself out," Harrell said, "and I ended up in a bit of a rut."
Getting out of it led a player defined by his energy to adopt a counterintuitive solution.
"I slowed down," Harrell said.
He'd been overthinking everything, so he stripped away anything superfluous. The process began at home. A father to a toddler boy and girl who now live in Los Angeles, Harrell used them as motivation as he refocused on basketball. He wears one bejeweled chain for each — one has a photo of his son, the other the name of his daughter.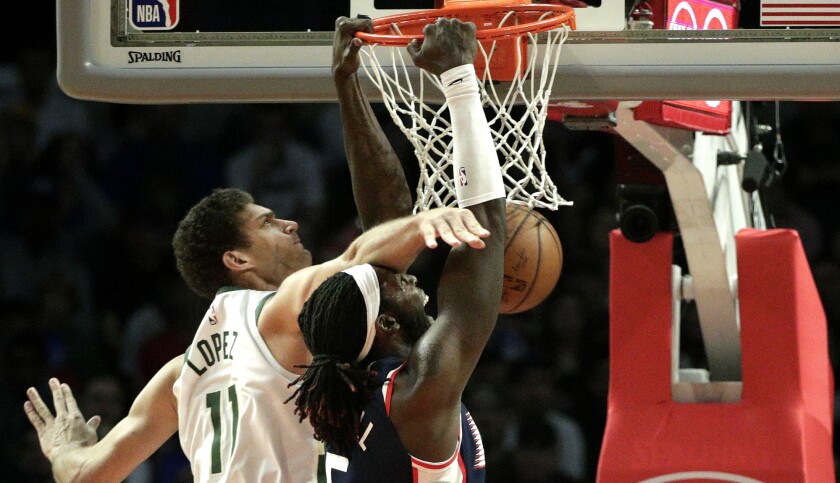 He could support them the better he played. And playing his best meant playing freely.
"My parents did a great job of providing for me and my little brothers the best way they could but I want my kids to have all the things I didn't have growing up," he said. "I want them to see the things I didn't see growing up. They are everything to me.
"I refocused in on what I do well, what I love doing and I end up bringing the people around me I love the most. I just reset my whole mind, reset my whole body and came out and went back to the little things I did last year and it's been working for me, it's been working for my team and I'm not doing anything different. It was about calming myself down."
In his last 11 games, Harrell has averaged 16.4 points, 6.7 rebounds, and 1.9 blocks, and shot 73.7% in 24.9 minutes. Either hunting rebounds for putbacks or rolling to the rim on pick-and-rolls, Harrell is at his best when he gets the ball near the rim and goes up quickly, with 84.7% of his field goals coming after no dribbles or one dribble. He has made 67.9% of those attempts.
Clippers forward Danilo Gallinari, a 10-year veteran, compared Harrell's energy to that of his former Denver teammate Kenneth Faried.
"With Trez when he's focused like that and he knows his role," Gallinari said, "he's just unstoppable."
Typically the second player off the bench for the Clippers, Harrell has become a fixture of late-game lineups. Such was the case Monday. After swatting All-Star forward Draymond Green's runner off the backboard in the fourth quarter, one of his four blocks, Harrell stared at Green and shook his head. In overtime, his rip-through move against Kevin Durant caused Durant to foul out.
"All the little things, all the extra possessions and all the extra little dirty work, that's what I'm here to do," he said.
Afterward, Harrell stopped short of hinting at satisfaction.
"I don't ride highs," he said. "Anybody can have a big night. … I'm not worried about anything like that. The thing I'm most worried about is what we got at the end of it. A win."
Twitter: @AndrewGreif
---
Get the latest on L.A.'s teams in the daily Sports Report newsletter.
You may occasionally receive promotional content from the Los Angeles Times.