Clippers' defense will get even better once Luc Mbah a Moute returns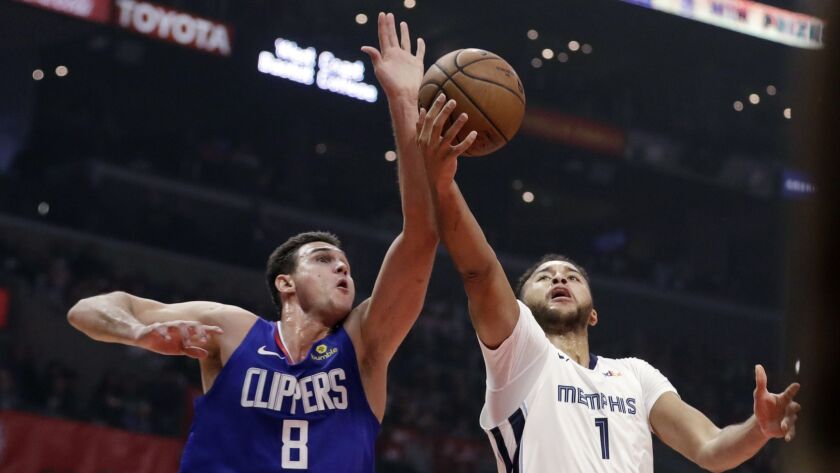 Some metrics classify the Clippers defense as the best in the NBA. Some show it's not quite so tough.
Coach Doc Rivers' eye test simply says they're not as good as they should be.
"I just still think there's a better defensive team in us," he said, "and we can be better there."
Part of getting better is the incremental improvement Rivers expects. Part of it is also out of the Clippers' control, as they await the return of a player Rivers has called the team's second-best defender. Wednesday's Staples Center matchup between the Clippers and Phoenix Suns marked the 16th consecutive game Luc Mbah a Moute sat out because of what the team has termed a sore left knee. Mbah a Moute has said there was no single incident that led to the injury.
"I don't have a clue," Rivers said about when the forward will return. "I honestly originally thought he was out for two or three games. … I know he's not close, I do know that."
Mbah a Moute returned to the franchise for which he played from 2015 to 2017 by signing a one-year deal and planned to be used as a versatile defender complementing a lineup featuring two other solid defenders on the perimeter, Patrick Beverley and Avery Bradley. Even without Mbah a Moute, the Clippers have held opponents to league lows in field-goal percentage (43.1%) and efficient field-goal percentage (48.4%). They rank 12th in defensive rating.
Mbah a Moute has not traveled with the team on recent trips, opting to continue his recovery in Los Angeles. The 11th-year forward is around the Clippers when they practice and play at home, Rivers said, though Mbah a Moute wasn't seen near the team's bench Wednesday.
"We've been on the road a lot so it's tough but our thing is if you can get healthier by being at home we'd rather for you to be healthy, do that," Rivers said.
Jamal Crawford pays a visit
Former Clipper and current Phoenix guard Jamal Crawford embraced Rivers and broadcaster Ralph Lawler before tipoff, a reunion that didn't appear to be a formality less than two months ago.
After Crawford, 38, declined a player option to stay with the Minnesota Timberwolves, he became an unrestricted free agent and remained unsigned through training camp and the preseason. He didn't join a roster until Oct. 17, the night of the Suns' regular-season opener.
Five of Crawford's 19 seasons were spent with the Clippers, from 2012 to 2017, and they were some of his most productive. Of the four seasons in which he has averaged more than 20 points per 36 minutes, three came while he played with the Clippers.
"He was one of the guys that got all of this started," Rivers said. "He really was. Him, Blake [Griffin], Chris [Paul]. You know, whether they left on good terms or not, and Jamal left on good terms, they all got this whole thing started for us. They really did. And they should be credited with that more. I'm often asked why we didn't do something, and my answer is always, 'We were just not good enough, at the end of the day.'
"But what they did do is, in my opinion, [get] this organization started on the right track. And now when you hear us, we're a winner. Well, we're trying to be a winner. And I think people see that. Jamal was very instrumental in that."
Milos Teodosic hangs around
Only days after saying he expected to return to his native Serbia to play possibly as early as this season, reserve point guard Milos Teodosic checked in during the first quarter of Sunday's victory against Portland and scored six points in 6 minutes 59 seconds.
He hadn't played in the two previous games and six of his last seven but his rare moment of playing time wasn't necessarily an indication he will be used more often.
"I needed another facilitator," Rivers said, asked for the reasoning to play the little-used guard. "Every night it'll be somebody different. There was not a lot of like deep thought into that. I just think he's a ball mover."
Twitter: @andrewgreif
---
Get the latest on L.A.'s teams in the daily Sports Report newsletter.
You may occasionally receive promotional content from the Los Angeles Times.