Clippers has reason for excitement after rough stretch on the road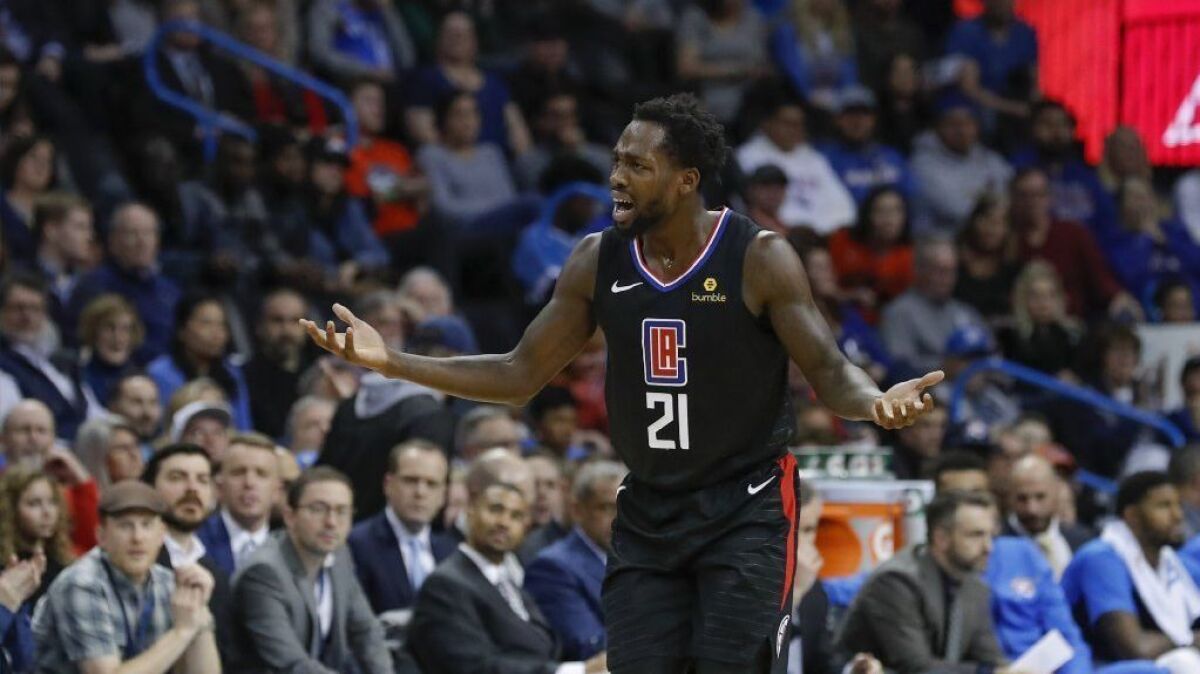 There's a lot to unpack when it comes to the Clippers' recent struggles.
For now, they're just happy for the chance to unpack, period.
A three-game homestand this week marks the first time the Clippers will have played consecutive games in the same arena in more than a month. Since the team's last homestand ended Nov. 15, 11 of the Clippers' last 15 games have come on the road.
A reprieve is coming.
Thirteen of their next 16 games are at Staples Center, where the Clippers are 9-3.
"That's going to be big for us," forward Tobias Harris said. "We've got to find our rhythm at home but to have 13 of 16 is going to be good for us to get on a run here and create that spark."
Harris and coach Doc Rivers saw a hint of one despite a 110-104 loss Saturday to a Thunder team playing its second game in as many nights. The Clippers made 14 three-pointers, their most in 17 games, and shot their highest percentage from behind the arc in nine games. Still, the season-high 26 turnovers were "awful," said Rivers, who felt nearly a quarter were unforced.
"We gifted them so many baskets it's impossible to win, especially on the road," he said. "Having said that, I just liked our energy, our spirit. It was just good to see. I thought for whatever reason our team returned today and so moving forward I think we'll be in good shape."
It was his team's 17th road game this season, tying the Celtics and Knicks for second-most in the NBA behind Utah's 19. Road trips haven't been all bad: The Clippers (17-12) have shot better overall and on three-pointers on the road while also attempting three more free throws a game. However, they're also producing six fewer rebounds and four fewer assists a game away from Staples.
Rivers said the team complained to the league about its road-heavy start to the season. In doing so, he expressed a sense of resignation. The Clippers, who are hoping to open their own arena in Inglewood by 2024, have maintained that they are at a disadvantage as the third Staples Center tenant because they have fewer open windows for scheduling home games.
"I gave up this fight a long time ago," Rivers said. "This is something that really frustrated me my first two years coaching here. Now, Lawrence [Frank, the Clippers' president of basketball operations] and them know I don't even ask about the schedule. I don't even look at it because we're not going to get a good one. It's what it is.
"… When you go 35 days or whatever and you haven't played two games in a row at home it means you're coming in after two and three days on the road or four or five days on the road for one game, then you're back out on the road. It's tough."
There is no guarantee the long stretch of home games will provide the rebound the Clippers so badly seek. They have lost six of their last eight games.
Their next three home games are against the Trail Blazers, Mavericks and Nuggets, all of which have already beaten the Clippers this season. The Nuggets own the conference's best winning percentage.
"We fly back and have one day and play Portland and then we can kind of gather ourselves," Rivers said. "That's an important game to see if we can find some energy from somewhere."
The Clippers' issues also transcend geography.
Toronto and Miami thrashed L.A. by 23 and 24 points, respectively, during its last two home games – routs that exposed the team's shortcomings defensively and explain how a team that outscored opponents by 5.3 points during both October and November owns a scoring margin of minus 12.3 this month. It's the second-worst margin in the league this month, ahead of only Chicago.
"When we go back to home," Harris said, "we have to protect our court."
CLIPPERS VS. PORTLAND TRAIL BLAZERS
When: Monday, 7:30 p.m. PST
On the air: TV: Prime Ticket; Radio: 570, 1330
Update: Trail Blazers guards Damian Lillard and C.J. McCollum combined to score 38 points in Friday's victory over league-leading Toronto that snapped a two-game losing streak for Portland (16-13). The Clippers found success guarding a dynamic guard in their last game, holding Oklahoma City's Russell Westbrook to the second-lowest shooting percentage of his season (23.5%). Westbrook made three of the 13 shots he attempted while being guarded by Avery Bradley. Overall this season, opponents are shooting 41% when Bradley is the primary defender. … The Clippers are 5-0 when playing on Mondays.
Twitter: @andrewgreif
---
Get our high school sports newsletter
Prep Rally is devoted to the SoCal high school sports experience, bringing you scores, stories and a behind-the-scenes look at what makes prep sports so popular.
You may occasionally receive promotional content from the Los Angeles Times.