Doc Rivers: DeAndre Jordan deserves to have his number retired by the Clippers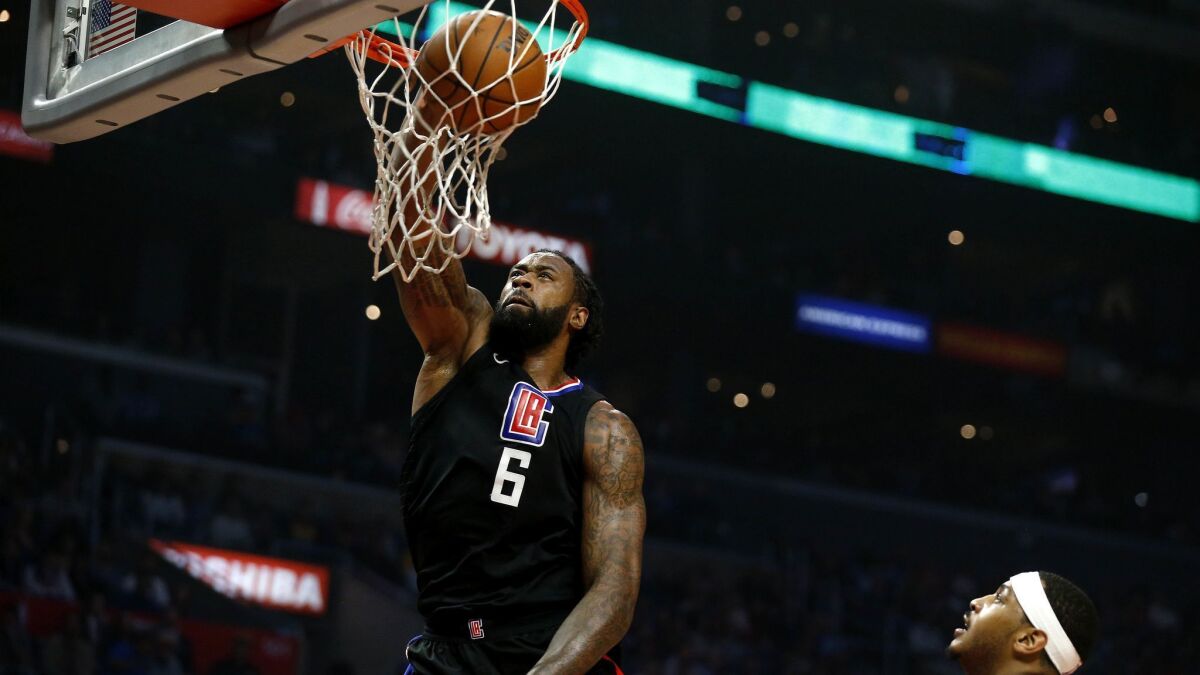 Early into his tenure as Clippers coach, Doc Rivers said he tried, in vain, to identify a past player whose jersey the organization should retire.
"Trying to come up with a name was hard," he said.
He now has a candidate in mind.
DeAndre Jordan, who spent the first 10 years of his career with the Clippers, faced his former team Thursday for the first time in Los Angeles since joining Dallas in free agency. Much of the discussion before tip-off centered on how Jordan would fare in his return to Staples Center.
"Generally speaking, these things are emotional," Dallas coach Rick Carlisle said. "It's hard for them not to be but we have played these guys once [Dec. 2] — which I think dampens the blow a little bit — but coming back to the arena and seeing the folks in the building and all that stuff, I've been through it."
Rivers used the opportunity to look big-picture. The Clippers played a two-minute video in the first quarter thanking Jordan for his decade with the team, but Rivers had a more permanent honor in mind for the center, saying Jordan should be considered as the first Clipper to have his number retired.
"When you think D.J., more than anybody, you think L.A. Clipper," Rivers said. "D.J., in my opinion, would be the first to qualify when he's done, for sure."
Jordan's development from a second-round selection in the 2008 NBA draft to the franchise's all-time leader in rebounds, games played, field-goal percentage and blocked shots has been well-chronicled, and traces to conversations he had with Rivers in 2013, soon after Rivers became coach.
"The year before he was told to work on his offense, he thought that meant that he was going to get the ball," Rivers said. "I told him, 'I'm telling you right now I need you to work on your offense every day and I'm never calling a play for you, but just in case that it comes to you.' And then slowly we did start calling things.
"But his athletic ability, the work that he put in, the rebounding focus … I think giving him the title of defensive captain really helped him mentally, and where I think he stood out the most for me other than just a few players I've coached in my career, he knew every play from the other team, too. Like every single action. There are very few players who do that, very few players that want to watch as much film to prepare for games like that and D.J. did that."
Jordan was named to the NBA's all-defense team twice, and to the all-NBA teams three times.
His Staples Center reunion with the Clippers could have happened three years ago, when Jordan, as a free agent, reportedly agreed to a four-year deal with Dallas.
Instead, he changed his mind and told Clippers teammates he would stay upon their July visit to his house in Houston. Rivers, players and owner Steve Ballmer stayed until he officially signed the paperwork.
"D.J. basically told us he was staying within five seconds," Rivers said. "Paul Pierce came up with the grand idea, 'OK, we don't believe you and we're just going to stay until it's time to sign.' I actually thought we were going to leave right away and it was smart by Paul because D.J. had always proven he could change his mind. It was a fun day."
Jordan received a loud ovation upon his introduction with the Mavericks starters and hugged Rivers before tip-off.
Etc.
The Clippers held a moment of silence for actress and director Penny Marshall before Thursday's tip-off. Marshall, who died Tuesday at 75, was a Clippers season ticket-holder and known as an avid NBA fan.
Twitter: @andrewgreif
---
Get our high school sports newsletter
Prep Rally is devoted to the SoCal high school sports experience, bringing you scores, stories and a behind-the-scenes look at what makes prep sports so popular.
You may occasionally receive promotional content from the Los Angeles Times.