Scrappy Clippers look to bounce back from defensive rut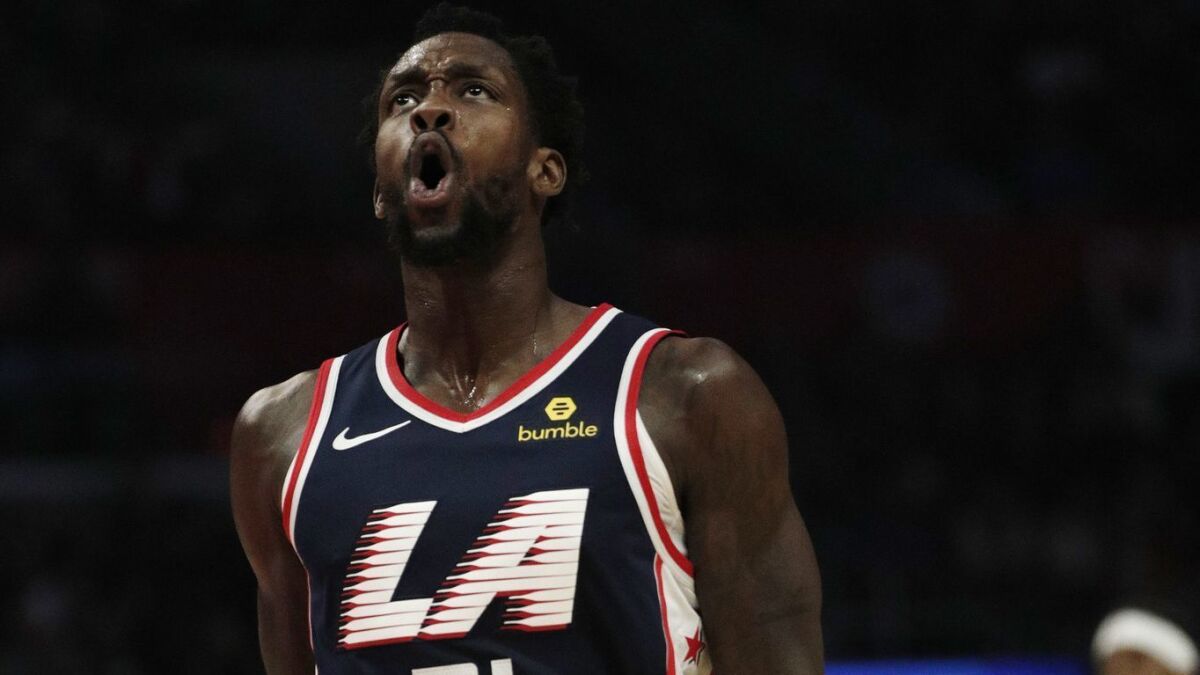 The NBA regular season is a grind that eventually reveals every team's inconsistencies, and entering this season, the Clippers knew they wouldn't be the exception.
The introduction of new defensive principles would cause growing pains. An offense without a superstar would struggle if the ball movement wasn't quite right.
But if there was one area where they figured to be the steadiest it was, as guard Patrick Beverley said, "looking to throw the punch first."
Their incentive to scrap was strong. The contracts of only five Clippers are guaranteed beyond this season. The players enjoyed feeling overlooked in a crowded Western Conference. Their personalities seek conflict on the court.
But after a 119-113 loss to Philadelphia on Tuesday, several Clippers questioned why their fight again arrived closer to the end than the start.
"Don't get my words mixed up, we're a team that has to come in and throw the punches," Beverley said. "We're not a team that can ease into a game.
"We have to be dogs, we have to be gritty, that's our M.O. … As of late we've been trying to ease into games and we can't do that. We'll fix it."
Is that easier said than done? Since Dec. 1, the Clippers have trailed after the first quarter nine times and gone on to win only one of those games, and that was against Phoenix, the West's worst team.
The 76ers led the Clippers by 13 points after one quarter Tuesday, 18 after one half and as many as 24 in the second half. A Clippers rally cut the lead to four points with under three minutes remaining but they would come no closer.
"It just feels like right now we are in this defensive rut where we have to search for the right unit, and the right group of guys to give us defensive fight, and it's hard to win that way. ... [Philadelphia] played harder for longer and I thought they were more physical for a longer period in the game and I think they deserved to win," coach Doc Rivers said. "It would have been nice to steal a game but we would have stolen it, not necessarily earned it."
Fixes will come either in the Clippers' structure, spirit or both.
Rivers has shuffled the lineup before, and said there were a "lot of adjustments" to be made after opposing centers such as San Antonio's LaMarcus Aldridge and Philadelphia's Joel Embiid feasted while their starting Clippers counterparts Marcin Gortat and Boban Marjanovic struggled to counter their effectiveness at either end.
"No. 1, we have to be better at that position defensively," Rivers said. "We have to be more physical."
A shift to include the energy of reserve Montrezl Harrell from the start doesn't appear to be a serious consideration, however. The 6-foot-8 center works best with guard Lou Williams, who prefers coming off the bench, and the two have often dominated opponents' second units.
Whether the Clippers alter their rotation, several players said they wanted to see better fight from their teammates.
Guard Avery Bradley was ejected late in the fourth quarter against the 76ers after a scrap with Jimmy Butler and Beverley later fouled out not long after earning a technical foul after responding to a forearm push from Embiid. Their absences stunted the Clippers' comeback effort but the acts were cheered internally for what they symbolized.
"I thought we retaliated most of the game, then I thought in the fourth quarter we started instigating the actions," Rivers said.
Added Harrell: "That's the type of team that we need everyone in the locker room to be."
Retaining that kind of edge for 82 games would seem incredibly difficult, if not impossible.
But Harrell didn't agree.
"It's not hard, man, it's not hard. … We can't just sit back and let guys come in and run their plays freely," he said. "You watched the game. The whole first half those guys, it looked like they were in a shootaround. Coming out, JJ Redick was coming off handoffs, pindowns, wide open for easy threes and that's a tough person to leave in that sort of situation, especially when he shoots the ball at a high clip.
"We've just got to go into games looking to throw the punch first. Simple as that."
Twitter: @andrewgreif
---
Get our high school sports newsletter
Prep Rally is devoted to the SoCal high school sports experience, bringing you scores, stories and a behind-the-scenes look at what makes prep sports so popular.
You may occasionally receive promotional content from the Los Angeles Times.