Clippers forward Mike Scott is trying to get out of his shooting slump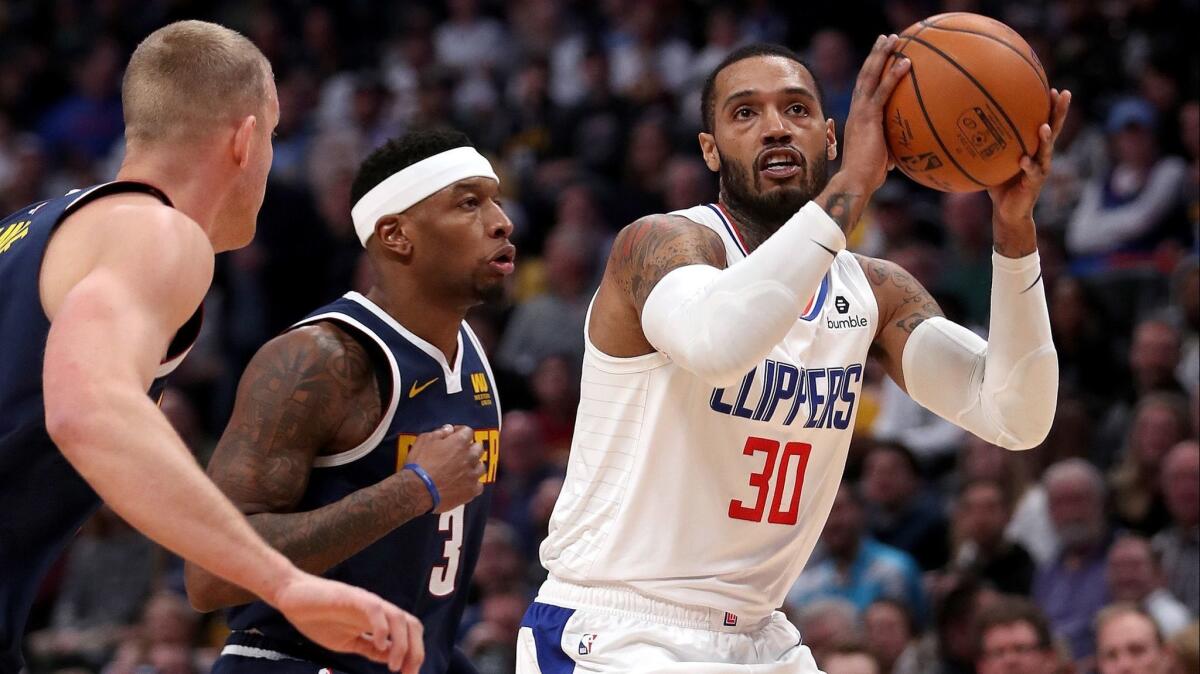 Throughout his career Mike Scott has remedied shooting slumps using the same, tried-and-true method.
The Clippers reserve stays confident and keeps shooting. A career 35% three-point shooter, the 6-foot-8 forward has seen no reason to deviate.
In recent weeks, the routine has remained consistent even as his shooting has not.
After making 43% of his three-point shots and 45% of his shots overall during the first six weeks of the season, Scott has made 25% of his threes and 30% overall since the end of November.
After a Dec. 29 game against the San Antonio Spurs in which he made one of five three-pointers, Scott said he wasn't getting down on himself because his shot quality hadn't changed even if the results had.
"A lot of the same shots that I'm missing are the same shots I was making at the beginning of the year," he said. "They're just not falling right now. Just have to continue to stay in the gym, keep my routine and stay confident."
He made 11% of his three-point shots in his next six games, but made his first attempt Monday, a wide-open look from the corner.
"I just try to go out and play my game and shoot my shots," he said before tipoff against the New Orleans Pelicans. "If I don't make them, I don't make them."
As his shooting struggled, his minutes dipped slightly as well. He remains part of the bench rotation because he's focused on contributing in other ways, from rebounding to defending.
"He gives us a toughness," coach Doc Rivers said.
"We need him to make shots obviously but we need him to do a lot of the little things as well, even with offensive spacing, where I think at times he has struggled with. I have confidence in all our guys, I really do. You look at him, Pat Beverley, Avery [Bradley], I just don't believe people forget how to shoot. I think they struggle. Guys have stretches, even almost whole years, and at some point they break through. I've been around long enough to see it and Mike Scott will do that at some point."
Sign up for our daily sports newsletter »
Still searching
Usually by the midway mark of the regular season, New Orleans coach Alvin Gentry said, coaches have a feel for their teams.
Yet more than halfway through the schedule Rivers believes he's still scratching the surface with a roster that is so versatile, he said, "there are still lineups that we haven't discovered. ...
"So much versatility, I wish we had more practice time."
If he felt that way, then why did he cancel Sunday's practice in favor of a screening of the movie "Green Book"?
Consider the timing.
"These," Rivers said, "are the dog days."
In 20 seasons of coaching, Rivers has found that January can be an unpredictable time, when focus wanes and results don't always go as planned. Practice is a tool to keep teams sharp. But it's not the only method. Hence the surprise decision to play a movie Sunday rather than spend extra time preparing for the Pelicans, a team the Clippers had already played twice.
"You worry about injuries more this time, at least I do, than any time in the year," he said. "You worry about focus, there's no question. You look at scores now, teams are beating teams like, how did they win? This is the time. You just try different things."
Twitter: @andrewgreif
Get our high school sports newsletter
Prep Rally is devoted to the SoCal high school sports experience, bringing you scores, stories and a behind-the-scenes look at what makes prep sports so popular.
You may occasionally receive promotional content from the Los Angeles Times.