Tobias Harris and his family always had a plan for success
For 16 years as an NBA assistant, John Welch sends players into every offseason with a list of things to work on.
Last summer, for the first time, a player sent something to him.
It was an itinerary created by Clippers forward Tobias Harris with the addresses, times and details of each workout Harris planned during Welch's summertime check-in on Long Island, where Harris grew up and still trains during the offseason in Garden City, N.Y.
Upon Welch's arrival, he encountered something else he hadn't seen before. One of six siblings in a family where basketball is taken very seriously, Harris was not only working out three or more times a day but doing so alongside his brothers and sister. Harris' mother and father, Lisa and Torrel, joined during cardio sessions. It wasn't uncommon for Harris to check the activity tracker he wore on his wrist and find he'd burned 5,000 calories.
"He just works out all the damn day," Welch said.
To Welch and other Clippers assistants who visited Harris last summer, his offseason training was a window into how Harris has gone from a perennial trade chip into a burgeoning star whom an organization might choose to build around this summer.
Harris is detailed, driven by his family and obsessed with improvement. He approaches workouts like a zealot in Nikes.
"This is the only way I know," Harris said. "One thing I always stand by is being a professional.
"When I'm with family in Long Island, it's like our little safe house. That's where we are. Nobody's coming in. It's not too many distractions. We're just there, we're working."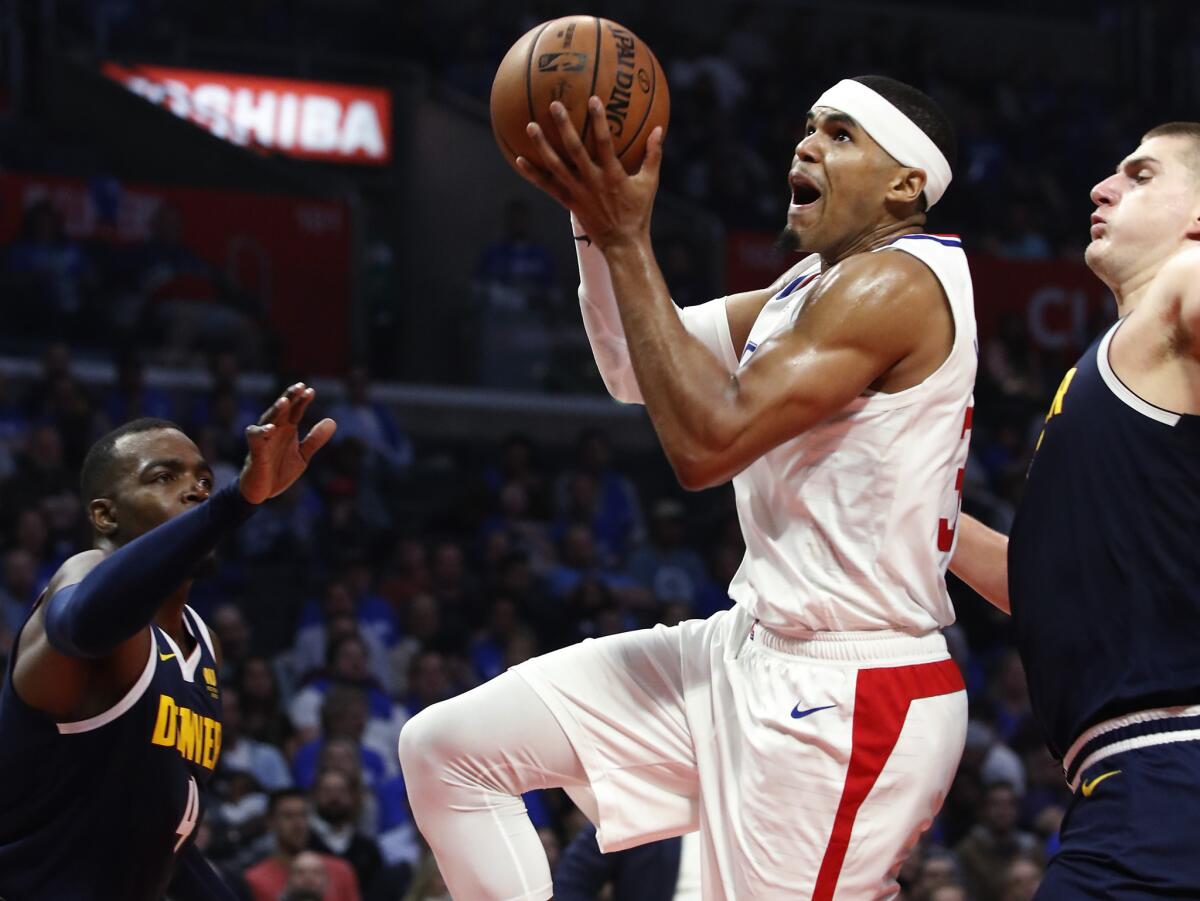 In his eighth NBA season and first full year with the Clippers, that work has produced career highs in points (21.0), rebounds (8.5) and three-point shooting (41.6%). Only three players in NBA history have averaged 21 or more points, at least eight rebounds and shot 41% or better for an entire season while attempting at least 100 three-pointers: Larry Bird, Karl-Anthony Towns and Dirk Nowitzki.
Harris does not have one elite skill but trains to be good at many and his work last summer was designed to expand that range. He was asked to move his feet better defensively and become more comfortable as a playmaker off the dribble, the better to pair with teammates such as Montrezl Harrell and Danilo Gallinari.
Coaches found a willing student. Harris now averages 2.3 assists a game, close to his career high, and his numbers haven't come at the expense of others. Harris' usage rate hasn't spiked.
"He wants to be the best out of everybody," said his younger sister, Tori, a sophomore guard at James Madison University. "I knew he would be successful because of that work ethic. I knew."
The serious approach was hard-wired into Harris early.
Basketball was central to the family and his father had big plans for Harris and his siblings. His father organized and coached an AAU team that Harris — a self-described short, chubby, unathletic kid — played on while feeling pressure to earn his minutes. When his team, which included a younger brother, Terry, became among Long Island's best, their father took them to tournaments in Harlem and Brooklyn where Harris played against future pros Lance Stephenson and Kemba Walker.
"My father always wanted us to play against tougher competition, the grittier-type players," Harris said. "There'd be the pressure to prove everyone wrong and to show everybody that I was the real deal."
As a McDonald's All-American and one-and-done first-round pick following a season at Tennessee, Harris took an accelerated path to the NBA. Once there, stability and success didn't come as easily.
Harris took seven NBA seasons to shoot better than 40% on three-pointers. He was traded four times before landing in L.A. midway through last season. During the season's final 32 games, executives, coaches and teammates came to understand Harris as a voracious seeker of information.
Coach Doc Rivers likened Harris' ability to process huge amounts of scouting reports, statistics and film study before games to that of Kevin Garnett.
"He's like a computer, I swear he is," Rivers said.
Harris considers George Gervin, the 16th-leading scorer in NBA history who was represented during his career by Torrel Harris, a mentor since middle school. He churns through books on self-help, motivational and leadership topics, walking into the locker room before every game with a hardback in hand. He switched to a vegan diet. On nights the Clippers don't play, assistants know if they text Harris about another game, he'll respond with a detailed breakdown.
He likes the nickname the Clippers have assigned him: "The Machine."
"Anything that can be associated with a machine is Tobias," assistant Sam Cassell said. "You want to do something he's not programmed to do? You've got to program it."
Harris knows not everyone in a locker room will share his approach but believes it rubs off.
"It's a little frustrating at times but you have to know that everybody is not the same," he said. "One of the biggest things is lead by example and have people see what you do."
If Harris' ventures into New York as a kid were about developing toughness, his summertime retreats to Long Island as a professional are about keeping that edge.
Specifically, it's about proving his worth.
Last summer, Harris declined a four-year extension worth $80 million. By playing out the final year of his contract and entering free agency unrestricted in 2019, he can earn up to $188 million from the Clippers over five years.
Harris and his father, who serves as his agent, understood the risk and didn't make a hasty decision.
He chose to bet on himself instead, trusting the countless hours he'd invested in his training would pay off.
So far, it's helped Harris and the Clippers become two of the NBA's biggest surprises this season.
An itinerary for Harris in 2019 might include an All-Star game in February and a massive contract in July.
The game he takes so seriously is "a whole lot of fun" right now, he said, grinning. "A lot."
Twitter: @andrewgreif
Get our high school sports newsletter
Prep Rally is devoted to the SoCal high school sports experience, bringing you scores, stories and a behind-the-scenes look at what makes prep sports so popular.
You may occasionally receive promotional content from the Los Angeles Times.