Clippers outlast defending champion Warriors in overtime victory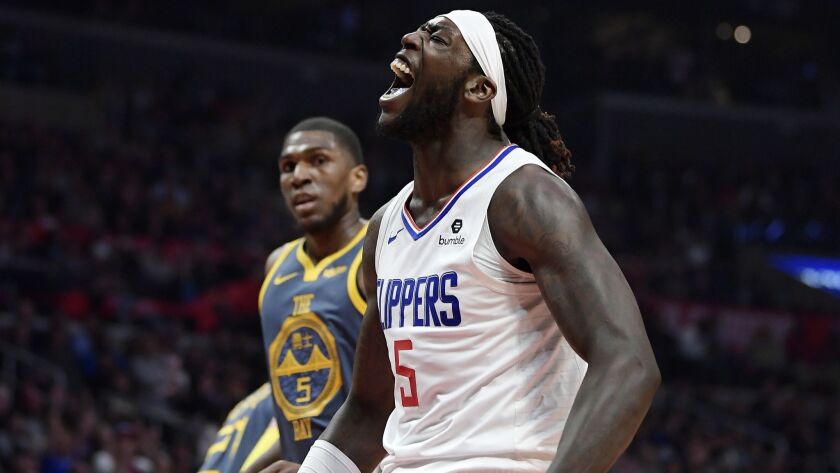 Klay Thompson's game-tying three had barely ripped through the net and Doc Rivers looked pained.
Playing the Golden State Warriors has tended to draw such reactions from the Clippers' coach. Entering Monday's matchup his team had lost its last seven home games in the series and 13 of 14 overall. Rivers struggles to sleep during the season, and the two-time defending champions' hold on this franchise hasn't helped.
Some of that painful history reared its head again. Golden State erased a 14-point deficit and tied the score on Thompson's three with 1:27 remaining in the fourth quarter, and the Warriors rolled into overtime on a 19-5 run with a sold-out Staples Center crowd cheering Warriors buckets as if the game were in Oakland. The final five minutes began ominously for the Clippers when Montrezl Harrell wasn't aware a jump ball had been tossed.
"They turned up the heat," Rivers said, tie askew, "and I thought we felt it."
Then, for the second consecutive game, the Clippers recovered after allowing a double-digit lead to slip away and beat one of the NBA's top teams in overtime, 121-116.
Lou Williams broke a 116-all tie with a layup and the Clippers (8-5) forced Warriors center Kevon Looney to miss a contested shot at the rim on the next possession. Williams, after baiting Looney into fouling him on a three, made all three foul shots for a five-point lead with 13 seconds remaining.
Williams, who said he'd played like "trash" during the game's first 48 minutes, scored 10 points in overtime and had a team-high 25.
"I know it's a name game and all of that stuff but we're a pretty good basketball team, too," Williams said.
Two days after beating Milwaukee, one of the best teams in the East, the Clippers beat the West's best at home for the first time since Christmas 2014.
"We didn't play very well at all for about, probably 40 minutes-plus," Warriors coach Steve Kerr said. "Went through the motions. Not putting up a stand. And then our defense turned it up the last six minutes and that got us back in the game and gave us a chance to win. But we didn't deserve it. It was their game. They outplayed us."
Two-time most valuable player Stephen Curry already was out with a strained groin, and then Kevin Durant fouled out for only the fifth time in his career in overtime, after compiling his 11th career triple-double with 33 points, 11 rebounds and 10 assists. Only Thompson (31 points) and Andre Iguodala (14) joined him in double figures.
The Clippers led 64-61 at halftime behind 60.5% shooting and 14 free throws and were up nine after three quarters. When Williams hit a three midway through the fourth quarter, the Clippers' 14-point lead was their largest of the night.
Rivers saw his team's hot-shooting first half and felt panicked, believing it wouldn't be sustained. He was right. The Clippers, the second-most accurate three-point-shooting team in the league, shot five for 20 from behind the arc and froze in the fourth quarter, failing to move the ball in favor of isolation.
Harrell had called the Warriors (11-3) just another team last week and played without fear. The undersized center was his team's engine in the second half and totaled 23 points, eight rebounds and four blocks.
He wore customized sneakers in the first half with a screen playing video embedded in the tongue, and if he wears them again they might be rolling his own highlights, such as his point-blank block of Draymond Green at the rim in the fourth quarter that came directly in front of owner Steve Ballmer and Bill Russell.
The Clippers have a "different approach, a different attitude now," Kerr said. "There's been a lot of changes, and I think just from the outside looking in it looks like they're refreshed and recharged. I'm impressed."
Said Rivers: "The fact you can go down by three in overtime, having given up that lead, and then coming back to win the game says a lot about your team."
The Clippers' locker room has almost entirely turned over, and the new players don't care about old losses to the Warriors.
"Avery Bradley and Pat Beverley are like, 'What do I have to do with that?'" Rivers said. "To them, those numbers matter not at all.."
Twitter: @andrewgreif
---
Get the latest on L.A.'s teams in the daily Sports Report newsletter.
You may occasionally receive promotional content from the Los Angeles Times.