Short-handed Clippers no match for Warriors in DeMarcus Cousins' return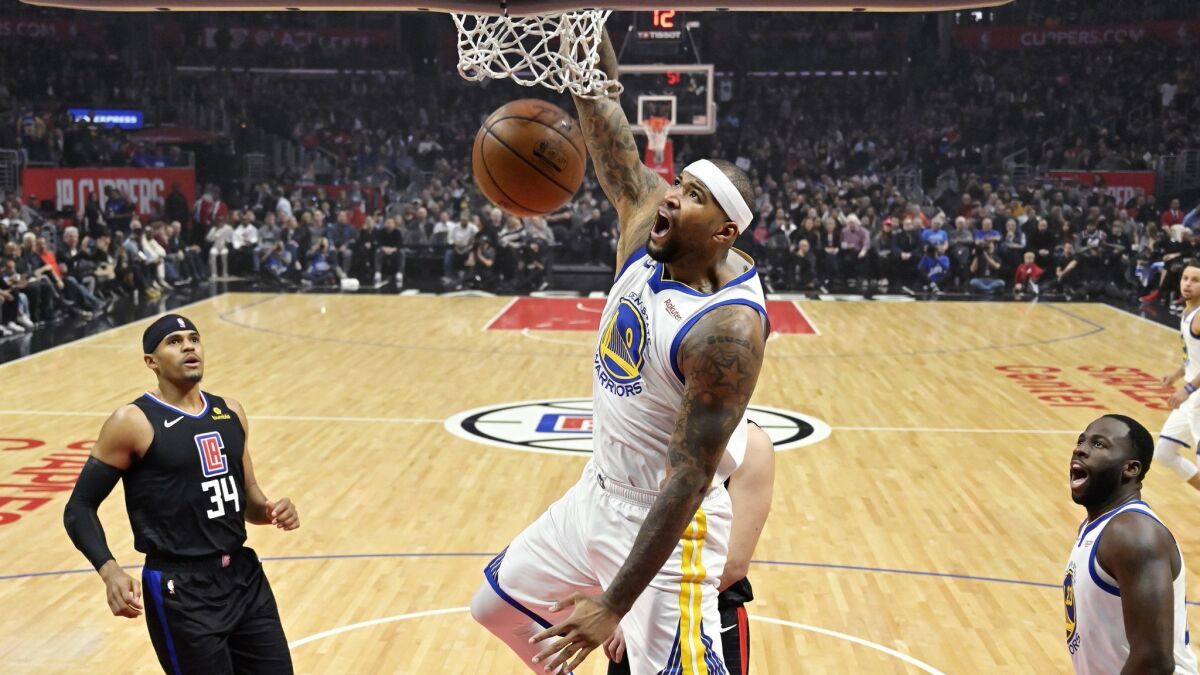 Doc Rivers strolled into the room abnormally crammed with reporters Friday evening and could not resist.
"What the hell is going on with all these people?" Rivers said with a grin as he surveyed the group before taking his pregame questions.
He knew. Most of those people were not in attendance for the coach or his Clippers. They were there for the league's top storyline: The Golden State Warriors, the two-time defending NBA champions, were adding DeMarcus Cousins, the gifted All-Star big man, to their already loaded starting lineup for the first time at Staples Center on Friday night just as they were hitting their stride.
It was an untimely test for the sputtering Clippers. Costly injuries are bubbling and defensive woes had produced their longest losing streak of the season, one that reached five games Friday with a 112-94 defeat to the overwhelming visitors.
While the Warriors (32-14) were celebrating adding a prolific scorer to the NBA's top offense, injuries diminished the Clippers' firepower. First, Lou Williams, the team's third-leading scorer, didn't suit up because of a sore right hamstring. Then Danilo Gallinari, their second-leading scorer, exited after eight minutes with back spasms and didn't return.
"We didn't have a lot of scoring out on the floor tonight," Rivers said.
After the game, Rivers said Williams, who suffered his injury Wednesday against the Utah Jazz, is likely to miss the next couple of games. Gallinari hurt his back early in the game. His status moving forward is unclear.
Sign up for our daily sports newsletter »
Their absences left Tobias Harris to assume a greater offensive load. He responded with 20 first-half points as the Clippers (24-21) trailed by one at halftime. But the lack of playmakers plagued them in the second half. The Warriors mounted a 14-2 run to begin the third quarter and an 11-0 blitz to begin the fourth. Harris finished with 28 points. Shai Gilgeous-Alexander tied a career-high with 24. They were the Clippers' only double-digit scorers as they shot 36.5% from the field, went four of 25 from three-point range and collected 11 assists to 18 turnovers.
"It was tough on me because in the third quarter, second half, we needed that extra scoring threat," Harris said.
Scoring, as expected, was not a problem for Golden State. Cousins had 14 points and sixrebounds in 15 minutes before fouling out in the fourth quarter. Stephen Curry paced the Warriors with 28 points while Kevin Durant contributed 24 on 13 shots.
The Warriors shot 48.8% from the field and had 31 assists.
Cousins's debut — nearly a year after tearing his Achilles tendon as a member of the New Orleans Pelicans — was a timely reminder of the vast gap existing between the Clippers and the NBA's title favorites. While the Clippers patiently wait to acquire a franchise cornerstone to bolster their foundation, Cousins gives the Warriors perhaps the most talented starting five in NBA history.
Unleashing Cousins on this stacked Warriors roster past the season's halfway point presents a fascinating and unprecedented basketball experiment. Will his demeanor — notoriously irritable and unstable — resurface to create chemistry snags or will he bury it for the next few months? Are there enough shots to keep him satisfied? How long will it take for Cousins to assimilate to the Warriors' machine? The consensus is the Warriors will figure it out in time to compete for another championship, but questions about the process linger.
The Warriors immediately fed Cousins on Friday. Their first possession ended with Cousins throwing up a wild reverse layup off a post-up. The next time down the floor, Cousins and Durant executed a flawless pick-and-roll. Cousins completed it, rumbling down the lane for a one-handed tomahawk dunk. A couple of minutes later he was walking to the bench after committing his second foul.
Cousins returned to convert three three-pointers and commit four more fouls. His sixth foul ended his night with 8:51 left. He exited to an ovation. There was some rust, but Warriors' seemingly limitless potential with him on the floor was also evident. The Clippers, depleted and overmatched, hung around for 24 minutes, but could not keep up.
Twitter @jorgecastillo
---
Get our high school sports newsletter
Prep Rally is devoted to the SoCal high school sports experience, bringing you scores, stories and a behind-the-scenes look at what makes prep sports so popular.
You may occasionally receive promotional content from the Los Angeles Times.